In this Telegram AMA recap, you'll find insights about the Meta MVRS project. In an event hosted by Miranda from MEXC Global, you will meet MVRS from Meta MVRS Project.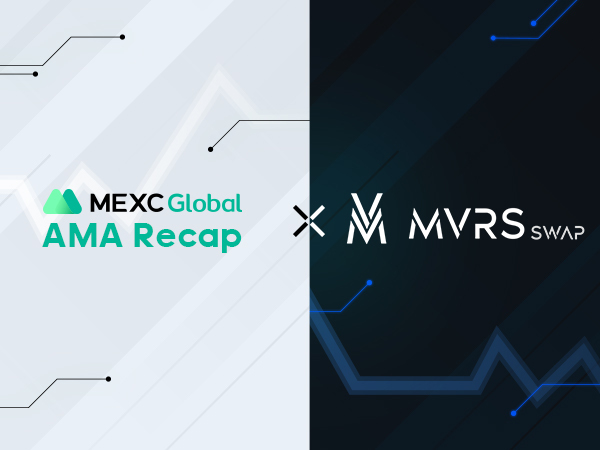 Introduction of Meta MVRS AMA Member:
Hi Everyone!
I am the CEO of the Meta MVRS and in charge of all operations including new partnerships and listings, and head developer of MVRS Metaverse.
Questions from community to Meta MVRS:
Question 1:
Miranda: What is META MVRS ? Can you share with us more in detail?
MVRS: MVRS is a multi-purpose token that serves as a utility token to MVRS Metaverse. Purchase unique NFT's, Swap Coins/Tokens in the project's in-house swap hub, MVRS Swap.
Stake your MVRS at up to 1,669% APY on MVRS Staking.
The team holds a burn event every Sunday, where 0.1% of the circulating supply is burned until 50% total supply is burned.
The team holds weekly airdrops which are updated automatically on the official website.
Meta MVRS aims to help investors find an easy way to invest in a trio; NFT, Metaverse and Crypto with ease.
We are happy to have this partnership with one of the TOP exchanges in the world, MEXC!
Miranda: 1,669% APY, that's amazing!
Question 2:
Miranda: next can you tell us what triggers you to launch META MVRS? What are some of the real-world problems/ pain points that META MVRS aims to solve?
MVRS: Our main goal is to help investors find an easy way to invest in a trio; NFT, Metaverse and Crypto with ease.
We are community-driven, and as such we always look for the needs of the investor.
In today's fast-evolving market, the best way to adapt is to be better! This is the reason we do Weekly Airdrop to our holders, we offer up to 1669% APY on our staking platform, and we do giveaways on a daily basis! join the fun on telegram!
we choose to put the investor in the center!
Question 3:
Miranda: What is the role of $ in META MVRS? Would you tell us more about its tokenomics?
MVRS: Our tokenomics is very simple. ZERO TAX for life!
Unlike most of the projects out there, we don't have any fancy "reflections" and "rewards".
The amount you choose to buy is the amount you will see in your wallet!
This is another example of where we chose to put the investor first, and not the economy of the company! we believe that a user should be able to decide what to do with their money, by having ZERO TAX we achieved it!
Question 4:
Miranda: Are there any exciting news or updates with regards to META MVRS that you would like to share with the users?
MVRS: Yes!
We recently launched our MVRS NFT's Lineup which is available here:
https://opensea.io/collection/metamvrspolygon
Everyone can buy an NFT and receive rewards immediately!
We offer many member benefits for NFT holders such as Daily $MVRS token drops, early access to the metaverse and much much more!
In addition to that, in a very short time, we managed to list our token on many high-end exchanges and MEXCis one of them! As you may already know, $MVRS will be available publicly on Mexc Global Exchange on Feb 27th, THIS SUNDAY!
And we are not stopping there, we will have another major exchange along with a few other medium exchanges in the very near future. We do our best to make $MVRS available to all markets!
Additionally, we would like to announce that the Metaverse is going according to plan, and should be out in the demo version as scheduled!
Question 5:
Miranda: If you were to summarize your project in ONE word, what would it be? Why?
MVRS: in one word? it has to be what we aim to every investor!
Wealth!
Free-asking Session to Meta MVRS
Q1. Smart contracts are prone to failure, and many projects fall victim to it, costing user funds and discrediting projects. How reliable and secure are your smart contracts? Did you test it with either party?
MVRS:
That is absolutely right!
This is the reason we introduced an Audit report to our smart contract.
Part of the reason people lose funds on different projects also goes to the economics and Taxes they have implemented in their projects.
Meta MVRS is proud to announce ZERO TAX on its smart contract and according to our audit report, it cannot be changed ever.
ZERO TAX FOR LIFE!
Q2. Since NFT is popular nowadays, is there a plan for NFT integration?
MVRS:
Absolutely!
We have an ongoing NFT Lineup on Opensea using Polygon network.
This way the NFT owner pays a fraction of fees!
The owner of the NFT will get to play it in the Metaverse, customize it, and earn $MVRS in many challenges and much more!
Q3. Can you list 1-3 killer features of this project that make it ahead of its competitors? What is the competitive advantage your project has that you feel most confident about?
MVRS:
I can Name 10!
ZERO TAX!
p2e GAME!
NFT with AMAZING Holder Benefits!
Listing $MVRS on TOP Exchanges!
Press release on TOP Websites like Marketwatch/Benzinga
Staking with MASSIVE REWARDS up to 1669%!
In-House SWAP hub, with NO FEES towards MVRS team!
WEEKLY AIRDROPS!
AUDIT REPORT!
AMAZING COMMUNITY!!!