In this Telegram AMA recap, you'll find insights about the FNDZ project. In an event hosted by Shaun from MEXC Global, you will meet Giammarco, Head of Content of FNDZ.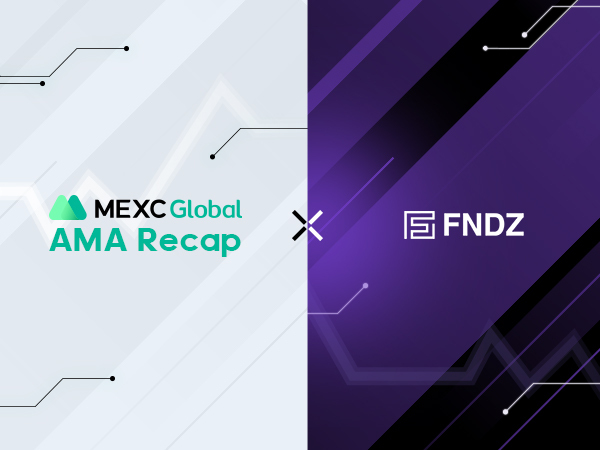 Introduction:
Hi everyone, I'm Giammarco. I started in crypto during 2018 as an investor, while studying and working in the traditional Marketing field. Since July 2021, I have been dealing with the management of the content, communications and external partnerships at FNDZ.io
Website https://fndz.io
Telegram https://t.me/fndzdao Announcements https://t.me/fndzdaoann Twitter https://twitter.com/fndzdao/
Questions from community:
Question 1:
Shaun: What is FNDZ? Would you care to share with us more in detail? 😁
Giammarco: Yes, FNDZ is a blockchain-based social trading platform for crypto . It is simple to use, just choose from a selection vaults, pick a vault that suits your risk strategy, make a deposit, and automatically copy the trades of top performing traders,or even use one of our auto rebalancing index vaults. Fndz is designed with ease of use in mind, which in turn will aid in adoption and growth.
Shaun: Wow! It sounds like a super cool project! I'm sure many people are looking
Question 2:
Shaun: What triggers you to launch FNDZ? What are some of the real-world problems/ pain points that FNDZ aims to solve? 🌎🤔
Giammarco: Simply put, it's easy of use!
Fndz offers users with very little experience in crypto the opportunity to copy the best trades automatically without the stress and worry that comes with entering crypto for the first time.They get an easy way to copy the people they like, or simply select a vault on its actual performance.
Importantly all trades are recorded on the blockchain for full transparency. As for traders, we solved the administrative problems, a trader can now focus only on trading and all the backend admin, position entry / exit, invoicing, PNL, all the major administrative tasks are now automated by smart contracts.
Shaun: Amazing. It sounds like a great and easy-to-use platform for beginners, as well as other crypto enthusiasts.
very cool how they can do their trades stress-free! 🔥🤩
Yes, definitely agree on the point on transparency, a super essential feature to guarantee safety! 👍👍
Question 3:
Shaun: What is the role of the $FNDZ token in FNDZ? Would you tell us more about its tokenomics?
Giammarco: The FNDZ token is an important part of our ecosystem and it has multiple uses. Firstly it will be used to pay the platform fees.
If a vault owner stakes FNDZ he will also get an increased % of the performance fee from his trades, up to 25% extra depending on the number of FNDZ staked. Not only that the FNDZ token can be used to advertise their vault on our featured vault tab, this is a great way for them to raise awareness of their vaults and grow the number of depositors.
When a vault is set up the platform automatically converts 1-2% of the total deposit into FNDZ tokens. These tokens are not tradable and therefore locked in the vault during the term of the deposit.
Users will also be able to stake FNDZ on the platform and earn a share of the platform fees.
I would recommend you check out our utility article here https://fndz.io/fndz-token-utility
Shaun: incredible. very detailed answer showcasing the features of staking on FNDZ 👍
MEXC community and friends, do feel free to check out the link Giammarco has posted, to learn more about the token's utility!!
Awesome work Giammarco, loving this discussion! 💯
Question 4:
Shaun: Giammarco, are there any exciting news or updates with regards to FNDZ that you would like to kindly share with the users? 🧐✨
Giammarco: We are in the process of moving into Phase 2 of the platform launch. Phase 2 will be FNDZ index vaults only for now as we work on the feedback we had from users in phase 1 and upgrade the user vaults. These index vaults will be auto rebalancing and focused on areas such as DEFI, Low caps, Med Caps and top 10 caps etc..
Phase 2 will also bring our unique platform staking. Anyone who stakes FNDZ on the platform will get a share of all the assets traded on the platform during a set period. Stakers will be able to either convert those tokens into fndz to withdraw, withdraw the different assets or leave the assets build up and create the staker a diverse portfolio of assets over time. Users will be able to withdraw daily from the staking pool should they wish to.
Shaun: This sounds like a lot of valuable and exciting news!! Make sure you guys are taking down notes! 🤓
Phase 2 sounds really wonderful! I'm sure lots of people are looking forward to it! 🎉🎉
Loving the energy and passion here Giammarco ⚡️
Question 5:
Shaun: Giammarco, if you were to summarize your project in ONE word, what would it be? Why? 👀👀
Giammarco: Simple!
Connect to the platform, pick a vault that suits your risk, make a deposit in it and watch an experienced trader manage your portfolio without the stress of doing it yourself!
Shaun: Yes!!! Simplicity makes life much easier and everyone happy 🤗
I'm sure no one likes being stressed out 😬
Thank you so much for all these awesome insights, Giammarco!
Free-asking Session
Q1. [2201] Do the token holders have the right to participate in the governance of the project? What kind of decisions can they vote on about the project?
Giammarco:
In the future we plan to give the FNDZ token governance rights so that the community can select which tokens they want listed or which new networks they want added to the platform etc.
Q2. [2201]What Wallet supports the FNDZ token?
And Does the FNDZ token have an inflationary supply or a deflationary one?
Giammarco:
Here you can find all the details about supported wallets: https://fndz.io/supported-wallets
Q3. [2201] Smart contracts are susceptible to failure and many projects fall victim to this, costing users money and the project discrediting. How reliable and secure is your smart contract? Have you tested it through any of the parties?
Giammarco:
Sure, we strongly believe that security it's one of the main pillars, here you can find the latest audit: https://fndz.io/status-update-smart-contract-audits
Q4. [2201] @AncalagonFNDZ Did you consider community feedback/requests during the creation of your product in order to expand on fresh ideas for your project? Many projects fail because the target audience and clients are not understood. So I'd like to know who your ideal consumer is for your product?
Giammarco:
As said above we divided the launch in different phases mostly for having feedbacks from our community, and create the perfect product for the users.
The FNDZ platform can literally be used by a grandma👀
Q5. [2201] Where can I currently buy Token?
Giammarco:
PancakeSwap, Ascendex and MEXC 😜
Trying to find MEXC AMAs recaps?
It's easy! Explore them in a special section of our MEXC Global blog. Find insights for other recently listed projects at MEXC like MetaMate.
Start your travel on MEXC Global