In this Telegram AMA recap, you'll find insights about the Deesse project. In an event hosted by Shaun from MEXC Global, you will meet Marianne, Marketing Director at Deesse.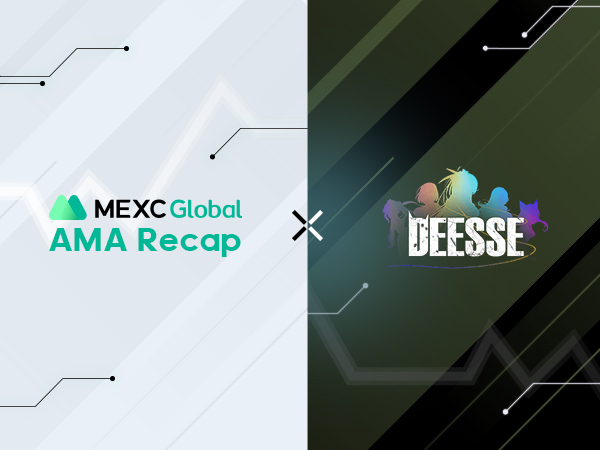 Introduction:
I am the marketing director at Deesse. I implement marketing campaigns, promotion, social media, content creation, channel partnership as well as community building, a quite broad scope of duties.
Prior to that, I have a few years of experience in the Blockchain industry and I have a great interest in Gamefi as well due to my passion in gaming!
The main reason I joined Deesse was due to the fact that I actually got to take part in the creation of this game and also having a spontaneous team behind the whole project!
Questions from community:
Question 1:
Shaun: What is Deesse? Can you share with us more in detail?
Marianne: Of course
DEESSE is a blockchain-enabled, idle Role-Playing Game (RPG) or Card Placement Game (CPG) with progress-based and skill-based features and incorporating Play to Earn mechanics, allowing players to earn tokens and NFT in the gameplay. DEESSE is now available on mobile apps and web pages and open to international players.
As a well-developed Japanese Anime style game with 2-D artistic design and renowned voice casting, the game already gained enormous popularity in the traditional Japanese gaming market. In the past year, a dedicated professional team in Japan, together with international partners, are leveraging blockchain technology to transform the successful traditional mobile apps games in Japan into blockchain-enabled Gamefi projection with an expansive international user base.
Shaun: Amazing. Sounds like a very dynamic and well-designed game 🔥
For those of you curious, feel free to check it out on the app store and download it!!
NFTs also~ sounds like lots of fun 💯
Lovers of Japanese🇯🇵 Anime should also be super hyped up!!
Question 2:
What triggers you to launch Deesse? What are some of the real-world problems/ pain points that Deesse aims to solve?
Marianne: Well, the problems we try to solve are simple: some "meaningful" activities in GameFi are boring and disengaging with objective function but ignoring human factors or motivation driving actions.
We try to use game dynamics plus Defi concept to motivate people behavior and create values within a game economics. This includes in game economics design, storylines, strategy or skill applied, aesthetics, role playing etc.
Shaun: Yes!! Agreed, storylines and aesthetics are super important components of gaming 😆
🥳 motivation is also key ⚡️
Question 3:
Shaun: What is the role of the $LOVE token in Deesse? Would you tell us more about its tokenomics?
Such a sweet name
Marianne: There are multiple usages for LOVE
1. Governance token (proposal and voting)
2. Staking rewards (aged staking pool) at beginning
3. Used as booster for in-game reward or unfold hidden tasks or missions
4. Used in crafting, minting and fusing NFT
5.Access to PVP leaderboard and other event Exchange for in-game currency
LOVE token is currently listed in Huobi Global and Kucoin and our goddesses NFTs are traded at Binance NFT marketplace and website marketplace. All with reasonable liquidity.
Shaun: Wow! what a fascinating plethora of uses! Hope all of you guys are taking down notes 🤓📝
Now you guys know where to find the LOVE token! 👀
Awesome Marianne, loving the discussion so far! 🔥💯
Question 4:
Shaun: Are there any exciting news or updates with regards to Deesse that you would like to share with the users? I'm sure people are super curious!
Marianne: https://www.binance.com/en/nft/mystery-box/market?page=1&size=16&orderBy=list_time&orderType=-1&serialNo=178085740335413248
here's the NFT link for Binance in case people can't search us
Shaun: Awesome!! Do feel free to check out that link to see their cool NFTs!
Marianne: We are planning to Mint NFTs on polygon chain. Special designed NFTs will be uploaded on OpenSea. Cooperate with YGG SEA.
Mainnet launch is happening soon
Currently we are doing lots fo tests and bug fixing
Shaun: Awesome! I'm sure some of our collectors are looking forward to these specially designed NFTs~
Marianne: That's great that the system is being constantly improved! 👍✨
Question 5:
Shaun: If you were to summarize your project in ONE word, Marianne, what would it be and why?🧐
Marianne: I would say Euphoria.
It is extremely delightful to play our game.
The music is energetic and anime design is powerful.
Players will experience intense feelings of well-being, elation, happiness, excitement and joy while playing and earning.
You always want to upgrade your goddesses to see what else they can do
You want to conquer all of monsters
That makes the earning joyful!
Shaun: Euphoria. What a powerful word to take away from today's session.
Wow, I'm sure gamers will be super satisfied to experience so many emotions during their session with Deesse!!
Sounds like a super addicting and entertaining game!
Free-asking Session
Q1. [3033] How could I own NFT and what is the benefit of it? Do you have any guide for beginners?
Marianne:
You can buy one from Binance NFT marketplace or our official website. We do have recordings and tutorials for beginners. By holding our Goddess NFT, players can:
1.Get Free Live Chat with DEESSE "goddess"
2. Priority on Beta Test for play game, upgrade NFT rarity, and earn in-game resources
3. Staking earning: 50% DEAR (Unlock after expiration of staking)
50% diamond (release after staking)
4. Tradable in secondary marketplace such as Binance, WoWarrior, and more marketplace coming.
Q2. [3033] STAKING is one of the STRATEGIES to ATTRACT USERS and HOLD Them and long term.
Does your GREAT PROJECT have plan about to Staking?
Marianne:
Yes we've opened 3 staking pools for beta testers earlier this year and now they are all closed. Staking benefit is around 60% for 90 days of period
Q3. [3033] Why you choose Binance Smart chain? we see some chain pop up with good scalability too, then why you choose BSC? @Marianne0z
Marianne:
BSC meets our needs for developing games. It has one of the fastest blockchain transaction times and lowest fee structure. It powers smart contract functionality and boasts compatibility with Ethereum Virtual Machine (EVM).
Q4. [3033] Until what corner of the world do you plan to arrive? that is, to what extent in the world do you think your Project will be solving people's problems with their infrastructure?
Marianne:
We try to reach as many anime fans as possible. Wanted bring the new concept of GameFi to traditional audiences.
Q5. [3033] Where i can get all the latest news about ? Do you have Twitter/Telegram/Discord community? If yes can you share the link here because there is a lot of fake telegram/twitter groups?
Marianne:
Official website:https://deesse.art/
Game entrance:https://game.deesse.art/
Twitter:https://twitter.com/deesse_2021
Telegram:http://t.me/deesse2021
Discord:http://deesse.art/discord
Trying to find MEXC AMAs recaps?
It's easy! Explore them in a special section of our MEXC Global blog. Find insights for other recently listed projects at MEXC like Deesse.
Start your travel on MEXC Global