In this Telegram AMA recap, you'll find insights about the Numbers Protocol project. In an event hosted by Iris from MEXC Global, you will meet Sofia, the Co-founder & Chief Growth Officer of Numbers Token.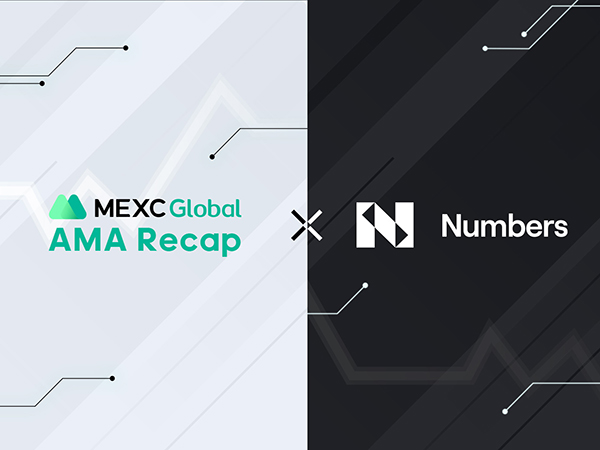 Introduction to AMA member from Numbers Protocol:
Sofia: I'm Sofia, the Co-founder & Chief Growth Officer of Numbers Protocol. I have 8+ experience in business development and marketing. Before joining Numbers, I worked for an AI startup and an intellectual property valuation firm as a sales and the head of business development. Happy to be here today and thank you for the invitation. Hope to have a good time with you all!
Questions about the Numbers Token & Project:
Question1:
Iris: What is Numbers Protocol? Can you share with us more in detail?
Sofia: Numbers Protocol is a decentralized photo network for creating community, value, and trust in digital media. With trust in digital media at an all-time low, Numbers Protocol aims to bring integrity and authenticity to the digital content space by creating a decentralized photo network where assets are both traceable and verifiable through its innovative Capture, Seal, Trace process.
Built from the ground up, by decentralized communities. With the freedom to debate, narrate and analyze. Where your future is user-owned and created by our community. Numbers Protocol is THE comprehensive solution that addresses the 4 pillars of the digital media problems: ownership, copyright, provenance and ecosystem. 
In doing so we are establishing an authentic, secure and decentralized photo network in the Web3.0 space.
Question 2:
Iris: What triggers you to launch Numbers Protocol? What are some of the real-world problems/ pain points that Numbers Protocol aims to solve?
Sofia: When you think about it, digital media is a big part of our lives but it has problems. Tons of copyright violations, increasing amounts of fake news & misinformation, and censorship are just a few major problems our digital media faces.
2.5 Billion Unlicensed Images are stolen every day amounting to 600 Billion in damages daily. Our actions whether we know it or not create countless copyright violations that rob the livelihoods of creators. We use the web every day and enjoy our Netflix, memes, and instant searches but when we peel back the layers there is a lot of distrust. So what is being done?
Numbers recognized the problems of digital media and the importance of maintaining its integrity so in 2019 we set out to solve the issue by first focusing on the fake news & misinformation aspect of it.
Our approach led us to the creation of our Capture, Seal, Trace protocol which is the foundation of our decentralized photo network. Protocols and tools are only effective if used, therefore, Numbers Protocol has built native applications to help establish the foundations of the ecosystem and allow users to experience the next-generation photo network.
In the future, this photo network can grow into areas such as news, social media, and gaming with contributions from the developer community leveraging our tools and applications.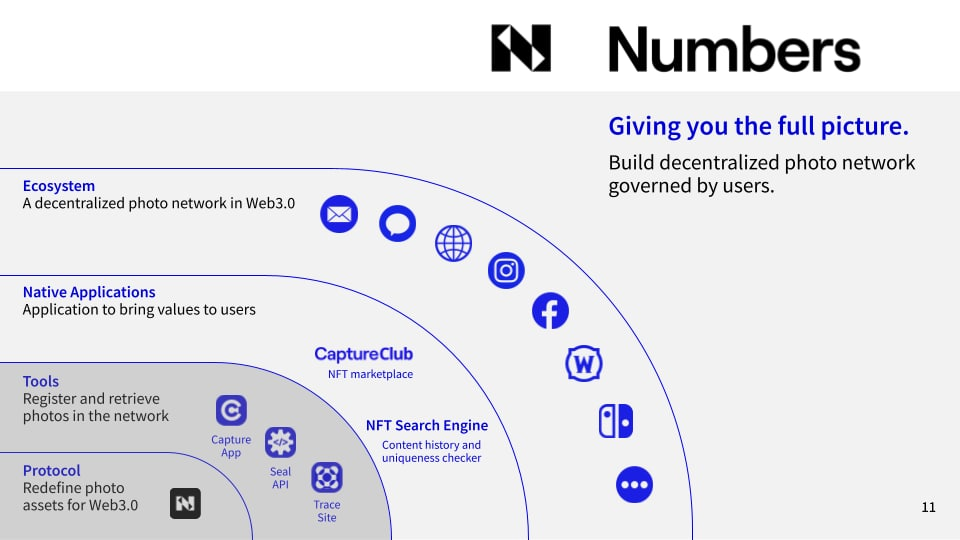 Iris: Numbers did nail the pain point of everybody!
Question 3:
Iris: What is the role of $NUM in Numbers Protocol? Would you tell us more about its tokenomics?
Sofia: For sure!
NUM is the native protocol token for the Numbers Protocol Decentralized Photo Network. As a utility token, NUM holders can utilize the token to pay for services within the network.These services, which we refer to as Network Actions, include asset registration, listing onto network marketplaces, and storage onto more robust forms of decentralized storage. 
As the Numbers ecosystem develops, the number of Network Actions will increase and stretch into other areas such as social media, news, gaming, and entertainment.
Iris: Join their Staking, Integrity, Verification, and Governance to earn NUM rewards guys!
Question 4:
Iris: Are there any exciting news or updates with regards to Numbers Protocol that you would like to share with the users?
Sofia: 2021 is absolutely a fruitful year for Numbers Protocol and $NUM and we are looking forward to an even better 2022!
I would like to invite you all to have a read and see what we have achieved in 2021. In our project roadmap, you can see many things queuing in the line including expanding the ecosystem, new product features, and governance program!
Another important mission in 2022 is to really show people the economy of the NUM token and its role in Web 3.0. We hope everyone in the community can experience #CapturetoEarn and #VerifytoEarn. Also, the consumption path in the App through many ecosystem applications will be also more clear.
In January, we have announced NUMARMY Ambassador Reward Program Tier 1.
Iris: Fantastic!
Sofia: To thank all your participant today, I wanna share this good news with you all first. We will soon announce our NFT Certificate. It is wallet verified substance-based authenticity assurances based on multi-level assurances (CID-based scan, AI-based Similar-Image scan) and community reporting. Follow our socials and join our community to get the most updated information. Let's make 2022 a Numbers Protocol year!
Question 5:
Iris: If you were to summarize your project in ONE word, what would it be? Why?
Sofia: Nice question! One word might not be able to explicitly show who we are and what we intend to build. But I believe as our slogan stated "Giving You the Full Picture", Numbers truly believes in building a space in which, with the freedom to debate, narrate and analyze, the future is user-owned and created by the community!
Free-asking Session to NUM Token
Q1. How many team members do you have? Do they have enough experience in the blockchain field? Do they have any experience working in crypto and non-crypto projects?
Sofia: We currently have 12 team members and are expanding this year. I'm the Chief Growth Officer of Numbers, have 8+ experience in business development and marketing.  Tammy, our founder, and Chief Product Officer is a data scientist and a particle physics Ph.D. graduate from Manchester University. 
Bofu, our founder and Chief Technology Officer, is a software engineer and architect who has 15+ years of experience in data engineering, embedded systems, AI, and IoT.
Ethan, our global developer community manager, does many things for us here at Numbers Protocol. Having received his Masters in Computer Science from Georgia Tech University, he is a member of our development team and has a good understanding of our technology and products. 
In addition to the core team, we have pretty strong hands split between excellent backend, front-end engineers, and a bit of marketing 🙂
Q2. I am an EXPERIENCED DEVELOPER AND ETHICAL HACKER, do you have plans for HACKATHON so as to check the security of your ecosystem periodically and also invite developers to build?
Sofia: Yes, for sure, we just finished our first stage of dev bounty, and will soon release different bounty programs to developers, please check out our Github.
Q3. Do you allow suggestions and feedback from the community? Are we allowed in decision making, do you put the community into consideration?
Sofia: Yes, that's for sure, we care about our community! Feel free to give feedback on our telegram channel and Numbers Protocol Github! We've collected many feedbacks and feature requests from the community, starting from this sprint, we will select community requests from the issues and feature requests in the community-support repository and label them as "scheduled". 
Want new features of Capture App or Search Engine? Go here and make a wish!
Reach more MEXC AMAs recaps?
Explore them in a AMA-section of our MEXC Global blog. Find insights for other recently launched projects at MEXC like Numbers Protocol (NUM Token)! Lots of helpful information for your DYOR!