In this Telegram AMA recap, you'll find insights about the Micro Tuber project. In an event hosted by Iris from MEXC Global, you will meet Edward, Co-Founder & CTO of Micro Tuber.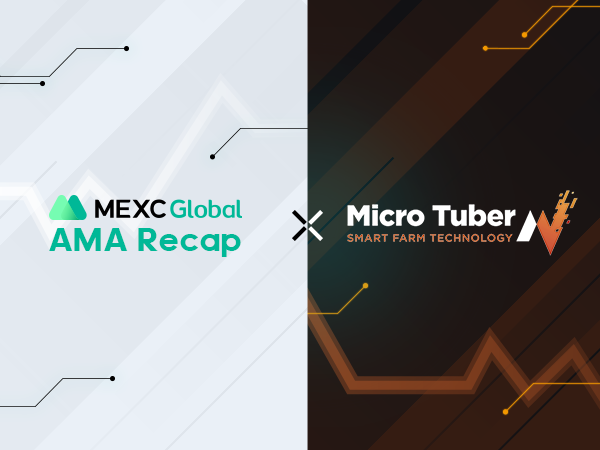 Introduction:
Edward: Hi everyone, I'm Edward Yi, the CTO of Microtuber. I've been involved in the blockchain industry since early 2017.
I am also the founder for Coin Genesis, a blockchain and platform development company, and previously was employed as the Chief Security Officer for Black Shield.
Since 2018, I've developed smart contracts, private blockchains, defi and nft platforms for many companies in South Korea, China and USA.
I've spent most of my younger years helping create game mods for counter-strike 1.5. I have since then developed an expressive interest in programming and gaming.
I'm a University of Texas graduate with a Bachelor of Science in Management Information Systems. I have 5+ years of experience as a blockchain programmer and systems architect, focusing mainly on solidity smart contracts.
Questions about the Micro Tuber project:
Question 1:
Iris: What is Microtuber? Can you share with us more in detail?
Edward:
Microtuber is on a mission to solve world hunger caused by global climate change and solve carbon emissions, a major problem of global warming. It was established in 2019 to realize respect for life and co-prosperity, the highest value of mankind.
Microtuber (MCT) is a cryptocurrency designed for the SeedBox DeFi platform and the MetaRising metaverse. MetaRising has unique social features and fun P2E game elements that ultimately aims to raise awareness for global hunger, funding of sustainable agriculture research & focus on net-zero carbon emissions.
SeedBox is a DeFi staking platform utilized for all Microtuber and MetaRising ecosystems.
Multiple staking pools are hosted to help fund agriculture research and provide mining opportunities to receive MCT, MRG and NFTs.
Question 2:
Iris: What is MetaRising?
Edward: MetaRising is a metaverse platform linking real assets with the virtual world. It is dedicated to discovering public welfare projects that promote the development of global environmental causes. Users can experience Defi, GameFi, Social, Metaverse, and Carbon Finance in various sections of MetaRising and gain benefits during the exploration.
Iris: looks cool 👀
Edward: MetaRising has pioneered the MicroTuber project to improve this market plague by pooling its expertise and resources to launch the world's first agricultural crowdfunding platform–SeedBox. SeedBox is a DeFi staking platform utilized for all Microtuber and MetaRising ecosystems. Multiple staking pools are hosted to help fund agriculture research and provide mining opportunities to receive MCT, MRG and NFTs. In the process, MetaRising has also successfully obtained the official UN Global Vendor Certification (Certification number 521011) as a blockchain project with expressive interests in food supply, carbon emission reduction and preventing climate change.
And by building the platform's ecosystem, MetaRising also completed a business model that allows users to earn money by P2E and to transfer some of the ecological value to support real-world agricultural projects. Users can choose to receive passive income in the P2E metaverse scenario, or if they want to be more active, they can participate in SeedBox. In this process, they can create income through staking while providing real seed assets for a large number of agricultural projects.
Question 3:
Iris: In addition to P2E and SeedBox sections, what can we expect more in MetaRising?
Edward:
In addition to P2E and Microtuber, there are many distinctive features in MetaRising. First is the MetaRising World, which is an interconnected world. Our first world will be based on Seoul, South Korea, named as K-city. K-city is located in a futuristic and fantasy-like Korean world. With both traditional Korean architecture blended with futuristic designs, MetaRising stays true to its Korean origins while providing a visually captivating and unique art style. In the center of our world's town lies a palace, Korea's most historic and famous royal palace. Near the palace you will find several enterable buildings that are packed with content, such as playing mini-games, participating in VR meetings, buying and selling items, and much more.
MetaRising's NFT Marketplace will be launched to support all in-game assets used within the metaverse. Players can build and craft items within MetaRising and trade them on the NFT marketplace. Features such as creating your own profile, shop, and followers will be implemented to help market your in-game assets.
The second feature is Dual DAO. MetaRising's DAO is divided into governance and guilds.
Governance DAO: Members can vote for important changes to current and future developments to determine the direction of MetaRising.
Guild DAO: Allows players to form guilds and participate in exclusive quests that provide unique rewards. Guild masters will lead and determine the future of their guild. Guild members can vote the master in and out of their position.
Question 4:
Iris: What is the role of the $MCT token in the MetaRising ecosystem? Would you tell us more about its tokenomics?
Edward: Actually there are two tokens that will be used in MetaRising; MCT – the in-game token, and MRG – the governance token which can also be used to purchase NFTs.
As portrayed in the infographic above, players can obtain both MCT and MRG in a variety of ways. Transaction costs incurred from certain activities and purchases will be collected in MetaRising's tax pool, a certain amount of which will be used for DAO, staking rewards and landowner compensation.
Below is a list of all the ways MCT and MRG can be acquired and used:
The following picture is the token metrics of MCT:
Question 5:
Iris: Are there any exciting news or updates with regards to Microtuber that you would like to share with the users?
Edward: Yes. MicroTuber(MCT) is going live on the MEXC exchange on March 14, 10:00 AM (UTC). The trading pair is MCT-USDT.
In addition, MicroTuber(MCT) has listed on Gopax(Korean exchange), and PancakeSwap (https://pancakeswap.finance/swap?inputCurrency=0x8038b1f3eb4f70436569618530ac96b439d67bae).
Follow our social media to be the first to gain access to our priority pass, nft airdrops, and exclusive contents!
Website: https://microtuber.io
Telegram: https://t.me/metarising
Twitter: https://twitter.com/micro_tuber
Discord: https://discord.gg/metarising
Medium: https://microtuber.medium.com
You can find more information about our MetaRising on our litepaper here: https://metarising.gitbook.io/metarising-en-litepaper-version-1.0/
Iris: Can't wait to buy $MCT on MEXC 👀👀 mark your calendar guys!
Free-asking Session
Q1. How did you involve the community in developing the project? and how do you build a strong community to grow globally?
Edward:
This is a very good question. I'd like to say that MetaRising is not a gamefi, but a social gamefi.
We are always thinking and developing from the user's point of view based on how users can enjoy our platform, have more fun and cooperate well together with the community to create the metaverse ecosystem together.
We are planning to introduce multiple cooperative elements to the metaverse that have not been seen in other metaverses before. Let me explain some of the factors.
1. If you farm, fish, or mine together with other players, you can P2E more quickly than playing alone.
– In the Farm p2e zone, which will be the first to be introduced, you have to sow seeds, get water, fertilize, and pay a lot of attention before harvesting crops. However, if you work with friends and share the roles, you can get faster and healthier crops.
2. Players can trade and produce what they need from each other.
– Players can acquire a variety of materials and items while playing MetaRising's P2E game. Players can communicate through various features such as voice chat and video chat to exchange items they need from each other, and make it a more immersive experience.
3. A rare item.
– Some essential items in MetaRising have scarcity. From some point on, items are no longer sold and players must synthesize and produce the items themselves if necessary. Players should work together to create the necessary items!
4. DUAL DAO System
As we mentioned previously about the Dual DAO system. This will be an integral part that will allow the commmunity to shape the metaverse we are building.
Also here is an image of the marketing strategy we are trying to implement so you can get a better idea of our marketing approach:
pools are hosted to help fund agriculture research and provide mining opportunities to receive MCT, MRG and NFTs.
Some features of our platform are:
Can stake anytime during the staking period (Staking rewards are determined by amount of time vested)
Can unstake anytime
MetaRising's staking reward system (Stake MCT + MRG to receive NFT)
100% DeFi (Staking smart contracts)
Web3 Implemented (No need for KYC or registration of accounts)
Dedicated MCT pools for Ethereum and Binance Smart Chain
Daily MCT gains are visible (Total rewards earned)
The APRs vary between each pools but the most recent staking pool that is open now is 105% APR.
Q3. The audit is important for both trust and security. Have you done any audit of smart contracts?
Edward:
Yes that is correct, smart contract vulnerability is a big risk to the business, exchanges and to investors of Microtuber. Therefore, we have been audited by Certik, and received a score of 99/100 on our smart contract audit report.
You can view our certik audit here: https://microtuber.io/wp-content/uploads/2020/12/CertiK_Audit_Report_for_Micro_Tuber.pdf
Q4. How old is Your project? What are the major plans ahead? Could you show us an image of your roadmap?
Edward:
Our project started in 2019. Our major plans in 2022 are the MetaRising metaverse launch, NFT marketplace, DAO Governance platform and our in-game NFTs development for this year.
You can take a look at our roadmap image I have attached here!
Q5. Since NFT is popular nowadays, is there a plan for NFT integration?
Edward:
Yes absolutely! There are several ways players can obtain NFTs in MetaRising, however, the most common would be through the NFT Marketplace. Part of what makes MetaRising so enjoyable is the variety of NFTs available. There will be four main ways to obtain NFTs:
Seedbox Staking
Minigames
Airdrops and events
Metaverse Contents
All of our NFTs will have utility functions and will be tradeable on the NFT marketplace.
Some of the NFTs that will be available are:
Avatar Skins
LAND
PET
Vehicles
Mystery Box
Usable Items
Farming Tools
Profile Pics
Please follow us as we will reward early adopters through airdrop events!
You can find out more about our NFT utilities in this section of our litepaper!
https://metarising.gitbook.io/metarising-en-litepaper-version-1.0/nft-marketplace/nft-items
Trying to find MEXC AMAs recaps?
It's easy! Explore them in a special section of our MEXC Global blog. Find insights for other recently listed projects at MEXC like Micro Tuber.
Start your travel on MEXC Global