In this Telegram AMA recap, you'll find insights about the MetaRuffy project. In an event hosted by Iris from MEXC Global, you will meet Faruk, Lead Business Development & Innovation of MetaRuffy.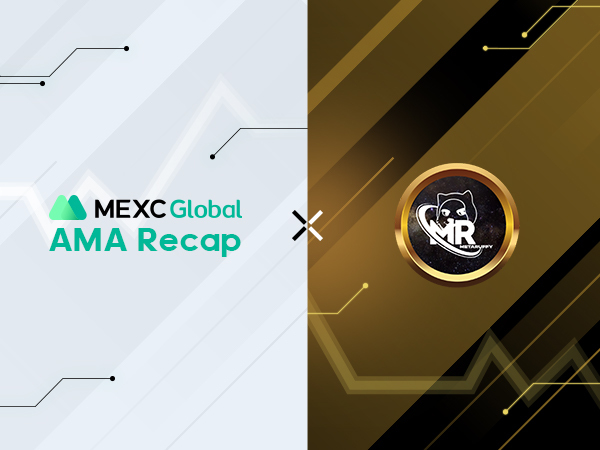 Introduction:
Hello everyone! Thank you for having me here. It is a great pleasure to be able to talk about our metaverse company. I'm 29 and living in Switzerland and have several years of experience in the financial industry and advisory. Furthermore, I've been a Crypto Enthusiast since 2016 and would describe myself as an eager learner and teacher at the same time.
Questions from community:
Question 1:
Iris: What is Meta Ruffy? Can you share with us more in detail?
Faruk: MetaRuffy takes you on a personal and different type of journey every time you start a new session. A digital avatar that impersonates who and what you want to be in a virtual world with entertaining spots. Imagine, wearing your VR Glasses and diving into an open world, where you can be anyone and anything. Socializing with people from all over the world, watching your favorite movies, series or sports games, and sitting beside someone who's across the world from you – anything is possible within our Ruffy World. Feel free to join our game on iOS/Android or Web. https://metaruffy.io/play/
Question 2:
Iris: What triggers you to launch Meta Ruffy? What are some of the real-world problems/ pain points that Meta Ruffy aims to solve?
Faruk: It is simple. Meta Ruffy is from the people and for the people. Many good-quality games require specific graphics, and specs to be played. Meta Ruffy is designed to be playable on any device. Offering clean graphics and various stories to be made within the Ruffy World. Also we established a target group that includes everyone with a mobile phone, educating them on the metaverse and entertaining them in various fields. It's a dream, a goal, a vision that stays until the end of our lives and beyond.
Furthermore, the MetaRuffy International FZCO is growing as a company and as an ecosystem. A full-fledged, all-around NFT social marketplace is being released soon, which will bring variety to the whole brand.
Tune in and see the name drop tonight.
Iris: where can we see that? is there any link you could share?
Faruk: Join our Telegram Voicechat tonight @meta_ruffy and we will also announce it on Twitter.
It's not a simple NFT marketplace, we also have social media features covered, which makes us unique compared to our competitors.
Question 3:
Iris: What is the role of the $MR token in Meta Ruffy? Would you tell us more about its tokenomics?
Faruk: The current buy tax is 1 % and sell tax is 8% and consists of:
• 4% Development
• 4% Marketing
• The token transfer tax from wallet to wallet is 1%.
Our entire Metaruffy ecosystem, (including the soon-to-be-released next-generation marketplace), is powered by the $MR Token.
Additionally we have a sustainable staking model with up to 20% APY for a 180 day lock period. This is to ensure passive income and also allow you to sleep well at night while growing your amount of MR.
Iris: cool! btw, MR is now available on MEXC: https://www.mexc.com/exchange/MR_USDT
Question 4:
Iris: Are there any exciting news or updates with regards to Meta Ruffy that you would like to share with the users?
Faruk: While the Ruffy World is in its Beta stage, with updates and implementations happening frequently, it is still being improved every day with various graphical and virtual world upgrades. We have sold 9500+ land plots thus far. The new landowners can build their business with the NFT builder, or rent out their land and create a simple source of passive income.
Furthermore, we are launching our NFT marketplace with various features. It is the next generation "all-in-one" cross-chain marketplace for artists, creators, and traders, with state-of-the-art and custom-designed social media features for all users.
Question 5:
Iris: If you were to summarize your project in ONE word, what would it be? Why?
Faruk: Education. We are changing how projects are seen on Binance Smart Chain and offering a variety of products and services that enable everyone to be part of Web3. We will onboard you on our metaverse, give you an introduction so you feel confident in being part of our community. For creators, artists and any person, we will do the same and help you publish, mint, buy and sell your own NFTs and become part of our ecosyatem.
Free-asking Session
Q1. Have you being audited ? Have not heard you talk about that security of funds is what every investor craves for and plans to escape incase of insecurity if funds,scams and rug pulls ? How strongly built are your security put in place?
Faruk:
We are 100% doxxed, fully audited and KYC'd by CERTIK. https://www.certik.com/projects/meta-ruffy
Join us on our 24/7 VC and lets talk.
Q2. [6332] Too many projects promise magic but never release any working product or prove any revenue, Within a short/long time of release. Is your project also like this? If not can u tell us, What makes your project different from other projects?
Faruk:
We already have 3 working products (Ruffy World Metaverse, NFT marketplace soon to be released within June and a DApp for staking.
Our difference is trust, transparency and kindness. We take each community member serious and try to explain each step one by one.
In the BSC we are the epitome of metaverse projects. We are here, 100% behind what we do and share a vision, which will bring us to the Top 100 on CMC.
Q3. [6332] What is your strongest advantage that you think will make your team leading the market?
Faruk:
9 Handpicked core team members and a Leader that established various businesses in the real world with multi million exits. The knowledge, passion and our hearts are in the company. That is why we have an advantage over any project. We take time to be here for you any day any hour any minute.
Q4. Most of the questions people had during the AMA asked about the strengths of the Project.
So at this time,can we talk about your difficulties and challenges?
Have you faced any major problems in creating your project so far?
Faruk:
The major challenge is the market condition. We can't change it but it gives us a chance to build and keep building. It gives us time to finalize everything until the next bull run and prepare everything to become the next top 100 project. This is our vision, and mission.
Other challenges include resources, which we covered with good project risk management.
Q5. [6332]Almost 80% investors have just focused on price of token in short term instead of understanding the real value of the project. Can you tell us on motivations and benefits for investors to hold your token in long term?
Faruk:
Our investors share our vision. They understand the key aspects of the metaverse and we are also here to teach every one of you. We will help you become a valuable member of Web3 in general. Within our ecosystem you'll enjoy that our transparency and trust will fill you with joy and happiness. Feel free to tune into our chat and lets talk!
Trying to find MEXC AMAs recaps?
It's easy! Explore them in a special section of our MEXC Global blog. Find insights for other recently listed projects at MEXC like MetaRuffy.
Start your travel on MEXC Global