In this Telegram AMA recap, you'll find insights about the MetaMate project. In an event hosted by Iris from MEXC Global, you will meet Ms. Phuong Hoang, CMO of MetaMate.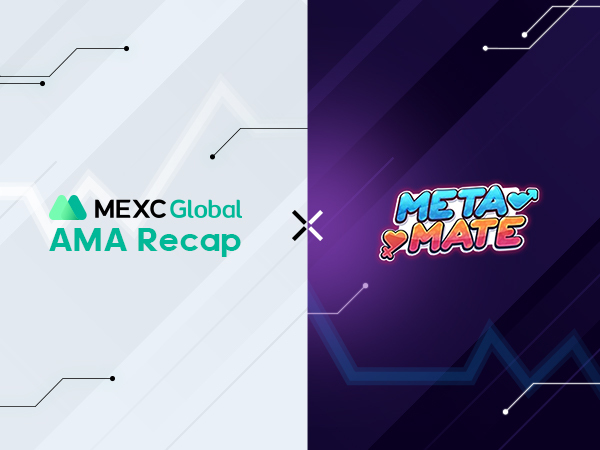 Introduction:
My name is Phuong – CMO of MetaMate project.
As for my background, I'm specialized in Marketing field with 4-year experience as Marketing Director & Strategic Partner and 6-year experience in the fields of Marketing, Sales, & Data Analytics. I started out as an investor and immediately found this field very attractive.
At MetaMate, I'm in charge of implementing the marketing plan including maintaining social channels, working with partners, and other tasks in order to help MetaMate get the greatest outcomes.
Questions from the community:
Question 1:
Iris: What is MetaMate? Can you share with us more in detail?
Phuong: Our project – Metamate – is the pioneer in combining a digital dating platform with a metaverse NFT game.
Metamate's vision is to develop a social platform and an NFT game for people to connect, have fun, and earn together. We want to bring our players the opportunity to get to know each other, nurture connections, and earn rewards. Our metaverse offers great NFT collections, which were meticulously built to bring real-life in and suit all types of personalities. We also want to create a game environment that is casual, exciting, and engaging.
Our missions are:
– Help connect people
– Create casual and exciting gameplay with free-to-play and invest-to-earn features
– Develop a strong community
– Provide long-term growth for all stakeholders
Question 2:
Iris: What are MetaMate's unique selling points as compared to other similar projects in the industry?
Phuong: MetaMate has its unique features that will differentiate us from others:
– The pioneer in combining a digital dating platform with an NFT Metaverse – the two dominating trends which have been and will be constantly and significantly expanding in the upcoming time.
– The first NFT Metaverse App with social & dating features, which is casual and capable of attracting both men and women players
– Focus on free-to-play, invest-to-earn, user-generated features. Our Alpha Test version has been released and received great feedback from the community.
– Develop a complete ecosystem with a Web 3.0 product (Mate Plus), a Cross-chain NFT Marketplace product, and an NFT Venture.
Question 3:
Iris: What is the role of the $MTM token in MetaMate? Would you tell us more about its tokenomics?
Phuong: About the MTM token, $MTM is the official token which has multiple utilities inside the MetaMate ecosystem:
– Players can Deposit $MTM to get in-game currency Mingle Dollars that can be used in several in-game features
– Staking and Farming
– Marketplace Trading
– NFT Game Venture
– NFT Cross-chain Marketplace
– MatePlus – Web 3.0
Regarding the tokenomics, I will highlight some important points here:
Its total supply is 1,000,000,000. We had 2 sales rounds: Private and IDO which consist of 13% of the total token supply.
All tokens of the team will be locked for 12 months then they will be released linearly for the next 36 months. The liquidity pool will be locked for 2 years. With this tokenomics, we target long-term growth and sustainability for all stakeholders of our projects. We know that information on tokenomics is very important for our communities so we make it very clear and transparent.
Starting price will be $0.01/MTM
For more information about our tokenomics, please refer to our paper
https://metamatenft.gitbook.io/whitepaper/tokenomics.
Question 4:
Iris: Are there any exciting news or updates regarding MetaMate that you would like to share with the users?
Phuong: We are having Version Beta 2.0 released on May 11 Following that, the NFT sale will be by MTM tokens (and burnt immediately, burnt NFT sale wallet will be public for everyone to check).
And the most important event that we are all looking forward to is the official release of the mainnet version on May 18.
Question 5:
Iris: If you were to summarize your project in ONE word, what would it be? Why?
Phuong: Definitely it would be UNIQUE.
Because we are the first and the pioneer to combine a digital dating feature into the NFT metaverse.
Free-asking Session
Q1. I really enjoy the free-to-play version. When will you release the mainnet version?
Phuong:
We are so happy to hear that you enjoyed our free-to-play version. Our mainnet version is expected to be released on May 18th. Please follow our channel to receive the latest information!
Q2. What are the major achievements that MetaMate has already made?
Phuong:
Some of the major achievements that MetaMate has had are:
– Formed partnerships with trustworthy partners in the blockchain world: Bluezilla, GameZone, MetaVpad, Babylons, DareNFT, and many more
– Released the Alpha Test version and received positive feedback
– Built MetaMate's community with 45k members on telegram group, and developed communities in target countries like Vietnam, Philippines, Indonesia, China, and Brazil…
– Done successful IDO on Gamezone, MetaVpad, Babylons, Brandpad, Gami World, and MetaMate community. CEX and DEX listing was done after IDO.
Q3. What will be the slippage tax on buying & selling the token?
Phuong:
Tax for buying is 0% and for selling is 0%
Q4. Any sneak peek into upcoming events of MetaMate
Phuong:
In the upcoming time, there will be a lot of exciting events:
– NFT sales will start within 2 weeks. NFTs will be sold in MTM, tokens received from NFT sales will be burned, burning wallet will be available for checking.
– Mainnet version is expected to be released on May 18th.
Q5. I have never tried metaverse dating before. How is it similar to and different from a normal dating app?
Phuong:
MetaMate is like a blockchain tinder. In our dating metaverse, players could swipe, match, and chat with a partner, similar to a normal dating app. But it does not stop there. In MetaMate, couples can enjoy exciting dating minigames and other in-app activities. With our unique date-to-earn feature, players can monetize their dating experience. What could be more fun?! Let's join us now to experience the first dating metaverse ever: https://metamatenft.com/
Trying to find MEXC AMAs recaps?
It's easy! Explore them in a special section of our MEXC Global blog. Find insights for other recently listed projects at MEXC like MetaMate.
Start your travel on MEXC Global