In this Telegram AMA recap, you'll find insights about the Krida Fans project. In an event hosted by Miranda from MEXC Global, you will meet Paurav Joshi, Founder and CEO of Krida Fans.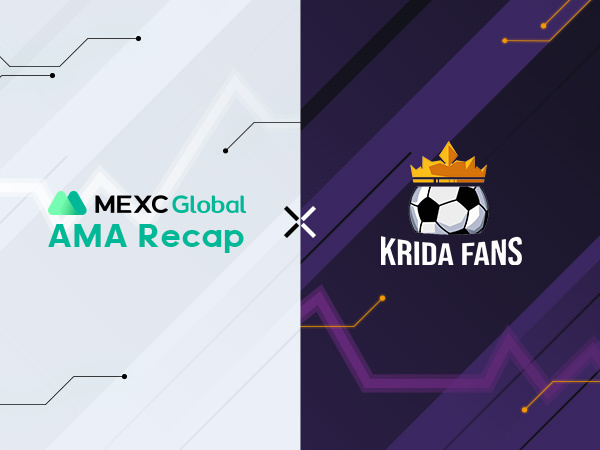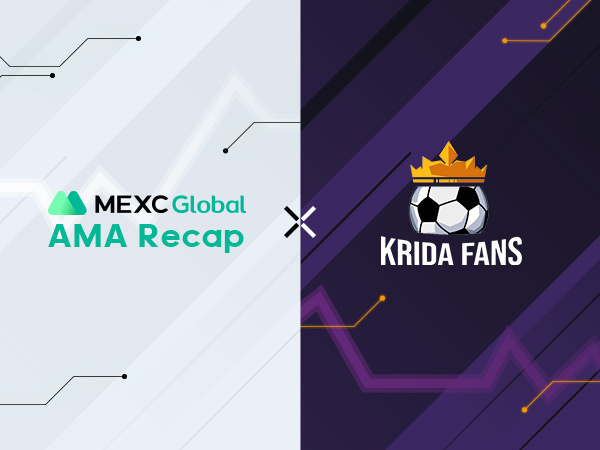 Key takeaways:
What are Krida Fans
Team of Krida Fans
Problems Krida Fans solve
Role of KRIDA Token
Introduction to AMA Member from Krida Fans
Hey All, Excited to hear insightful questions from the community and share more about Krida Fans. I am Paurav Joshi, co-founder and CEO of Krida Fans. I have been in the crypto industry for 5+ years. Have gone through the bull of 2017 and bear following it. It's a great journey to understand the tech behind the apps. In my non-crypto journey, I have worked in Fortune Top 15 companies solving real-world problems for them.
Questions from community to Krida Fans:
Question 1:
Miranda: What is KridaFans? Can you share with us more in detail?
Paurav: Absolutely. KridaFans is fantasy sports done right, where everyone has a fair chance to win. KridaFans — a Next-Generation Fantasy Sports Platform built on the Polygon Blockchain with a built-in In-Game NFT Marketplace and Community Platform. KridaFans brings the best of the Fantasy Sports and NFT Ecosystem in one place while creating a decentralized, community-driven, and transparent blockchain-based fantasy sports platform.
We define scarcity based on how you use that player card NFT in creating your fantasy team. This kind of scarcity is called skill-based scarcity and it provides everyone a fair chance to win, be it early adopter or late entrant to the game. That's why we call it fair for everyone. KridaFans is going to make the game more play as well as fun and earn as a side product!
Miranda: Sounds like every one of us can have our own football team, isn't it the best thing
Paurav: Surprises there too. The more you own, the more fun you will have
Question 2:
Miranda: Next can you tell us what triggers you to KridaFans? What are some of the real-world problems/ pain points that KridaFans aims to solve?
Paurav: This has an interesting story. In traditional fantasy sports, we have only a single way to earn – come in top x% and win, also there is no way to take part in changes being done to the platform you played for years and invested your time.
Blockchain can change this, and they are doing it via minting limited # of items. So, rather than solving the problem, this actually worsens it. Because limited # of minted items means few have this rare NFT, so more power in hands of few people and unfair to all other.
These were all the things we found out need to be improved. But spark came while watching TV leisure time. When we saw an advertisement for fantasy sports on TV last year, it clicked to us that this has to change and we can make a difference here. This triggered the creation of KridaFans.
Question 3:
Miranda: What is the role of KRIDA in KridaFans? Would you tell us more about its tokenomics?
Paurav: We have been very thoughtful in why do we need token that using native blockchain token (like Matic), how can we make token useful to the platform as well as players.
The main utility of KRIDA tokens is:
Entry fees and rewards of the game
Minting NFT on platform
Discounts on trading NFTs on the platform
Staking and LP rewards 
Vote on governance proposal
KridaFan's total number of tokens is 100 million. The majority (~60%) of our tokens are to reward Kridaks, our community. In detail, tokenomics can be found here.
Question 4:
Miranda: Are there any exciting news or updates with regards to Krida Fans that you would like to share with the users?
Paurav: Sure. Plenty actually but let me share few here
We have an airdrop campaign going on alongside our AMA giveaways, so make sure to participate in it. There are going to be exciting updates for token holders on 27th January (1 day after launching), make sure to follow our announcement channels for that. Our backers will be revealed today. And there will be an incentivized Tesetnet of KridaFans a few weeks down the line.
Miranda: Guys, make sure you have seen this airdrop campaign.
Question 5:
Miranda: If you were to summarize your project in ONE word, what would it be? Why?
Paurav: Aah, ONE word only, then there is single one comes to mind : "Disruptive"
Let me explain here in detail: KridaFans is bringing skill-based scarcity to NFTs for the first time ever to a fantasy soccer platform irrespective of the blockchain or non-blockchain world. This is innovation within fantasy sports. What is more disruptive is our vision: with KridaFans platform, other web 2.0/web 3.0 developers are also going to build their own fantasy sports. We are going to give grants for people to build fantasy platforms for their favorite sports using KridaFans.
So, users will have finally options to switch platforms without losing the reputation they earned on one platform to another. This is why I think "DISRUPTIVE" is the right word.
Free-asking Session to Krida
Q1. Can you briefly Describe the top milestones that you have achieved so far?
Paurav: Top milestone we have achieved thus far:
We had our MVP out in June and did user interviews with it. This is critical to understand what users think about during and after using your product
Honorable mention on Global hackathon (top 10%) 
Few of the best backers across the blockchain industry who aligns with our vision
Q2. There are already a few Fantasy Football games in crypto. Can you please tell the main advantages and benefits of choosing KridaFans? How will you attract gamers from other platforms? What will you offer them so they will come to start play KridaFans?
Paurav:
I agree there are a lot of fantasy football platforms, but most of them are actually fantasy sports platforms with lot many other sports inside them.
We are doing ONLY football/soccer. How we differntiate than others are 3 ways:
Skill-based Scarcity to NFTs – User's skill will decide how rare their NFTs are rather than platform assigning label
Detail rich NFTs enabling 3rd party applications like card games in metaverse: each NFT in Krida Fans has details that update after every match, making these NFTs change based on live events.
Social Reputation as multi-chain non-transferable NFT: community will be incentivized based on how they interact in community
Q3. What is PROJECT's revenue model? In which ways do you generate revenue/profit?
Paurav: The project's revenue model will be based on: 
entry fees of the game
NFT trading
NFT minintg
And in future, use of KridaFans API
Enjoying MEXC AMAs recaps?
It's easy! Explore them in a special section of our MEXC Global blog. Find insights for other recently listed projects at MEXC like Krida Fans! Lots of helpful information for your DYOR!