In this Telegram AMA recap, you'll find insights about the Klaytn. In an event hosted by Iris from MEXC Global, you will meet EZ, Head of Strategy at Klaytn Foundation.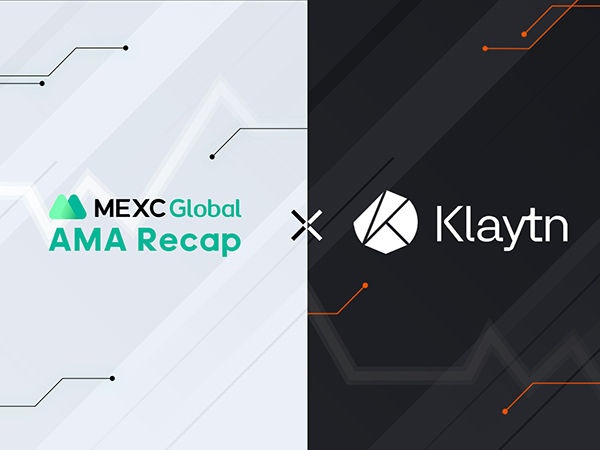 Introduction to MEXC AMA Member from Klaytn:
EZ: I am the head of the strategy at Klaytn Foundation and I am grateful to have a chance to talk about Klaytn and 'Klaytn 2.0', which is a chain-rebuilding endeavor encompassing technology, governance, treasury, and so on.
Questions about the Klaytn project:
Question 1:
Iris: What is Klaytn? Can you share with us more in detail?
EZ: The South Korean Web2 giant Kakao created the most practical, reliable EVM Layer 1 blockchain network Klaytn.
Staying true to its mission to "make a better world with people and technology", the Klaytn blockchain gives power back to the people in the age of Web3, rather than focusing solely on technology and business.
To that end, the Klaytn Foundation is committed to making cutting-edge technologies more accessible, to pave the way to engage more people to partake in this new experience.
A robust community based on trust coupled with powerful technologies that support infrastructure will help Klaytn and its participants build a collaborative playground for a new, exciting world of Web3. This will allow the Klaytn Foundation to discover new opportunities and accelerate the speed of innovation reaching the mainstream.
Web3 is where people group together in flexible affiliations based on common interest, and the millennials and zoomers are emerging as the main actors that willingly embrace what it has to offer. Klaytn Network will be the best trust layer to accommodate these members of the next generation.
Question 2:
Iris: What triggers you to launch Klaytn? What are some of the real-world problems/ pain points that Klaytn aims to solve?
EZ: When it was launched in around June 2019, we aimed mass adoption of blockchain which was a natural progression inheriting the DNA of Klaytn's founder, Kakao, a successful Web 2 giant backed by massive mass adoption of key services such as Kakaotalk, which is a WhatsApp-like service. Today, With the approaching of a new civilization, the metaverse is emerging as a space for creators and players to define new standards, where a dynamic, digital future with flourishing creativity awaits.
This movement will begin with the underdogs, creative minds, youngsters, outsiders – whoever wants to be themselves without facing any prejudice due to age, occupation, or nationality. But the metaverse should not be a 'Disney Land'. It should be a different world where people are granted genuine ownership and the freedom to express their ideas without inhibition.
That being said, the metaverse will be built on a blockchain protocol that no central authority can control – and that's exactly what we strive for. Klaytn is built to be the fundamental trust layer for the metaverse that respects the participation and contributions of all communities, bringing them together in the new world and empowering them.
Question 3:
Iris: What is the role of $KLAY in Klaytn? Would you tell us more about its tokenomics?
EZ: KLAY is the governance token of the Klaytn platform where various game, DeFi and NFT projects are thriving
On the first launch (genesis), total of 10 bil tokens were minted with 75% reserve (not circulating), 17% private sale, 5% team, and 3% for the ecosystem. Annually, about 300 mil tokens are newly minted by protocol to be used for ecosystem growth (~66%) and reward for Governance Council of Klaytn (~34%).
The current circulating tokens are about 2.5 bil. KLAY is listed in various global major exchanges including Binance, Bybit, Crypto.com, OKEX, Bithumb, and so forth.
Iris: It's also listed on MEXC already – trade it here!
EZ: Of course!
Question 4:
Iris: Are there any exciting news or updates with regards to Klaytn that you would like to share with the users?
EZ: We will announce Klaytn 2.0 soon which is about chain rebuilding.
The goal is to become the metaverse blockchain of choice for builders and to achieve that we present our One-stop offer for metaverse builders, which include Open Source Dev Infra Package, High Performing Mainnet, Community Co-Building, and Management and Financial Support, which all of those are deadly needed from builders around the world.
Iris: Looking forward to Klaytn 2.0!
Question 5:
Iris: If you were to summarize your project in ONE word, what would it be? Why?
EZ: The Metaverse Blockchain for All. That's the slogan of Klaytn 2.0, which means Klaytn will be the chain of choice for all the metaverse builders by providing one-stop offers from dev infra package, high performing mainnet, community co-building, and management/financial support.
Free-asking Session
Q1. What is your strongest advantage that you think will make your team lead the market?
EZ: One of our strongest advantages is that 1) we have Ethereum equivalence and still 2) we provide our own distinctive technological advantages. What I mean by Ethereum equivalence is that to simply put, if you are a dapp developer and you do your dev on Ethereum, you can just do the same on Klaytn as you do on Ethereum. In addition to that, we are proud to provide 1-second absolute finality with a very low gas fee which shows our great tech. capability in place.
Q2. Too many projects promise magic but never release any working product or prove any revenue, Within a short/long time of release. Is your project also like this? If not can u tell us, What makes your project different from other projects?
EZ: That we are backed by one of the most successful web2 giants globally which means that we have the resources to continue our endeavor to realize our vision of becoming the metaverse blockchain for all. Also, Klaytn's unique governance structure run by the Governance Council, which is a group of highly trusted global entities can be another strong rationale that Klaytn is committed to continuing our journey to deliver what we have promised.
Q3. Are you a global project or a local project? At present, which market are you focused on, or is it focused on building and growing to gain customers, users, and partners?
EZ: Klaytn is a global project with its root in South Korea, as well as its, headquarter in Singapore. Our primary focus has been Asia and we are expanding more globally including the Americas, Europe, and more. Building a new customer base has been our top priority and it will be so going forward.
Trying to find MEXC AMAs recaps?
It's easy! Explore them in a special section of our MEXC Global blog. Find insights for other recently listed projects at MEXC like Klaytn. Lots of helpful information for your DYOR!
Start your travel on MEXC Global