In this Telegram AMA recap, you'll find insights about the IdavollDAO project. In an event hosted by Iris from MEXC Global, you will meet Abhilash Atmaram, Co-funder of IdavollDAO.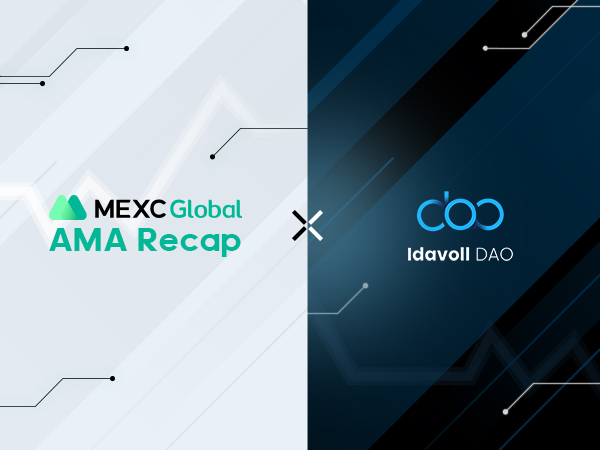 Introduction:
Abhilash: I have been in the space for around 6 years. Started to work with a ICO firm in 2016, after which I contributed to a layer 1 project. In 2020, me and my co-founder saw the demand for a DAO and started IdavollDAO
We got listed on Feb 2021 and going strong!
Follow us:
Website: https://idavoll.network/
Twitter: https://twitter.com/IdavollDAO
Telegram Community: https://t.me/idavollglobal
Telegram Channel: https://t.me/idavollnet
Questions about the project:
Question 1:
Iris: What is IdavollDAO? Can you share with us more in detail?
Abhilash: Idavoll is a decentralized Autonomous Organization (DAO) management service provider that unpacks necessary infrastructure and services, to enable better project/user communication and management, that includes DAO creation and management toolbox, court, investment concurrent resolution and social discussion panel.
Essentially, Idavoll is designed specifically for the ones aren't particularly familiar with smart contracts and coding, a one-stop solution for them to create their very own DAOs, thus kicking start limitless web3 journey.
2022, may be the year of the DAO. ConstitutionDAO attempted to auction off a copy of the U.S. Constitution, and Sequoia briefly wrote DAO in its Twitter profile—in the past month, two major out-of-the-circle events have pushed the word "DAO" into the public eye.
With the support of capital, the torrent of DAO will rush to the market. More than 40 DAOs will be established in 2021. In the second half of the year, especially since September, the establishment of DAOs has become intensive, and the amount of investment capital obtained has gradually increased. It is unquestionable that DAO will be the next phase of human interactions in this ever interconnected world, and Idavoll will provide the best toolbox for the DAO mass adoption.
Question 2:
Iris: What triggers you to launch IdavollDAO? What are some of the real-world problems/ pain points that IdavollDAO aims to solve?
Abhilash: IdavollDAO is built on Polygon and support Ethereum, BSC, and will support Klaytn network in the second quarter this year in the next iteration. The feature makes IdavollDAO standout from the DAO community is the NFT (ERC-721) proposals, proposals stored in the form of NFTs and are tradable, just like domains, some proposals have significant value in both contents as well as their profound influence in terms of the development of a project, a time-capsule of the history of web3 development.
Using IdavollDAO, other projects can create their own DAO contracts with their native tokens. If someone wants to put forward a proposal, they will have to fill the project's smart contract with its native token with the specification of a certain block. Simultaneously, the proposal will verify the balances of the project's token holders in that block and convert the token holdings into voting power.
As long as the proposal remains open, the voters will have to keep their balances on-chain to retain their voting power. When the proposal is concluded, it will check the balances of the voters in that block and deliver the vote's result based on the balances of the voters.
This system will allow proposers to make crowdfunding, trading, and diverse management proposals in the smart contracts existing on the Ethereum blockchain. But the big feature we are offering is a high-quality user experience and a front end with a plethora of handy tools to fine-tune your DAO according to the design with regard to all details you want to implement.
Question 3:
Iris: What is the role of the $IDV token in IdavollDAO? Would you tell us more about its tokenomics?
Abhilash:
Idavoll DAO is build to enlarge the decentralized community, a trust-less passage for every corner of the world.
Idavoll token (IDV), is dedicated for DAO management, an innovation that enables better motivation for individuals to maintain liquidity and resolve oppositions in governance.
IDV can be earned, loaned, held, transferred, or transacted by users peer-to-peer. IDV token holders will be able to use their token in an evolving number of ways:
Question 4:
Iris: Are there any exciting news or updates with regards to IdavollDAO that you would like to share with the users?
Abhilash: Two words: investment DAO.
Investment DAO is essentially a way to navigate investment in a decentralised and democratised manner, where investment decisions are based on the DAO's collective decision, and the execution is based on smart contracts, in other words, a trust-less environment. The core innovation of the next investment DAO update lies in using storage proofs to verify balances. This approach was previously unfeasible due to the high cost of computation on Ethereum.
The investment will allow your DAO to execute transactions on-chain in a fully trustless way without relying on any human or oracle input. All calculations related to votes will be done on Alpen which then will control the execution on Ethereum, where there's endless possibilities. Web 3 versions of trust funds, hedge funds, index funds, where anyone could be a fund manager without the worry of safety
It's truly a breakthrough.
Iris: That's something exciting!! Looking forward to it going LIVE 👀
Question 5:
Iris: If you were to summarize your project in ONE word, what would it be? Why?
Abhilash: Realistic.
IdavollDAO aims not to brag unfathomable tales, but meet realistic demand — money. Investment is an unavoidable topic in the crypto space.
With the establishment of Alpen DAO management platform, and on going growth of DAOs and members upon the infrastructure, it is expected investment toolbox to be created. The primary reason behind the wholehearted trust and embracement in the blockchain technology is due to its trustless nature, where no human intervention is needed, nor could it undermine any consensus of value transaction or ownership. It is rather alarming that the majority of venture investment activities were carried out in the traditional way, plus a few fancy tools such as multi-sig wallet and votes, with no fundamental changes in human execution in investment decision.
That is about to be change, according to the timeline, it is estimated a fully functional investment DAO tool will be facing the market in Q4 2022, build on top of current IdavollDAO. It has been described as "the safest choice out there" with integrations with the majorities of DEXs and NFT marketplaces, whilst other derivative instrument will be added accordingly, providing total DAO generated investment execution without human intervention.
Free-asking Session
Q1. Your project name seems to be very interesting. Does it have any story behind it? Can you share us with the inspiron for approaching to this name?
Abhilash:
Well, there is a reason why Idavoll is named after a magical valley, which Scandinavian gods used to take meetings and sign deals (probably). It is the first and only cross-chain DAO (decentralized autonomous organization) protocol, where different blockchain ecosystems composed of users, tokens and dApps (decentralized applications) can meet and interact with each. Idavoll solves the problem of interoperabiltiy and also provides the framework for real-life organizations on the blockchain to solve disputes and act as governing bodies.
Q2. On your website you don't mention that you have done any internal or external audit of your smart contract, so can you give us details if you have done any audit before? And in case you haven't, would you plan to perform any review of your smart contract in the near future?
Abhilash:
We have an internal team who've worked for audits as well, Certik has audited our codebase and smart contracts
Q3. What are the attractive features in your project? What is the vision and goals in your project that you want to achieve in 2022 and beyond?
Abhilash:
This may sound ambitious, but in 5 years from now we plan to be serving not only various crypto institutions (say hedge funds structured as DAOs) but also real-world organizations (like Unicef) and also state governments!
We want to make the world a transparent and fair place for everyone, that why we are building Idavoll
Q4. So many projects just like to speak about the "long term vision and mission" but what are your short terms objectives? What are you focusing right now?
Abhilash:
This is the essence of Idavoll DAO enabling its members to set up resource allocation rules, build consensus and voting mechanisms, etc., all organized with a unified smart contracts logic. As ancient gods used to divide their responsibilities to better rule the universe, organizations working on Idavoll protocol (companies, open source projects, NGOs, foundations, hedge funds…) will be able to delegate decisions to its members, control their activities and rule our disputes, while staying completely on the decentralized chain.
Q5. Can you share with us your tokenomics? How much is the total and circulation supply of your tokens? Will there be buy back system or token burning in the future?
Abhilash:
Idavoll Network has issued 2 billion IDV tokens enabling democratic, audible, and transparent fund distribution and network rules.
Trying to find MEXC AMAs recaps?
It's easy! Explore them in a special section of our MEXC Global blog. Find insights for other recently listed projects at MEXC like IdavollDAO.
Start your travel on MEXC Global