In this Telegram AMA recap, you'll find insights about the Yesportsproject. In an event hosted by Iris from MEXC Global, you will meet Harshad Wagh & Ankit Kalra, CEO & COO of Harmony Launcher.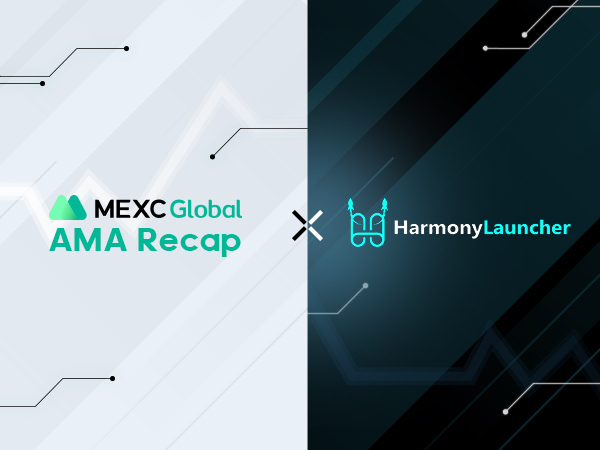 Introduction to AMA Member from Harmony Launcher:
Harshad: Hi and thank you for inviting us. Looking forward to an exciting session.
I am Harshad Wagh, Harmony Launcher Cofounder( $HARL),
With regards to my Education Background Have done my engineering in electronics major.
Started off as a software engineer in omnitech in 2014
Then held a position as a big data analytics developer in core logistics (2016–2018)
Alongside was amazed by the emerging blockchain tech acquired this skill and started freelancing as a blockchain dev in 2016
Then joined the block pool as a full-stack blockchain application developer in 2020. Was closely associated with top launchpads on solana both as an investor and as a tech contributor, felt the need for a strong infrastructural platform to give necessary exposure to projects building on harmony and harmony ecosystem itself so started off harmony Launcher 8 months back with my dynamic co-founders Ankit and Prashant.
While my crypto journey started along with my professional journey way back in 2014. and since then there's no turning back. Getting into this scenario early surely has helped me in developing one of our most prized product Harmony Launcher.
Ankit:
I'm Ankit Co-founder of HarmonyLauncher I started as an Engineer about few years ago. Have worked with numerous tech companies and got into blockchain & crypto in 2017, started my journey arbitraging crypto market by buying bitcoin and etherum in 2017 and then went on to really study software management systems , play to earn games ,various protocols and now i have 5 year experience in building blockchain products and have built a platform that helps people to build and launch crypto projects on our platform and I am really excited to have everyone be part of it.
Recently got featured in US today
https://www.usatoday.com/story/sponsor-story/karishhma-mago/2022/01/06/meet-2022-s-standout-blockchain-experts/9102315002/
Official website – HarmonyLauncher.io
Official Group – @HarmonyLauncher
Official Twitter – Twitter.com/HarmonyLauncher
Questions about the Harmony Launcher project:
Question 1:
Iris: What is Harmony Launcher? Can you share with us more in detail?
Harshad:
Let us familiarize the community regarding our project Harmony Launcher:
Harmony Launcher is the world's first decentralized IGO + IDO Launchpad & Incubator with an integrated AMM DEX built on the Harmony Blockchain. As a Launchpad and Incubator, Harmony launcher's primary focus would be on incubating and providing all the fundamental & substantial grounds for startups and projects based on the Harmony network to Nourish Build, Raise Funds & Launch successfully in a hassle-free and safe way.
Lots of Organisations and investing firms have onboarded Harmony Launcher's Vision towards incubating, nourishing and launching projects on the Harmony Protocol Blockchain by contributing their Network Platform, Valuable Resources & Level of Expertise.
Our strategic advisor & investors include :
Cathy Zhu China head Casper labs
Waleed Rasuli md tezos 
Nikolus kost ex harmony 
Yuen Wong ceo of labs group 
Lary shi founder basic capital 
Jef & Justin Maven capital 
Demelza director Cointelgraph 
Evan Luthra Advisor and angel investor 
Yash ceo of Acknoledger
Our list of backers include:
Basics capital 
Magnus
Au21 
Maven Capital 
Gains associate 
Glock venture 
ZBS Capital ( crypto differ )
We have raised 1.7mil. ~ at a valuation of 12mil. in our private rounds and aim to raise an additional 240k in the public sale via hosting triple IDO on genesis shard firestarter and our own platform. This makes our team a strong foundation and along with this the backing of 50 plus VCs and great support from harmony this project is bound to touch the sky.
Question 2:
Iris: What triggers you to launch Harmony Launcher? What are Harmony Launcher's unique selling points as compared to other similar projects in the industry?
Ankit: I found that there was a lack of strong foundational Launchpad on harmony and the potential harmony blockchain holds to scale up as an emerging ecosystem.
The Basic concept of Launchpad is to provide a platform to promising projects to raise funds, regarding this we have strict criteria needed to launch a project on $HARL?
– Project vetting and negotiation
– Liquidity provision of particular ASSET
– Liquidity provision This will be provided by the Treasury – IDO announcement and marketing.
HARMONY LAUNCHER with its very unique and pioneering system and strategy offers its Launchpad being the first & dynamic launchpad with Cross-chain, Swap & Passive income streams features, on the Harmony Chain.
Apart from being the pioneer launchpad station on harmony blockchain, we have garnered interest of various famous high profile investors, techno savvy famous personalities from crypto sphere and manage to onboard a great team of advisors and partnered with various projects.
Long Term revenue model is to provide incubation to various most promising high yield projects and provide the necessary infrastructure to grow and earn a share from the profits..
Harshad: A great man said,
"If you do not find a way to make money while you sleep, you will work until you die."
Our passive income streams include but not limited to: Yield Farming, Staking, lottery, playing games to win cryptocurrencies freely, trading and earning and lots more.
Few of our unique features include:
We being the premier launchpad on Harmony Chain, Backing from some famous investors in the blockchain industry, our incubation system, Insurance system, Metaverse and gaming, cross chain interoperability makes us unique.
Secondly the services we are going to provide right from incubation to advisory to guidance for the projects that will approach us apart from the monetary fundings.
Third being the AMA DEX we are on the path to develop a whole self sustainable eco-system for the Harmony Launcher which in itself is a very distinctive advantage for our project.
This feature itself makes us one of its kind and also our main motto is quality over quantity.
So all in all Harmony Launcher is the platform built with respect to providing all the features of blockchain and is already future proof.
Question 3:
Iris: What is the role of the $HARL token in Harmony Launcher? Would you tell us more about its tokenomics?
Ankit: The utility token of Harmony Launcher ($HARL) will be used for tier allocations to get into presales, public sales etc.
Although $HARL is a launchpad utility token.
Basic utility including
1. Yield Farming ( Users stakes $HARL tokens to earn other coins)
2. Staking: you stake or lock your $HARL coin and earn more $HARL tokens
3. Earnings from liquidity pool.(Add to liquidity pool & earn/share trading fees.
4. Lottery. You buy tickets with $HARL tokens and win amazing prizes.
5. Play games to earn Cryptocurrencies. Other projects donate coins to our pool to gain a larger community as people adopt their tokens. Our users play games freely and receive those tokens.
Other than staking and farming and project allotments. the utility of HARL will be beneficial in acquiring premium range of NFT cards, and likewise.
We also plan to use that token in metaverse as mode of currency especially for the harmony metaverse projects and gaming alike.
Question 4:
Iris: Are there any exciting news or updates with regards to Harmony Launcher that you would like to share with the users?
Ankit:
Yes recently We raised a total of $100,000 in BUSD through our own platform.
FCFS Round Completed in 27 Seconds 🔥
So far we have partnered with genesis shard, rebaked and hello capital ( early stage backers of polkadot and lit and numerous other projects) and have got them to setup 1.2 mil dollar fund collectively to incubate projects in their earliest stages.
we have triple IDO firestarter, Genesis and HarmonyLauncher you can participate from there
check out the twitter handle for more info.
Apart from this we concldued our public sale on 14 on firestarter which got subscribed within 45 seconds and on harmonylauncher FCFS within 27 seconds.
Also Our AMM DEX will be available soon. We will be supporting projects across all chains though our motto is to bring metaverse projects onto harmony network.
We are going to introduce DAO governance as we believe in complete decentralisation and also it's one of our main aim this year to deploy this system.
As we always hearken to the voice of our community.
Question 5:
Iris: If you were to summarize your project in ONE word, what would it be? Why?
Ankit: Sure love too
For sure it would be "METAONE". Which symbolizes we are going to be the number ONE in the metaverse of the Harmony Network Ecosystem. As we strongly believe in the future of Metaverse and the potential it carries for the blockchain world.
Free-asking Session
Q1. Do you have any NFT plans and their integration ahead in the roadmap? Also, do you have any passive income options and incentivization rewards for a long-term holder?
Ankit:
We do have a plan to introduce special limit addition NFT also uses those NFT to get special advantages while allocation in the projects. Along with Genesis Shards we introduced some NFT cards which got sold within 45 seconds.
With regards to passive income, our platform does provide Staking, Liquidity, and more.
Q2. A common problem is that nowadays most investors are only interested in initial profits and ignore long-term benefits! So can you give them some reasons why they should buy and hold your tokens in the long term?
Harshad:
We believe in quality over quantity and our main aim is to act as catalyst to bring the projects onto harmony. This helps to bring only highly vetted projects onto our pad and thus maintaining the exclusivity. Also we are future proof hence the question of token price gets balanced due to our roadmaps in plan for the next 2 years. Thereby we will be providing lots of unique premium features on our platform.
Other than staking and farming and project allotments. the utility of HARL will be beneficial in acquiring premium range of NFT cards, and likewise.
We also plan to use that token in metaverse as mode of currency especially for the harmony metaverse projects and gaming alike.
This self sustaining ecosystem on Harmony launcher can easily bring about revolutionary change in patterns for "HODLING" the token as we cater to bring about new and exciting projects and continual developoment on the launchpad as well with the premium features offered.
Also we plan to offer buy back program which in turn helps in maintaining liquidity and rest assured we are here to stay and have planned our roadmap for the next 2 years.
Q3. Non-crypto user is very important for mainstream adoption. How you are planning to attract non-crypto users to your project? Is there any upcoming partnership that will bring non-crypto users and real-use cases?
Harshad:
Interesting question.
Basically our aim to bring metaverse onto harmony chain. Metaverse is the medium than can attract noncrypto and gamers community to blockchain and help them get familiar with crypto and blockchain networks.
Also we will be designing our UI UX in such a way that it will be easier for the regular folks to interact with our platform.
Upcoming partnership with respect to projects include gaming and real world use case projects. Stay tuned for further details and join our channel.
On our platform each user's demand is catered right from gaming to staking to lottery to quizzes.
Trying to find MEXC AMAs recaps?
It's easy! Explore them in a special section of our MEXC Global blog. Find insights for other recently listed projects at MEXC like Harmony Launcher.
Start your travel on MEXC Global