In this Telegram AMA recap, you'll find insights about the GOGOcoin project. In an event hosted by Iris from MEXC Global, you will meet Garry Krugljakow, Founder of GOGOcoin.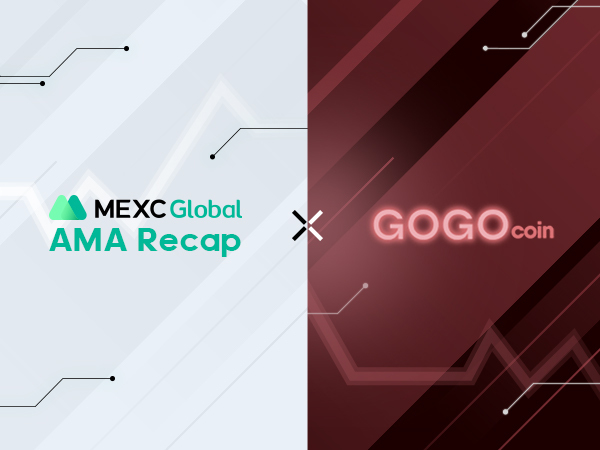 Introduction:
Garry: My name is Garry, I am a serial Fintech entrepreneur, former trader/banker in a bigger asset management company. Below you will find a brief summary of my professional experiences/contributions.
I helped build N26 (https://www.cnbc.com/2021/10/18/n26-triples-valuation-to-9-billion-now-worth-more-than-commerzbank.html) – one of the largest mobile banks in the world, after which I co-founded Cookies App (the Venmo of Europe) (https://techcrunch.com/2016/04/05/cookies-teases-its-payment-app-that-wants-to-become-the-venmo-of-europe/) which has been sold to Swedish Fintech Klarna. I also founded VAI Trade which was an AI-driven online lender for Shopify stores that was sold to the German bank Volksbank just before Covid hit.
I got involved in DeFi during the DeFi summer of 2020 and saw clearly that this was the future of Finance. I am also passionate about art and music and got very excited about NFTs earlier this year.
Due to that, we have created in spring of 2021 an NFT collection (that became a top15 trending collection on Opensea) known as Cryptogogo's. We evolved this project and created GOGOcoin, that's where the name comes from.
Questions about the GOGOcoin project:
Question 1:
Iris: What is GOGOcoin? Can you share with us more in detail?
Garry: We are constructing the most user-friendly open source DeFi protocol for asset management and savings. We will be one of the first DeFi protocols to offer segregated funds on-chain.
GOGOcoin combines interfaces with a user-centric approach while building on the strengths of decentralized infrastructure.
We genuinely believe that "Decentralized Finance" will eventually just be called "Finance" and replace TradFi the way we know and use it today. We aim to pave the way for that by bringing and onboarding those masses with web2 easy-to-use on a decentralized, web3 platform. Our experience in building web2 Fintechs def comes in handy for that.
Question 2:
Iris: What triggers you to launch GOGOcoin? What are some of the real-world problems/ pain points that GOGOcoin aims to solve?
Garry: If you look at DeFi protocols and the DeFi ecosystem, currently we feel it's too complex for most people/normies to interact with and navigate. We believe DeFi should be accessible for everyone, regardless of their personal background or technological abilities. That's the point of crypto since its conception. It should be for everyone to break free from the restraints of centralized finance/TradFi.
That's why we want to be the doorway to DeFi for new users. It's not about another protocol just for degens (which we will cater to initially before launching our v2.0 and v3.0 in the next months), it's about onboarding the masses to DeFi.
Our solution is a DeFi protocol that is so easy your grandparents could use it. We're offering a frictionless user experience powered by awesome invisible tech that includes on-chain automation, simple one-click interactions for DeFi, and advanced security via NFT Smart Vaults.
Question 3:
Iris: What is the role of the $GOGO token in GOGOcoin? Would you tell us more about its tokenomics?
Garry: $GOGO tokenomics are designed to create a positive feedback loop to drive the ecosystem's early growth. The $GOGO token will eventually be key to the value accrual mechanisms and management of the GOGOcoin protocol.
We have considered long-term mechanisms to reward our token holders. Of the fees gathered from our users, 50% of them will be burned. To achieve that, non-$GOGO token profit is traded for $GOGO before it's burned.
We have implemented buyback and burn mechanisms to keep the token supply in check. Initially, this is done manually. More details on the buyback program designed to strengthen the market potential of the $GOGO token will be revealed in the future.
Iris: cool! thanks for the elaboration Garry
Garry: Of course!
Question 4:
Iris: Are there any exciting news or updates with regards to GOGOcoin that you would like to share with the users? 👀
Garry: Next on the roadmap is: the launch of yield optimizers for blue-chip assets like BTC and ETH, NFT staking in GOGO single staking pool, and USDC single staking pool and building to V2 of our website and app. Also, we will be announcing groundbreaking partnerships as well as some massive ecosystem development that we have been focusing on for the past few months, but it's still under wraps and will be announced in March…
Iris: lots of exciting stuff coming!!
Garry: absolutely 🙂
Question 5:
Iris: If you were to summarize your project in ONE word, what would it be? Why?
Garry: Easy!
We aim to be the access layer to DeFi with DeFi Made Easy. We want to bring DeFi yields to everybody without people needing prior technical knowledge. All you will need to use GOGOcoin is an email address and credit card.
We are constructing the most user-friendly open source DeFi protocol for asset management and savings.
We'll offer a frictionless user experience powered by awesome invisible tech that includes on-chain automation, simple one-click interactions for DeFi, and advanced security via NFT Smart Vaults.
Free-asking Session
Q1. Security is the most important thing to consider when wanting to start a project, how safe is the $GOGO project for users and investors?
Garry :
Investors such as VCs have been KYCed and we had several audits done by top security experts including Hacken, Quillhash, and Omniscia. We will be announcing another audit as well as bug bounties in the coming weeks.
Q2. What are your top 3 things for priorities in 2022? Could you share some plans for the upcoming year?
Garry :
We have an exciting roadmap ahead of us including:
-Yield optimization farms for top coins (wBTC, ETH etc.) to earn interest on.
-1st Governance proposal based on the governance tokens.
– V2 staking/liquidity farm launch.
– Quarterly earning's a report, similar to Yearns.
– Shift the user experience (UX) to mobile-first and launch a native app
– Lending and borrowing feature in collaboration with a trusted partner using our $GOGO token.
– NFT Smart Vault and V3 staking/liquidity farm launch.
– Official (crypto) asset management license in Zug, Switzerland.
– NFT play-2-earn game based on CryptoGogo storyline (developed by 3rd party).
– Centralized exchange (CEX) listing(s)
Q3. Many protocols offer staking and farming, but the returns are not satisfactory or sustainable. How many different types of farming/staking possibilities GOGOcoin will offer until Version 3 (v3) will be offered to users and how will we calculate our rate of return?
Garry :
We will focus on blue-chip staking such as ETH staking and the rewards will be fairly high in comparison to other Polygon native protocols, so definitely make sure and check our website www.gogocoin.io for details, in particular, our fixed APY pool with USDC at 13% APY.
Q4. How many team members do you have? Do they have enough experience in the blockchain field? Do they have any experience working in crypto and non-crypto projects?
Garry :
GOGOcoin is built by a global team of 35+ professionals, spread across 3 continents, with deep crypto/DeFi expertise and with roots in banking, finance, tech, arts, entertainment, and gaming, as well as more than 10 years of experience in building multi-billion dollar tech companies such as N26, Consensys, Binance, Deutsche Bank and Sovryn.
Q5. Can you share social links so that we can join the community and be up to date on new projects and implementation?
Garry :
👉Visit our Website (https://www.gogocoin.io/) and read our Litepaper (https://tinyurl.com/GOGO-Litepaper)
📖More info on the Fair Launch / Tokenomics Announcement (https://gogocoin.medium.com/gogocoin-introducing-the-gogo-token-fair-launch-on-polygon-a700aead10b2)
Follow and like us on Twitter (https://twitter.com/GOGO_coin) 🧵
Our main TG channel: Telegram (https://t.me/gogo_coin)
❗️For big announcements❗️ Telegram announcement (https://t.me/gogocoin_announcements) channel (https://t.me/gogocoin_announcements)
Join our 🇨🇳 channel Chinese (https://t.me/gogo_coinchinese) Telegram (https://t.me/gogo_coinchinese)
Play with us on Discord (https://tinyurl.com/GOGODiscord)
📺 Watch on Instagram (https://www.instagram.com/gogo_coin/)
🗳Upvote on Reddit (https://www.reddit.com/r/gogocoin/)
Give us some claps on Medium (https://gogocoin.medium.com/)
Trying to find MEXC AMAs recaps?
It's easy! Explore them in a special section of our MEXC Global blog. Find insights for other recently listed projects at MEXC like GOGOcoin.
Start your travel on MEXC Global