In this Telegram AMA recap, you'll find insights about the Galleon DAO project. In an event hosted by Iris from MEXC Global, you will meet Andrew & Duck from Galleon DAO.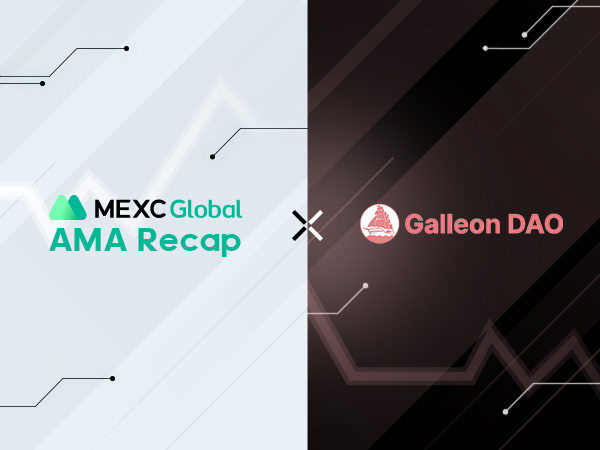 Introduction to AMA Member from Galleon DAO:
Andrew: Ahoy, everyone! I'm Andrew, founder of Galleon DAO. I've worked in software engineering and technical management for nine years, a crypto native since 2017, heavily focused on DeFi, DAOs/communities and finally Set Protocol as a core team member. With Galleon DAO now underway, I have transitioned to an advisory position at Set whilst I fully execute the DAOs long term vision.
Duck_ Biz: Hello everyone, hope you're well! I'm Duck_ Biz & Operations core contributor to Galleon DAO. I'm originally from TradFi with over 8 years experience working in a number of London's biggest Asset Managers. I've been in crypto since early 2017!
Questions about the Galleon DAO project:
Question 1:
Iris: What is Galleon? Can you share with us more in detail?
Andrew: Sure! Galleon is a decentralised autonomous organisation with the vision of becoming one the leading providers of innovative, on-chain structured investment products and ecosystem partners to Set Protocol. We have taken novel governance models and DAO structure approaches to create an agile, fast-moving vessel to navigate the ecosystem, focusing on building above all else ⚒
One of our first structured products we launched recently under the Galleon banner was the SOLUNAVAX Index on Optimism, a Set Protocol first in allowing Ethereum natives to get exposure to a popular alternative L1 investment narrative on an Ethereum L2 in one click, represented by a single composable, bridgeable ERC-20 token ⚓️
Question 2:
Iris: What triggers you to launch Galleon? What are some of the real-world problems/ pain points that Galleon aims to solve?
Andrew: So, the structured products space is an untapped one. As crypto becomes more mainstream in adoptions, the number of assets and protocols will continue to thrive and grow. The opportunity, and how Galleon DAO wants to add value to the ecosystem, lies in abstracting the best of the space into easily innovative, fully composable and collateralised structured investment products using Set Protocol infrastructure. In practice, people will be able to get exposure to any narrative and theme in the space, from degenerate DeFi-native leverage products to diversified thematic products, in one click.
Having been a core team member of Set Protocol, I am very aware of the opportunity and interest in this narrative going forward and aim for Galleon DAO to move fast in capturing the opportunity ⛵️
Question 3:
Iris: What is the role of the $DBL token in Galleon? Would you tell us more about its tokenomics?
Andrew:
Ah yes, $DBL! 🏴‍☠️
$DBL is the governance token and centrepiece to Galleon DAO, and its products. Everything we do will accrue value back to our token and community beyond its conventional governance utility. The fundamental value of owning doubloon is based on your outlook of how well we can capture the structured products space and how best we build our community.
$DBL will start as a simple ERC20 token with governance enabled, but as the success of Galleon ramps up, we are, with certainty, going to be looking into the best mechanism at the time to distribute product fees to holders. We also want to implement novel staking mechanics combined with NFT that encourages long, term, rewarded participation.
We're really excited about $DBL not being a standard, 'boring' governance token as by design, all products that are created by Galleon DAO are revenue-generating. Also we would encourage everyone to dive into our docs where we are transparent about $DBL and its distribution since inception https://docs.galleon.community/doubloon-token/tokenomics ⚓️
Question 4:
Iris: Are there any exciting news or updates with regards to Galleon that you would like to share with the users?
Andrew :
Absolutely! there is a lot being worked on deck right now – following the launch of our first product, the SOLUNAVAX Index on Optimism, we have an exciting pipeline of initiatives on-route to release two related upcoming Optimism based products (unannounced).
Also, introducing $DBL-based initiatives and incentivisation schemes around our products (unannounced) bounty and grants programs, contributor onboarding and of course, continuing to set up our robust optimistic governance model to allow us to deliver on our vision fast.
Working with one of the best web3 branding agencies in the space, targeting April to create the perfect identity for Galleon DAO, staying true to its theme.
One of the most important upcoming events, however, is our Treasury Bootstrapping Event. Taking place on Thursday 17th February, we will be launching the Doubloon token ($DBL) on Copper to allow everyone to buy in and own their part of the ship and significantly help shape Galleon DAO's future via the utility of the token.
You can read the details of this TBE here: https://blog.galleon.community/dbl-bootstrapping-event-on-arbitrum-4b29a8b29098 ⛵️
Question 5:
Iris: If you were to summarize your project in ONE word, what would it be? Why?
Andrew Alliance ⛵️⛵️⛵️
Galleon looks to bring together Set ecosystem partners, investors, asset managers and more to create best-in-class products, wanted by DeFi-natives today.
Free-asking Session
Q1. Smart contracts are susceptible to failure and many projects fall victim to this, costing users money and the project discrediting. How reliable and secure is your smart contract? Have you tested it through any of the parties?
Andrew:
Great question here! Smart contracts security and auditing should always be of top concern when building any new protocol or product in DeFi 🔓
We're happy to say here that all of our products are built on Set Protocols' highly secure, battle-tested contract infrastructure that hosts some of the largest DeFi indices today. Since inception, there has not been a single vulnerability exploited since it's deployment in 2020.
https://docs.tokensets.com/protocol/security
Q2. According to the roadmap, what is your most important next priority?
Duck_ Biz:
Well as Andrew mentioned, we have a number of unannounced products we're working on in-house, but the most important road map item is definitely our Treasury Bootstrapping Event (TDE) which is running from the 17th of February for 3 days on CopperLaunch. All the details are in our medium article here: https://blog.galleon.community/dbl-bootstrapping-event-on-arbitrum-4b29a8b29098
Q3. Can you briefly describe your PARTNERSHIP so far and upcoming partnerships?
Andrew :
Galleon DAO has a fantastic network of ecosystem prospects that we can work with. We are currently partnered with Beverage Finance and launched our SOLUNAVAX Index product with them 🍹⚓️
We also have several other partners interested in working with Galleon DAO, including some of the largest ecosystems in DeFi – we can't go into too much details here 👀, but Galleon DAO has an open door policy for collaboration and we want to use our networks to build in the space with the best DAOs and names in crypto.
Q4. How can users stay updated with this project? Are there channels, including local communities where users can get the latest updates?
Duck_ Biz:
Brilliant question, we have a number of channels to stay up to date on our project. See the links below:
Discord: https://discord.gg/gv4sQD3zYT
Twitter: https://twitter.com/galleondao
Medium: https://medium.com/galleondao
Trying to find MEXC AMAs recaps?
It's easy! Explore them in a special section of our MEXC Global blog. Find insights for other recently listed projects at MEXC like Galleon DAO.
Start your travel on MEXC Global