In this Telegram AMA recap, you'll find insights about the Feelcoin project. In an event hosted by Iris from MEXC Global, you will meet Steven Domenikos, CEO of Haptagram/Feelcoin.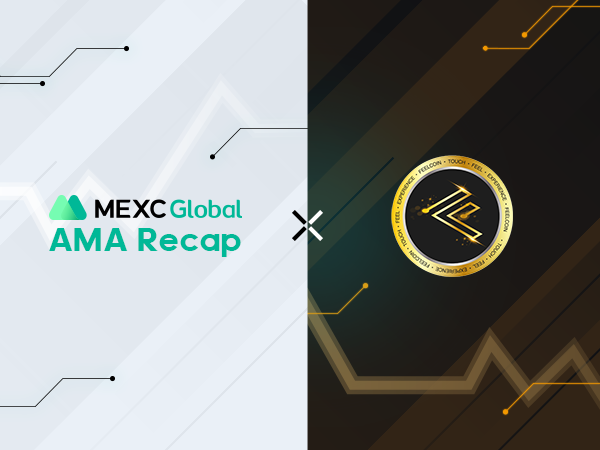 Introduction to AMA guest:
Steven: Thank you Iris, nice to be here. I am Steven Domenikos, the CEO of Haptagram, the company that launched FeelCoin, whose mission is to enable people all over the world to not only 'See' but actually 'Feel' the Internet and 'Touch' the upcoming Metaverse.
We have developed the technology that you can actually experience today through our Haptagram apps in both the IOS store and Google Play
Just a few words about myself. I have founded, built and successfully sold 4 prior technology and internet companies for over ½ billion $USD. I have a lot of experience in company building, software development and internet marketing and I am a big blockchain technology advocate and believer in decentralization. I have undergraduate and graduate degrees in Computer Engineering by background and I am a blockchain architect.
Our Haptagram apps make it possible for the first time to touch and feel objects through a touchscreen, transforming how the world interacts with brands and one another.
Imagine, for example, to be able to touch and feel the real heartbeat of your newborn child across the world, or the strings of a violin of your favorite performer, the thunder of fireworks, or even to feel the water running through a river stream.
This is the example of a Haptagram of a nature image:
To understand what is possible download the Haptagram apps for IOS or Android to experience curated content that fuses together the human sense of Touch, Sight and Sound into a profound and immersive experience.
You can download the apps here:
https://apps.apple.com/us/app/haptagram/id1547073693
Questions about the Feelcoin project:
Question 1:
Iris: What is Feelcoin? Can you share with us more in detail?
Steven: FeelCoin is the digital currency to touch the Metaverse. Imagine for example when you buy something in Decentraland or Sandbox or other Metaverse environments. Imagine as you walk in a virtual shop and you want to buy an item. Would it be exciting to actually touch or and feel or with your fingers? Or imagine touching someone's hand as you walk together! Anything is possible!!!
wouldn't this be amazing?to actually feel something?
This is an exciting new experience we bring to the world! How can we talk about Meraverse and all these 3D worlds of the next version of the internet without having the sense of touch ?
Now , If you want to touch and feel any of these virtual objects you would have to pay with FeelCoin. Imagine then the potential when 10,000 people want to touch something, then 100k people, then 1 million people.
Think about that for a moment!
Given the fixed supply of FeelCoin the demand for upside is unlimited
FeelCoin will give people access to unique digital media that for the first time combines Touch, Sight, and Sound into a breathtaking experience.
We have spent years developing the core technology. FeelCoin is an important project and we want the community to understand what we do!
And these are real use cases!
Question 2:
Iris: What triggers you to launch Feelcoin? What are some of the real-world problems/ pain points that Feelcoin aims to solve?
Steven: This is a great question. i will try to be very specific about these use cases so our community understands.
We are a team of innovators. Consider this: the average person spends over 8-10 hours per day touching glass. Imagine that : 8 to 10 hours. We do that on our smartphones, in our cars, at work, at home, Just cold, lifeless glass. But what if you could feel more than glass? What if you can go beyond the confines of the glass screen to feel the objects below. To feel something new, something alive.
Would you want that? Would you pay for this new experience?
Iris: def!!
Steven: To feel something other than glass right on your smartphone!
So, the opportunity to bring the human sense of touch to the virtual world, and the applications that can be realized by that, inspires us. It is like opening a new dimension of experience. Something that was not possible to be done on a smartphone before.
In 3 words, this is what the project offers to the world: Feel the Internet.
Experience a new reality which will get better over time as the smartphone technology improves.
And this experience has immediate application: Let's talk about some real use cases:
Start with content creators, artists, and others to create new Haptagram experiences that can be sold as the next-generation NFTs that fuse together Touch, Sight and Sound. These Haptagrams give these content makers an immediate advantage vs. other typical NFTs. People can actually interact with them.
Look at an example in the video here :
https://drive.google.com/file/d/1OIdUHmOxndj6MhJUZ2eVwWUd-j71_K4_/view?usp=sharing
Through our Haptagram apps, you can actually touch the cat and everyone loves cats
After the NFT makers, brands and advertisers that want to captivate the audiences and increase engagement, can create Haptagram ads where the objects in the images respond to the human touch. Engaging the sense of touch results, in higher purchases and brand recognition and recall.
Question 3:
Iris: What is the role of $FEEL token in Feelcoin? Would you tell us more about its tokenomics?
Steven: Yes it all about immersion. And you need to pay with FEEL to experience is as the same implies!
$FEEL is the digital currency that will be used every time someone wants to touch and feel objects in the virtual worlds of the internet. It is as simple and as powerful as that.
Let for a minute the community consider this! If you want to touch something in the virtual world and feel it. You pay with FEEL. Our goal is to deploy 1 b FEEL to the world
We are the only organization with the technology to make this new reality possible.
The maximum supply of FeelCoin is 1.880 billion tokens. Most of them have been reserved for marketing purposes to engage prominent content creators and for partnerships.
The development team and company advisors combined a total of 30% of tokens released over 36 months.
Question 4:
Iris: Are there any exciting news or updates with regards to FeelCoin that you would like to share with the users?
Steven: Yes. there several things on the way. To inform the community, we have our roadmap on our web site landing page. We also have news and update and we update that every 2 weeks. But let me be specific on some concrete initiatives:
During this second Quarter of 2022 we are working to integrate with Decentraland, as I mentioned earlier, and other metaverse ecosystems.
That is our top initiative. To embed the use of FEEL into metaverse transactions! As we said before. Imagine if 10k only in these ecosystems wish to touch and feel objects they buy or interact with. This should fuel demand
In parallel, we are working with major NFT collections to convert them into Haptagram NFTs. An example of the Bored APEs collection is shown here:
To make these NFTs into Haptagram NFTs will require some FeelCoin. So this is another way to drive FeelCoin buying
This is our second initiative.
Our third initiative: we are working with over 100 content creators with a combined audience of over 300 million members to make new Haptagrams to add more and unique content to our platform and could be sold as NFTs
To purchase these Heptagram NFTs it would require the bidders to have some FeelCoin in their wallets which we believe will contribute to a third positive price trend for our token.
Our community can always follow our updates by checking the news link on our landing page: https://feelcoin.io/
While we are working on these actions as we have published on our roadmap on the web site, we are working on launching a near term STAKING program with MEXC. We are also in negotiations with several exchanges and we hope by end of the month to announce 1 to 2 new partnerships,
We are excited to deliver near term benefits to our token holders!
We are committed to the long term vision of Haptagram and we believe that the community will come to understand the potential of FeelCoin as the digital currency to touch and feel the Metaverse!
Question 5:
Iris: If you were to summarize your project in ONE word, what would it be? Why?
Steven: An amazing question Iris, Yes the word will be :
Closeness
Why? FEEL, as the word implies, brings you closer together. To touch and to feel are essential to our existence. Touch is the most powerful of all our senses and the opportunity to sense virtual worlds opens up a world of possibilities to come closer to each other and to make the digital feel a little more human!
Free-asking Session to Feelcoin
Q1. What are the milestones of Feelcoin and what key achievements the project currently working on?
Steven:
Thank you very much for all your great questions. I wish I could answer them all: But I will try to group since some are similar. First, our MILESTONES and what we have achieved already is listed on the first page of our website, There you can see the road map, what is DONE and what is UPCOMING.
Q2. A strong community not only brings interesting ideas to the project but also attracts larger partners. So how is planning to build its community? And is there a plan to recruit people with Blockchain experience to the team?
Steven:
A great question, TEAM is super important. Yes, we are constantly expanding our team with great talent, As we have listed on the FeelCoin website, we are a very visible team with public profiles and with well-demonstrated successes.
We have a core group of 6 developers with deep expertise in Mobile IOS and Android development, User experience and also server-side development.
The Haptagram apps were the initial development effort. You need the apps to experience what we offer. The sense of touch infused in a digital object and the ability to sense virtual wolds.
We are adding developers with smart contracts development and deep blockchain experience.
We have several community managers and we are continuously expanding our marketing and business development resources
Q3. How can Feelcoin convince people who have not a single knowledge about the crypto world to get into the project ?
Steven:
Thank you for your question. I will try to answer two questions here: First FEEL makes it possible to TOUCH and Feel objects in the virtual world. Like the examples I gave, So If you want to actually TOUCH the kitty in the video or any other objects, please download our HAPTAGRAM app to check it out. This is the problem we solve: Higher/better user engagement and the sharing of new experiences that will be part of web 3.0 Without our technology you cannot touch!
In general for the community, FEEL is a utility and payment token. Is for the community that is excited about the future of the internet. Like all crypto projects has its risks and its rewards.
Trying to find MEXC AMAs recaps?
It's easy! Explore them in a special section of our MEXC Global blog. Find insights for other recently listed projects at MEXC like Feelcoin.
Start your travel on MEXC Global