In this Telegram AMA recap you will find answers to the most anticipated questions about the Doragonland project. In an event hosted by Iris from MEXC Global, you will meet Ashley and Kent from the Doragonland!
Introduction:
Ashley: Hello Everyone. It's my pleasure to be here today to talk to you guys about DoragonLand.
Kent: Hi guys It's great to be here with the MEXC global community today. Thanks for having me!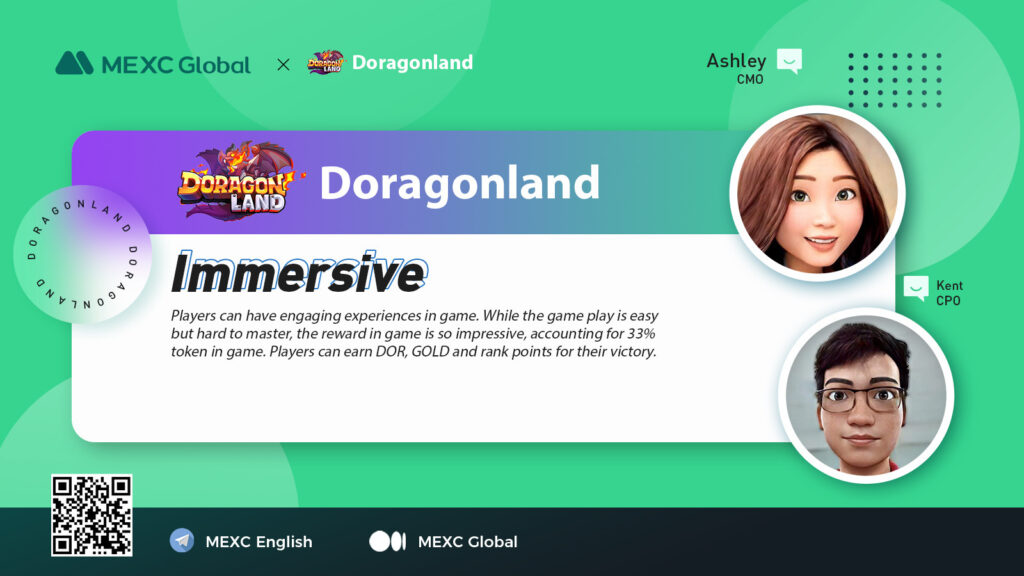 Questions about the project:
MEXC AMA Doragonland Question 1
Iris: What is Doragonland? Can you share with us more in detail?
Kent: To start off, Let's me introduce myself a bit. I'm Kent- the CPO and co-founder of DoragonLand.
I guess everyone here is curious about Do'ragonLand, so don't let you wait any longer. I will dive into it
DoragonLand is a 3D tower rush game that integrates battle card gameplay and blockchain technology to create fast-paced brawls among dragon warriors where players can duel with others to collect rewards of NFT items and DOR tokens in real-time.
DoragonLand is inspired by the world-renowned Clash Royale, which is an insanely simple yet hard to master online battle brawler video game. The game integrates elements including action, collectible card games, tower defense, and Real-time strategy. DoragonLand offers players a diverse system of activities including Cards, Quests (Daily, Weekly and Progress Quests), Clan, Clan Wars, P2E, Esport & tournaments. The characters are in strong and bold shape, cute style with an energetic and playful tone, which allows players to truly enjoy the exotic experience.
Iris: great! another rising star in the crypto game industry!
MEXC AMA Doragonland Question 2
Iris: What are Doragonland's unique selling points as compared to other similar projects in the industry?
Ashley: With the recent drastic growth of NFTs games, numerous new games were born everyday, however many are not really in good quality or some of those just focus more on blockchain aspect rather than the important elements of a game like the gameplay and artwork. This will lead to players not sticking with the game in the long-term.
By contrast, DoragonLand is a high quality NFT game with the full features of a traditional game and outstanding blockchain aspect:
DoragonLand gameplay is inspired by the renowned Clash Royale – a gripping 3D card online game. DoragonLand is an insanely simple yet hard to master online battle brawler game, which will be an engaging entertainment experience for both newbies and experienced gamers.
DoragonLand is proud by splendid artwork produced by Thunder Cloud – the most well known 3D game- art studio for making world-class cinematics and graphics for games all over the world
Technology is also a competitive advantage of DoragonLand.Our project is incubated by Creator – one of the leading BaaS platforms that guarantees the smooth Blockchain integration.
Along with Creator and Thunder Cloud, we also have solid partnerships with other leading ventures such as V2B Labs, Lucid Realm, Hub, TomoChain, X21, OIG, Oxbull, Exnetwork Capital, Lua Ventures, Gains, DuckDAO, CSP DAO, MEXC, etc
Iris: Awesome! Thanks for the great explanation!
MEXC AMA Doragonland Question 3
Iris: What is the role of $DOR in Doragonland? Would you tell us more about its tokenomics?
Kent: DoragonLand Token symbol is $DOR which is issued on Binance Smart Chain.
$DOR is the utility token in the game which can be used in various cases:
First thing, DOR tokens can be used to participate in the game features like clan and tournament. At the same time, by owning tokens, DOR holders can participate in the decentralized financial market to earn more profit.
Also, players can buy their NFTs on the market to upgrade their dragon warriors. Vice versa, players can sell these NFT items to get DOR back.
$DOR holders can use $DOR to settle payments and participate in gamefi activities like staking, farming, minting, betting, which allow players to gain passive income.
As for tokenomics, the total supply of $DOR is 1,000,000,000. Initial market cap is $275,500. Total token for sale is 165,000,000 DOR
For more information, you can read in our Whitepaper
https://whitepaper.doragonland.io/
MEXC AMA Doragonland Question 3
Iris: Are there any exciting news or updates with regards to Doragonland that you would like to share with the users?
Ashley: I would like to update the latest news of DoragonLand.
Now DOR has been listed on PancakeSwap, Coingecko, MEXC, Coinmarketcap.
Also, staking feature is now available, check it here
https://staking.doragonland.io/
We also have staking competition lasting until 15th Jan 2022 with impressive APR
https://t.me/doragonlandglobal/348
The Beta test version has been released since 26th Dec and there is a bright sign from the feedback.
We also have staking competition lasting until 15th Jan 2022 with impressive APR
https://t.me/doragonlandglobal/348
The Beta test version has been released since 26th Dec and there is a bright sign from the feedback.
Iris: 💪 looking forward to all the exciting news
MEXC AMA Doragonland Question 5
Iris: If you were to summarize your project in ONE word, what would it be? Why?
Kent: If I can describe Doragonland in one word, that would be "immersive".
I mean Players can have engaging experiences in game. While the game play is easy but hard to master, the reward in game is so impressive, accounting for 33% token in game. Players can earn DOR, GOLD and rank points for their victory.
Iris: great word 👍
Free-asking Session
Q1. Do you have any Coin Burn / BuyBack systems or any Token Burn plans to increase the value of Token & attract Investors to invest?
Kent: We are always aware of the devaluation issue and worry from investors.
DoragonLand has a plan to burn NFT by the merging cards mechanism to level up cards. We don't have a plan to burn DOR tokens as we aim to create a stable economy in-game. Also, DoragonLand have the distributing rewards of engaging in the game by GOLD. This our plan to control the Inflation in the game.
Q2. How can I join the beta test now and which requirements needed? When will the full game be released? Thanks for replying
Ashley: You need at least required 8/10 cards on starter box and have your name in close beta whitelist. But sorry to say that we have already closed beta registration so that please wait for full game releasing early next year. hope that we can publish the full game as soon as we can
Q3. Currently from where I can buy it? Is it possible that I can get it only by holding it?
Kent: DOR is listed on 4 following platforms –
PancakeSwap
Coingecko
Coinmarketcap
MEXC
Besides buying from these exchanges, users can gain DOR by participating in the game. The rewards in game accounts for 33% total token supply. Players have numerous opportunities to earn a decent income while engaging in the game. There are a lot of activities like daily quests, weekly quests, progress quests to do and earn rewards. Other in-game activities like clans, esports & tournaments, arena, etc.. are also fascinating and worth trying.
Besides, players can trading chests and NFT items via NFT marketplace to earn NFT items and $DOR tokens. In addition, Staking and other gamefi functions will also be soon available. There are also other ways to earn $DOR tokens that are currently in-progress . We will keep you updated in the future.
Q4. Do you have a whitepaper? if yes please share it with us and secondly are you working to AUDIT your project, to make its security more secure and reliable?
Ashley: Check Certik page! Stay up to date with the latest security insights on DoragonLand: Smart Contract Audit, Skynet Scores, Security Oracle, CertiKShield and many more security-focused statistics. We are audited by CertiK!
Q5. STAKING is one of the STRATEGIES to ATTRACT USERS and HOLD them and long term. Does your GREAT PROJECT have a plan for Staking?
Kent: Staking $DOR has been available in DEC 2021. There are different pools so that users can choose up to their preference
👉 No lock-up pool: This pool is not locked so you can stake and unstake whenever you want. A fixed APR of 5% on the initial deposit is applied.
👉 60-day locked pool: Once you have staked in this pool, you will need to wait for 60 days until you can unstake it. This pool allows you to earn a fixed APR of 9%.
👉 120-day locked pool: Similar to 60-day locked pool, you can only unstake after 120 days. However, the reward is worth this wait! This pool offers you the highest yield of 20% APR.
👉 LP Staking pool: Accepted pair is BNB/DOR and the user will earn rewards accordingly.
Along with the DOR staking, DoragonLand will soon introduce the NFT Staking feature which enables users to gain DOR bonus by depositing their NFT cards. Sounds interesting right? Stay tuned and keep following us for future updates!
At the moment, we are having Staking Competition: 10 AM UTC 15th Dec 2021 to 10 AM UTC 15th Jan 2022
👉 Applied for all stakes into the 60-day locked pool & 120-day locked pool before 10 AM UTC, 15th January 2022.
👉 Attractive APR: 18% APR for 60-day locked pool and 45% APR for 120-day locked pool.
Special bonus:
The top 3 highest stakes will get 1 extra epic NFT card each
Next top 20 wallet addresses will get 20 USDT each
Deadline to claim reward: 10 AM UTC 15th Jan 2022
Join DoragonLand's Official Channels:
Website https://www.doragonland.io/
Medium https://doragon-land.medium.com/
Twitter https://twitter.com/DoragonLand_DOR
Telegram Global https://t.me/doragonland
Youtube: https://www.youtube.com/channel/UCuNwxFtlOtXdWO2dkwhDBPw
Facebook: https://www.facebook.com/DoragonLand/
Discord: https://discord.gg/E8FWVGuMCz
Looking for more MEXC AMAs?
Explore recaps in a special section of our MEXC Global blog. Find insights for newly listed projects and any other useful information for you!
Start your travel on MEXC Global