In this Telegram AMA recap you'll find answers to the most hot topic questions about the DeSyn project. In an event hosted by Miranda from MEXC Global, you will meet Lionel from the DeSyn Protocol.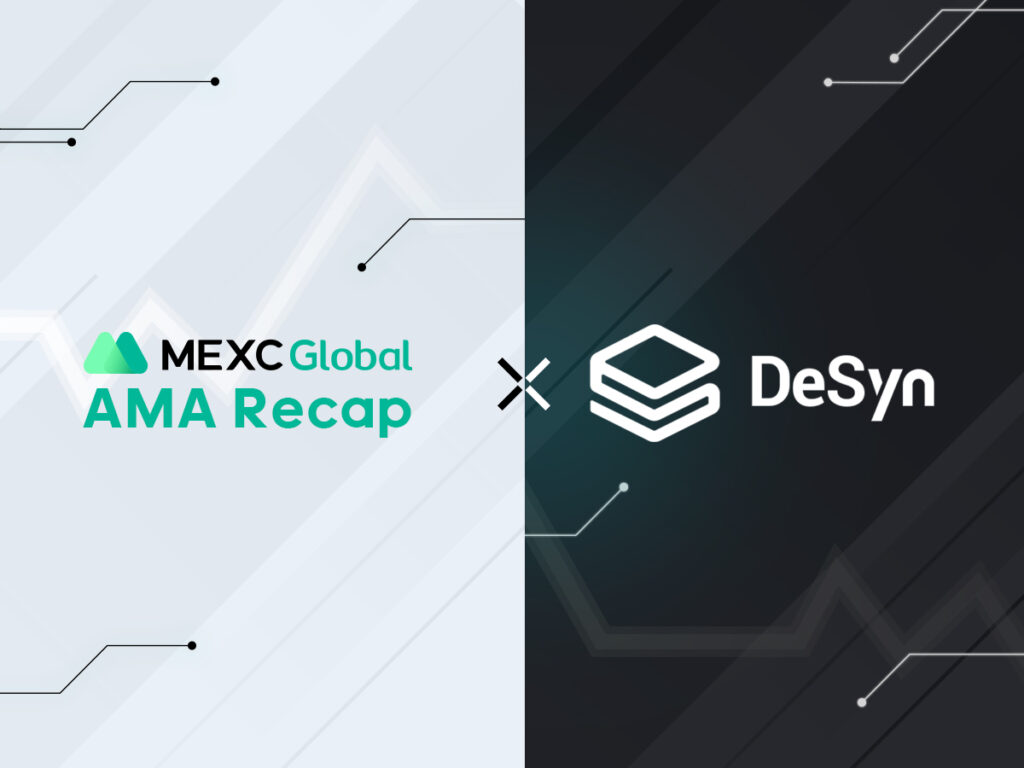 Introduction to DeSyn AMA Member
My name is Lin Yuan, co-founder and CEO of the DeSyn Protocol
people call me Lionel normally
before DeSyn Protocol, I was former COO in Lightnet Group and China CEO, a cross-border crypto payment startup
before :), I spent 13 years+ global internets and fintech experience, focusing on investment, products and innovations: e.g. Yeahmobi, Baidu, Blackrock, and Tudor Investment
So glad to be here today 🙂
Questions from community to DeSyn
Question 1:
Miranda: Lionel, maybe you can tell us more in detail about what DeSyn Protocol is?
Lionel: yes, in one sentence, Desyn protocol is a platform that allows people to buy/sell, create/manage ETFs and various portfolios but if in a more official way. DeSyn Protocol is a Defi protocol that allows users to create and trade pools-based assets such as ETFs/Portfolios, levered assets, and more via smart contract. If you want to buy ETFs/Portfolios or you want to create your own, come to Desyn!
Question 2:
Miranda: Next can you tell us what triggers you to launch DeSyn Protocol? What are some of the real-world problems/ pain points that DeSyn Protocol aims to solve?
Lionel: Ok, that is a super question the problem we are solving I think is also the problem most people here are actually facing there are so many great investments apps in the crypto space, but we do not have time or expertise, and info to capture them the issue continues to grow day by day as long as the crypto space continues to grow which is what most of here believe we need a simple, easy and efficient solution to manage our investment in the crypto space instead of holding 200 tokens and spending numerous hours in researching and monitoring,
Miranda: Yea, that's true. So many options!🤣
Lionel: We need our tokens to be managed by professionals. It is my pain, as well as my team's pains, and for many people here we believe and we cannot find a good solution in the market in the very beginning of last year so we decide to create those options on our own by DeSyn.
Question 3:
Miranda: What about the role of $DSN in DeSyn Protocol? Would you tell us more about its tokenomics?
Lionel: Sure, let me do it. Platform token (DSN) will be used as a utility token, initially people could use it for various purposes such as paying fees for ETFs, swaps; stake it for a pre-sale quote of some great ETFs; stake it to share the revenue from the platform. We consider it to be a government token so that community will decide the future of the platform.
Question 4:
Miranda: Are there any exciting news or updates with regards to DeSyn Protocol that you would like to share with the users?
Lionel: There are so many! As you know, we have announced that DeSyn Protocol has fundraised millions of dollars for the second round, and our investors cover various aspects of the blockchain industry, including exchange funds: OKEx Blockdream Ventures, MEXC, Mirana Ventures, Bibox; public chain: TRON; capitals: LD Capital, Spark Digital Capital, Mentha Partners, Kosmos Ventures, Asymmetries Technologies, PAKA, Outliers Fund, CoinSummer, Consensus Lab, AZDAG, LucidBlue Ventures, Ticker Capital, Westlabs, Cipholio; institutions: TokenInsight Research, CatcherVC. EVG, TKX, Lancer Capital from the first round, will also participate in this round. But we also have a few very great and famous investors to join to complete this round shortly. People can wait for the news shortly! One thing I want to say is that those investors are not just money investors. everyone single one of them will play a super important role in building DeSyn ETFs ecosystem.
Lionel: We are not just building a platform, we are building a new ETF ecosystem in crypto space from creating, fundraising, distributing, and analytics and beyond those are what we carefully select to promote the new ETFs space, in addition, DeSyn Protocol beta 1.0 version has been unveiled, you can apply for beta and check our first demo video on the official website or our Twitter.
Question 5:
Miranda: If you were to summarize your DeSyn in ONE word, what would it be? Why?
Lionel: Before this question, one more thing people can expect is that we also prepare various awesome ETFs/Funds managed by top people in the industry for one word, that is a great question, let me think I cannot do in one word, but in one sentence, Everyone can be ETFs/Portfolios manager.
Free-asking Session
Q1. What are your top 3 things for priorities in 2021? Could you share some DeSyn plans for the upcoming year?
Lionel:
A few days ago when I was reviewing what we have done, since April 1st.
We have built a great group of people about 12 total. it is not easy to meet many great people and have adventures together, we are lucky to have them.
We are so fortunate to have so many investors, partners to support us and complete the two rounds of investments.
Our beta 1 is ready and now in public test since Christmas eve.
Q2. Where can I buy your tokens right now what is your current contract and how can I buy them? Will you have any other DeFI features like staking, yield farm, or NFT in the future?
Lionel: We do plan to have IDO/IEO in Q1 2022. Details will be announced shortly. People could buy it then.
Q3. On your website you don't mention that you have done any internal or external audit of your smart contract, so can you give us details if you have done any audit before? And in case you haven't, would you plan to perform any review of your smart contract in the near future?
Lionel: We always treat it as the most important piece of our project. We currently will launch v2 in march and will be audited by the two best agencies around the world to ensure security. Also we will audit every piece changed of it after it.
Looking for more MEXC AMAs?
Explore recaps in a special section of our MEXC Global blog. Find insights for recently listed projects and helpful information for you!
Start your travel on MEXC Global