In this Telegram AMA recap you will find answers to the most anticipated questions about the Degis project. In an event hosted by Iris from MEXC Global, you will meet Pero from the Degis team!
Introduction to Degis AMA Members:
Pero: I'm Pero, CMO from Degis, Now I'm in charge of marketing and operations. I've been working in Blockchain for several years, and have been devoted to researching different projects before.And also invested in some basic projects. This is the first time I decided to create a brand new product on blockchain. I'm glad to introduce our project in such a lively community, thanks for your attendance today!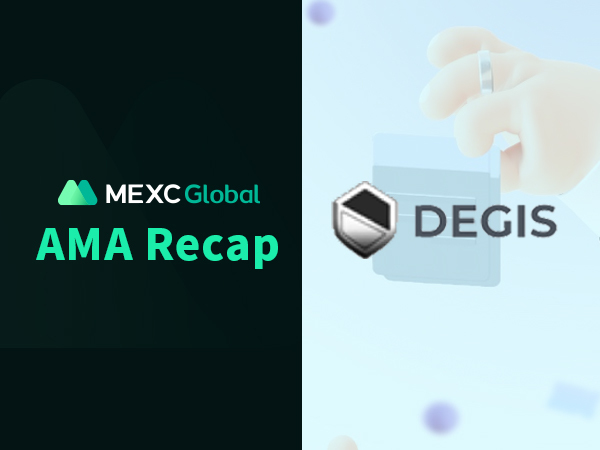 Questions about the Degis project:
Question 1:
Iris: What is Degis? Can you share with us more in detail?
Pero: Sure, thanks. 'Degis' comes from the word 'Egis', meaning shield in Greek. So we can also call Degis decentralized Egis. The goal of DEGIS is to aggregate all existing protection products into one platform, building a protection metaverse.
The first step is to build a comprehensive protection ecosystem on avalanche. There are two main protections in our version 1, one is the miserable flight, or say fly delay insurance which is tightly connected with our real life, the other is naughty price which is a protection for highly fluctuated token prices.
We find a gap between off-chain and on-chain worlds, so the fly delay insurance is the first trial to bridge both sides. The reason why we decide to launch on avalanche first is we find avalanche exploding quickly these days. As more and more money enter the ecosystem, there is still a vacancy for protection.
Actually we have decided to build on avalanche since May last year, which is earlier than the time of its explosion. From our perspective, avalanche is a promising public chain with high tps and low transaction costs. So as the first protection protocol, we also got early support from Avalanche foundations. Anyway, we wll also do cross-chain in the future when we get tested by the market.
Question 2:
Iris: What triggers you to launch Degis? What are some of the real-world problems/ pain points that Degis aims to solve?
Pero: Thanks for the question.
For the trigger why we launch Degis. I wanna begin to say how our team has been built before. Actually some of the team members were close friends. And for me, I worked in the blockchain industry for several years and did a lot of research, and also invested in some basic projects. Our CEO Andy is also a crypto enthusiastics and has around 4 years management experience. Developers of our team are experienced in smart-contract and have ever developed a DEX on Binance Smart Chain before.
Iris: Strong team 💪
Pero: When we did some research about insurance last year. We found that on-chain insurance is not active since no one wants to buy insurance in the crypto world, there are a lot of liquidity providers who can get rewards by providing liquidity, but few buyers. What we want to solve is to incentivize buyers to buy our products.
If you have participated in our testnet several days ago, you would find there is a buyer incentive pool in the mining part , which is not common in other protocols. About 40% of DEGIS token in total will be awarded to buyers.
Iris: wow that's a large percent of the total supply 👍
Pero: We call Degis protection protocol, not insurance protocol since protection is more comprehensive, we set an automated claim process and make all things easy-understanding for users. Like you see one of our products, the token price protections, which is similar to a binary option. But when you look at this, everything is easy. You don't need to know what is a put option, what is a call option, and something like that. Things are more clear like when BTC drops down fifty thousand, you will get 1 usdt for each insurance token you have. To summarize, Degis is aimed to trigger buyers to buy products, to make the platform more active. Also Degis will provide an entrance to the protection world for all kinds of users. And in the future, the metaverse will explode and huge virtual assets need to be protected. We believe the idea of degis will play an extremely important role in the blockchain industry.
Question 3:
Iris: What is the role of $DEG in Degis? Would you tell us more about its tokenomics?
Pero: Sure, thanks!
There are several ways to get Degis token. Buy products then you can get buyer token share, use buyer token to mine in buyer incentive pool, you will get degis token as rewards every 24 hours.
Or you can also be as liquidity providers in any pool, then you will get LP token, and use LP token to mine degis token as well.
For the function, Degis token works more like a governance token. In the lucky box part, you can stake your Degis token to buy tickets, 10 tokens for 1 ticket. So it's more like a costless lottery. The reward pool will be filled out by the income of protocol every week. For winners, they can share profits generated by Degis protocols. Degis token can also be staked to mine more tokens
In the future, with most of Degis token held by communities, there will be an insurance DAO which will determine the destiny of the protocol and Degis will become totally decentralized. So actually Degis token replaces you are the one of the whole family.
For tokenomics:
The total supply of DEG is 100 million. 16% for private sale, 15% for both team and advisors, 1.5% for public sale, 40% for buyer incentives, 15% for liquidity providers, 7.5% for growth fund and 5% for reserves which will be determined by the community in the future.
All tokens for team members and advisors will be locked for 15 months, and then release quarterly in another 15 months. For core round investors, 5 million degis token will be locked for 12 months and then released quarterly in another 12 months.
For seed round investors, 10% of 8 million Degis token will be released when TGE, and the remaining 90% will be locked for 12 months and released quarterly in another 12 months.
For strategic round investors, 10% of 3 million degis token will be unlocked when TGE, the remaining 90% will be locked for 6 months after mainnet and released quarterly in 12 months.
Thanks!
Question 4:
Iris: Are there any exciting news or updates with regards to Degis that you would like to share with the users?
Pero: Yeah, of course there is much exciting news I want to share with you guys.
The first one is we are going to finish our private sale recently and announce all private investors via the media. Some of them are big names. We also got early support from avalanche officials.
The second thing is we've already completed our first testnet just several days ago. About 150,000 unique addresses participated. Over half of them finished all function tests. We gain a bunch of supporters in Southeast Asia like Vietnam, India and Indonesia. The total rewards for phase 1 testnet will be over 350,000 Degis token. We also received over 1 thousand suggestions via email. Some excellent suggestions will be whitelisted when public sale. All rewards will be sent to users after mainnet launch. And based on the solid suggestions, we are going to do phase 2 testnet at the end of this month, there will be extra bonus and whitelists.
Iris: well done 🙌
Pero: The last thing that you guys may be most curious about is the IDO event. We are planning to launch mainnet in the late February, IDO will be also at that time. For the launchpad we are chatting with Avalaunch, Super launcher and Impossible Finance, the result will be announced late via twitter and medium. We will also do IEO on MEXC. Some contract procedures are in progress. For more news about us, you can join our discord or telegram and follow our official twitter accounts as well.
Question 5:
Iris: If you were to summarize your project in ONE word, what would it be? Why?
Pero: Good question!
For me, I would choose 'protection' as the one-word description of Degis.
The reason is as I mentioned above, the word 'Degis' comes from Decentralized 'Egis'.
Degis is the entrance to the protection world for all kinds of users. Our mission is to build a one-stop platform of protecting assets both on-chain and off-chain. Protection is more comprehensive than insurance, it fits the concept of the metaverse. We are not aiming to duplicate what traditional insurance did before, we want to create a new protection ecosystem as you can see in our roadmap, the meta market and the protection aggregator. Insurance is just like a subsidiary financial product and protection is like the ultimate goal we will achieve.
Free-asking Session
Q1. What are the steps to become a part of your community, and start getting revenues? Where do we buy, where do we sign up? This looks like an amazing project!
Pero:
There is no barrier to becoming part of our community, all you have to do now is stay tune with the updates of our communities on Twitter, Discord and Telegram. We are having several ongoing events holding in our Discord community, feel free to join and win prizes including whitelists as rewards!
Q2. I am interested to invest in your project. When and where can I buy your tokens? Is it already listed exchanges?
Pero:
We are launching our mainnet in Feb, at that time you may try our mainnet products and trade $DEG on secondary. We are also having a 2nd testnet in Jan, which is happening soon, participating in the 2nd testnet will also win you $DEG and whitelists in rewards!
Q3. Almost 80% of investors have just focused on the price of tokens in short term instead of understanding the real value of the project. Can you tell us on motivations and benefits for investors to hold your token in long term?
Pero:
Actually, we have several features to make price stable, we design several stake mechanisms like staking to mine DEG tokens, staking to win lotteries. Also, we aim to cooperate with other platforms to do a co-farming. Deg holders will also govern the whole protocol in the future and join the Insurance DAO as well. Thanks!
Looking for more MEXC AMAs?
Explore recaps in a special section of our MEXC Global blog. Find insights for newly listed projects and any other useful information for you!
Start your travel on MEXC Global