In this Telegram AMA recap, you'll find insights about the CeloLaunch sproject. In an event hosted by Iris from MEXC Global, you will meet Stephen, Community Manager of CeloLaunch.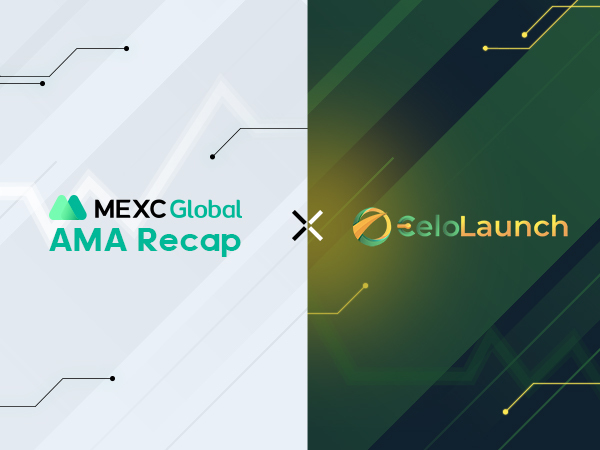 Introduction to AMA Member from CeloLaunch:
Stephen: I'm the CeloLaunch community manager – Stephen. To summarize the CeloLaunch introduction, CeloLaunch is a platform that runs on the Celo network and provides a continually increasing variety of decentralized systems to deliver new, adaptable technology that adds value to the DeFi sector as a whole.
Since the Celo network is becoming the rage right now, you can see its potential, and there have been several mentions of it in the media lately. That is why our idea is receiving a great deal of traction and fostering a sense of community. Every day, more people join our Telegram community group and follow us on many social media platforms, asking a slew of questions regarding the project. So far, everything is going well; we are in the process of putting things together, and everything appears to be working.
For me, I am community manager of Celolaunch and I have been in the Cryptocurrency and Blockchain fields for 5 years. At Celolaunch, – I need to maintain the society, enhance the engagement, implement the marketing strategy and so more to contribute the best results to CeloLaunch in terms of connecting people for operation on Celo network.
n the information of the CeloLaunch team, there are ten people who are profoundly knowledgeable and experienced in the cryptocurrency at the present including 3 developers, 2 designers and 5 people working as marketers dealing with various partners. The number of team members might need to grow as additional work becomes. Many of our core members have been involved in the crypto community since Ethereum's first products were released in the near future, especially after launching and we will hire more people that time.
With backgrounds that go all the way from our teammate, including working at big Crypto corporations in the world, we are confident to say that, CeloLaunch will offer a best experience than better. You can check full team profiles on our Website.
For further information, please visit
Project Website link: https://celolaunch.io/
Project Telegram link: https://t.me/celolaunch_ann
Project Twitter link: https://twitter.com/celolaunch
Questions about the CeloLaunch project:
Question 1:
Iris: What is CeloLaunch? Can you share with us more in detail?
Stephen: Besides constructing an autonomous launchpad on CELO after recognizing the CELO Network's future potential, CeloLaunch aims to offer prosperity for everyone that creates the advantageous conditions of economic benefits for participants following the mission "Launchpad – Open – Real".
CeloLaunch offers various features including IDO platform, Liquidity lockers, Token vesting, Farming , Staking and Automated market maker. With CeloLaunch ecosystems, investors can commodiously utilize the multi-functions.
With the perspective "Crypto for all" and "All the good projects must be aware of, new projects – "startups' ' may boost their initiative and reward communities by utilizing our services. Celo Launch's major goal is to tackle the Celo Ecosystem's illiquidity problem and give a single unified UX/UI on our platform.
Furthermore, CeloLaunch provides a constantly expanding set of decentralized services by offering revolutionary, flexible technology to add value to the DeFi industry as a whole, in CELO Network specifically. We are motivated by a strong desire to help others and we're looking forward to the positive behavior from our community which sets us apart.
Celo Launch's ethos and utility are founded on the foundations that our community continues to construct. With the launch of Celo Launch, an IDO Platform based on Celo Network, that day has come – which increases sophistication and efficiency in terms of lending and borrowing mechanisms, risk management, and the formation of on-chain liquidities.
Question 2:
Iris: What triggers you to launch CeloLaunch? What are CeloLaunch 's unique selling points as compared to other similar projects in the industry?
Stephen: CeloLaunch is motivated by a strong desire to help others and we're looking forward to the positive behavior from our community which sets us apart. CeloLaunch's ethos and utility are founded on the foundations that our community continues to construct.
For us, positive or negative criticism is vital as long as we can learn anything from the hundreds of interactions we get everyday. Having said that, concentrating on communities allows the CeloLaunch Team to position as a product-market fit reference.
Our vision is straightforward, to build automated, decentralized, and scalable technologies on the CELO Network. Moreover, everyone in the CeloLaunch community is invited to join us since we are more powerful when we work together.
Compared with existing competitors in the market, CeloLaunch builds a diversity ecosystem that provides a launchpad and also AMM, vesting, and staking/farming and solves most of the problems recently. At present, CeloLaunch is fundamentally trying to solve problems across interoperability, accessibility, and seamless user experience.
_Interoperability: Seamless interaction among chains is one of the biggest barriers to entry for the mass adoption of blockchain applications today. More chains will be integrated as we move along.
Accessibility: Today, at CeloLaunch you can access a majority of utilities that are key essential for projects across their lifecycle in a single place itself viz. Exchange, IDO platform, Staking, Farming, etc. We have plans further to enhance the overall user accessibility
Seamless user experience: From a bigger perspective, the vision is to create an ecosystem of multi-chain product portfolios essential to all projects across their lifecycle and that too all in a single place. What we are referring to is horizontal integration. In addition to this, a lot of effort has been made to provide a better UI/UX in terms of self-guided and easy-to-use.
Question 3:
Iris: What is the role of the $cLA token in CeloLaunch? Would you tell us more about its tokenomics?
Stephen: CeloLaunch (cLA) holders are able to purchase the NFT on platform to be eligible to participate in all CeloLaunch presales that have been approved by the CeloLaunch team. The primary difference is that, in addition to using their cLA to engage in our launchpad platform, holders may generate passive income via cLA staking or farming utilizing one of our services.
With an auto-liquidity and auto-buyback system, CeloLaunch (cLA) token rewards holders in simultaneously and extremely potential to skyrocket in price in the near future.But we are obviously not JUST a token, it will bring the opportunities for investors as well project to earn profit or can be seen as a middle coin to trade in and out.
As previously mentioned, the holders of our token will have numerous rights to enjoy the privileges since we are also in the development process of our own staking and farming functions platform. Holders will not just have their earnings but also different features inside the platform. Summing up, earnings and features. That's what you get – besides token price appreciation.
Furthermore, with the development of cLA token, cLA token holders will also get the right to propose suggestions,which will determine how the project will develop in the future. One strong component right now is our IDO platform, which offers exclusive perks to people (projects and investors) that participate in the Celo Launch ecosystem. Both the cLA token and the IDO platform will be connected strongly and much more with an appropriate contribution tokenomics – where all the participants could get perks and earn revenue.
I hope this clarifies how we use cLA in our products and let's have a look at CeloLaunch tokenomics: https://docs.celolaunch.io/celolaunch/token-overview#tokenomics
Question 4:
Iris: Are there any exciting news or updates with regards to CeloLaunch that you would like to share with the users?
Stephen: For your information, we've formed a launchpad alliance with other launchpads, including Luna-Pad, PlayPad, SafeLaunch, and Gamiworld besides our first launchpad partner namely InfinityPad, with the goal of bringing cryptocurrency investors more amazing projects. As a launchpad partnership, we would exchange excellent projects with one another to conduct our own research.
In the future, we want to continue growing this cooperation with other fund-raising platform. Additionally, CeloLaunch completed the roadmap for listing cLA on MEXC in the first quarter of 2022, which is one of the significant accomplishments I'd like to mention.
Question 5:
Iris: If you were to summarize your project in ONE word, what would it be? Why?
Stephen: "Unique" is the term that comes to me when I think about CeloLaunch.
We are unique among launchpads or fund-raising platforms in that we give the NFT to our investors in order to split the tier structure, rather than requiring investors to own governance tokens in order to participate in IDO.
Additionally, CeloLaunch is not just a crowdfunding platform; but also performs additional services, which we refer to as an ecosystem, including an AMM, Liquidity Lockers, and Vesting Lockers.
Free-asking Session
Q1. Marketing is a central element for every project so that everyone knows the potential that a project can bring is vital to achieving the goals set. What is your strategy to attract new users and Investors to your platform and keep them long-term.
Stephen:
For sure, we are carrying out plans and marketing programs based on each phase of the project
Some can be mentioned such as KOLs, media or local communities,..
Marketing News:
https://www.bloomberg.com/press-releases/2021-11-09/celolaunch-provides-a-constantly-expanding-set-of-decentralized-services-to-the-defi-industry
https://finance.yahoo.com/news/celolaunch-first-defi-launchpad-celo-205700380.html
https://news.yahoo.com/news/celolaunch-first-defi-launchpad-celo-205700380.html
https://money.yahoo.com/news/celolaunch-first-defi-launchpad-celo-205700380.html
At this stage, we are focusing on finding quality projects to invest and ido and expand the partner network to attract more new users.
We believe that a strong alliance will bring long-term value and attract more investors
Q2. Smart contracts are susceptible to failure and many projects fall victim to this, costing users money and project discrediting. How reliable and secure is your smart contract? Have you tested it through any of the parties?
Stephen:
Initially, we are aware that security is always the top priority for all projects and especially to the launchpad as us. Thus, at the beginning time of doing the project. We had contacted Certik to have an audit walkthrough and the results had come out which you can check via the link: https://www.certik.org/projects/Celo Launch.
For audit, we have an audit report from CretiK and you can find it on our website, which analyses our projects' security system with a groundbreaking virtual machine, optimistic roll ups and side-chains.
Security is a top priority and especially to us – a dex launchpad so it becomes more vital than ever. Our technology framework offers an abstraction layer over the blockchain infrastructure that allows our team to use any programming language to code. Besides that, you can leverage existing libraries and implement solutions that are not doable or almost impossible to be done, on other existing infrastructures. I believe that along with creating fairer, distributed, transparent systems security is our key to achieving success.
Therefore, you can obviously trust our system since we believe that we are living in a new community-economy-based era and community participation is primary for sustainability – that's why security must be aware and with CeloLaunch it can prove and to help boost up the community engagement with platform network.
Q3. How can users stay updated with this project? Are there channels, including local communities where users can get the latest updates?
Stephen:
Please visit our channels
Website link: https://celolaunch.io/
Project Telegram link: https://t.me/celolaunch_ann
Project Twitter link: https://twitter.com/celolaunch
Trying to find MEXC AMAs recaps?
It's easy! Explore them in a special section of our MEXC Global blog. Find insights for other recently listed projects at MEXC like CeloLaunch.
Start your travel on MEXC Global