In this Telegram AMA recap, you'll find answers to the hottest topics about the bitsCrunch project. In an event hosted by Miranda from MEXC Global, you will meet VIJAY PRAVIN from the bitsCrunch (BCUT).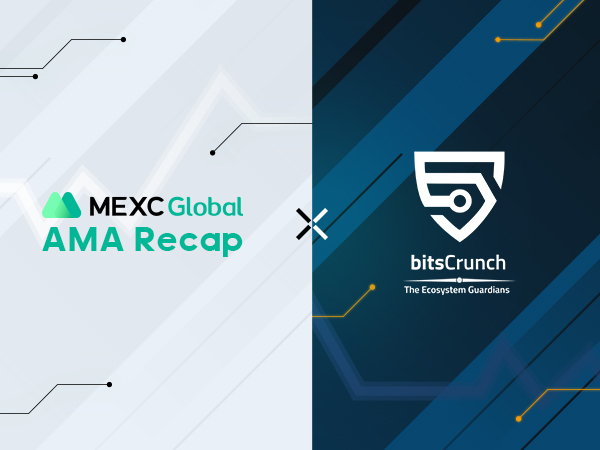 Introduction to bitsCrunch AMA Member:
I'm Vijay, the Founder & CEO of bitsCrunch GmbH. We are a Blockchain Analytics company that is focusing on securing the NFT ecosystem. I have previously worked with companies like Siemens & Volkswagen AG in Germany before founding bitsCrunch. I hold a master's degree from the Technical University of Munich (TUM) Germany. I am a 3 time TEDx speaker and also the first Indian to be invited for a TEDx talk in Germany. To know more about me, you can follow me on Twitter!
Questions from community to bitsCrunch (BCUT):
Question 1:
Miranda: Can you tell us what is bitsCrunch in detail?
VIJAY: A Blockchain Analytics firm (The Ecosystem Guardians), providing secure services using AI to bolster the NFT Ecosystem. We are headquartered in Munich, Germany. And we are operating across the globe.
Question 2:
Miranda: Can you tell us what triggers you to bitsCrunch ? What are some of the real-world problems/ pain points that bitsCrunch aims to solve?
VIJAY: We have identified a few issues within the ever-growing NFT space, with the expertise we have with data. So, we have built bitsCrunch to address the pressing issues by crunching every single bit of Blockchain data. (Crunching every bit of data on Blockchain) We use AI for providing the securing services which make us stand apart from the competitors. Wash trading on NFT Marketplaces or collections is an example.
Question 3:
Miranda: My next question is about the native token, what is the role of BCUT in bitsCrunch? Would you tell us more about its tokenomics?
VIJAY: Since we have both B2B as well as B2C products, SaaS-based gated Token utility is an example. To add to that, Staking and Governance. More details on tokenomics will be out by this month. As a team, we have a cliff of 12 months & vesting until 48 months. That says the story. We are into this game – long term.
Question 4:
Miranda: Are there any exciting news or updates with regards to bitsCrunch that you would like to share with the users?
VIJAY: Yes, of course. There are plenty of them.
We have our beta version of Unleash NFTs (NFT Market Cap) product out.
Scour, wash trade detecting tool has been added with more NFT collections. Teams like Rarible and Polygon are using our dashboards already.
Revamped our bitsCrunch Website. (www.bitscrunch.com)
Question 5:
Miranda: Alright, last question: If you were to summarize your project in ONE word, what would it be? Why?
VIJAY: NFTPolice. NFTPolice, we provide the securing services for the betterment of the creator economy. And we will curb the malicious activities in the NFT space.
Miranda: That's sounds interesting,, but also explained well what you do, thanks, Vijay.
Free-asking Session to bitsCrunch (BCUT)
Q1. Almost 80% of investors have just focused on the price of tokens in short term instead of understanding the real value of the project. Can you tell us on motivations and benefits for investors to hold your token in long term?
VIJAY: We are very cautious when it comes to bringing in investors. We have had Some amazing investors including MEXC in the Seed round, and in the private round, we are currently backed by Tier-1 investors. The press release will follow shortly.
Q2. Do you have tutorial videos so we can get to know your project more clearly or do you have a YouTube channel or something? can you share it with us?
VIJAY: Yes you can check bitsCrunch on Youtube.
Q3. Currently, a lot of people are looking at NFTs, metaverse, and games. Can you tell me what advantages will you have in this field future?
VIJAY: Since NFTs are metaverses are on a surge, the need for bitsCrunch products is very important as help every NFT out there to be secure.
Looking for more MEXC AMAs?
Explore recaps like one with BCUT in a special section of our MEXC Global blog. Find insights for recently listed projects and helpful information for you!
Start your travel on MEXC Global