In this Telegram AMA recap, you'll find insights about the XY Finance project. In an event hosted by Iris from MEXC Global, you will meet Jonathan, CEO of Beyond Protocol.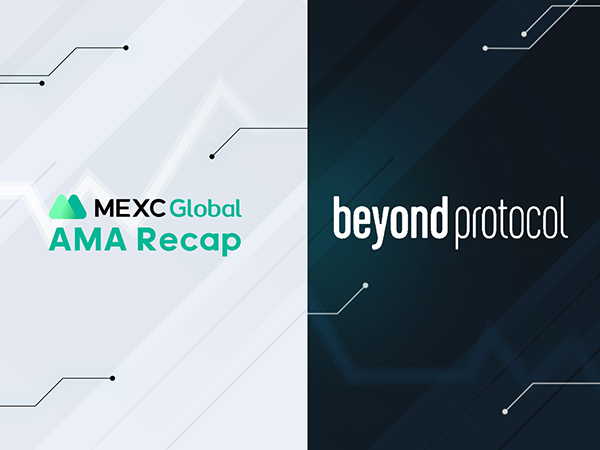 Introduction to member AMA from Beyond Protocol:
Jonathan: It's a pleasure to be here. I am currently writing in from Miami, Florida where it is morning.
We recently launched on MEXC, and we are excited to share information about the project, its origins, and our vision and mission.
Questions about the Beyond Protocol project:
Question 1:
Iris: What is Beyond Protocol? Can you share with us more in detail?
Jonathan: Beyond Protocol is a blockchain providing a decentralized security layer for the Internet of Things. Adding the protocol to IoT devices makes them probabilistically impossible to hack, allowing them to safely communicate and pay each other with crypto or fiat.
The founding team includes Stanford engineers and current/former execs from IBM, Amazon, Cisco, Qualcomm, and Warner Brothers. Partners include Cisco, DoorDash, Stripe, the EU, and Huobi.
Beyond Protocol is mostly in stealth mode. The project launched its native ERC-20 token, BEYONDPROTOCOL, in October 2021 and will be featured in the top exchanges by volume in Q1 2022 and will unveil mainnet on its own blockchain in Q3 2022. Long-term strategic partners and token holders include Rob Gronkowski, Steve Aoki, and Cage the Elephant.
Question 2:
Iris: What triggers you to launch Beyond Protocol? What are Beyond Protocol's unique selling points as compared to other similar projects in the industry?
Jonathan: Before starting Beyond Protocol, the founding team was working on a solution for the CEO of HP to make the enterprise printer less hackable. Out of all IOT devices, the enterprise printer is the IOT device most targeted for intrusion according to industry analysts.
Crazy right? In coming up with the solution, we recognized we could extend it to all IOT devices. Not only that, but, now that the devices were secure, they could open up for the first time and talk to each other.
Each IoT device represents an attack surface that can be an avenue into data for hackers. A Comcast report found that the average households is hit with 104 threats every month. Beyond protocol renders devices probabilistically impossible to hack.
By 2025, it is expected that there will be more than 30 billion IoT connections, almost 4 IoT devices per person on average and that also amounts to trillions of sensors connecting and interacting on these devices. According to The McKinsey Global Institute, 127 new devices connect to the internet every second. There is no standard way for these devices to communicate cross-silo (this must be achieved in business consortia/partnership; which is time consuming/inefficient)
If I was a developer right now and I wanted to connect Google devices to Bosch devices, I literally would not be able to. I would need to seek permission from both Bosch and Google. How incredibly inefficient. Developers right now can't build apps on top of multiple devices, leaving them untapped. We change this by linking them together, securely, for the first time, with a protocol.
There are several key differences between Beyond Protocol's technology and that of projects providing blockchain-based solutions for IOT like IOTA and IoTeX:
One line of code for adoption.
We are shooting for the protocol to be adopted in the mainstream as quickly as possible
It needs to be dead simple and easy for developers to integrate. It's be a mystery and complicated.
Use of hardware signatures to make devices probabilistically impossible to hack (opening up/connecting IoT devices which are vulnerable to hacks compounds breach probability and exponentially amplifies negative impact)
How crazy and dangerous is that some projects are saying we should link our devices together without first solving the massive security issue facing us?
It seems terribly short-sighted to me. How can we propose to have IOT devices at a hospital communicate with a patient's pacemaker if we don't first secure them? A breach to the hospital could prove fatal to the patient. That's why Beyond Protocol leads with security first. Before we get the devices to communicate with each other, we make sure they can't be breached, and that breach can't be spread to other devices.
Beyond Protocol can facilitate machine-to-machine payments in both fiat and crypto
Let's say we securely connected a bunch of devices. Well, if they devices can only pay each other in crypto, we're making it very hard to have meaningful adoption.
Take for example a use case we've built in partnership with Stripe in Europe
Rental cars — EVs — at the side of road need to securely and seamlessly (automatically) talk to charging stations when they are returned. We've fixed a broken, 10 minute offboarding process; turning it into something automatic, with our technology. The car makes an electronic payment to the charging station. If the car could only pay the charging station in crypto, this use case would be possible to roll out right now, like we have. Right now, my father, who doesn't hold any crypto, can leverage the technology when he is in Europe.
He can drive the car to the charging station, the car use his credit card to pay for the charge, and the automatic smart contract work and exchange of #beyondprotocol to secure the car's and the charging station's identity can go on in the background.
Iris: Wow that's impressive!
Jonathan: Yes, this is how we feel we can spur real-world adoption this year. Much different than the other guys.
Question 3:
Iris: What is the role of BP in Beyond Protocol? Would you tell us more about its tokenomics?
Jonathan: $BP ($BEYONDPROTCOL on MEXC) can be seen like a natural resource like gas. It is used to pay for the energy consumed by the nodes which come together to validate the identity of devices talking to each other.
I am going to get a little technical. Beyond Protocol is a "layer 0" protocol with core consensus and side chains ("layer 0" because before TCP/IP).
The architecture utilizes hardware signatures derived from PUF (physical unclonable function) in addition to a validating node structure to establish and facilitate secure identity, authentication, and value transfer.
The consensus mechanism/validating node structure in side chains vary based on vertical (resource constrained sensors would form consensus differently than robust storage nodes).
To bridge device silos, messages from one side chain are routed through the core mechanisms and then out to the side chain where the receiver resides.
The utility of BP token (BEYONDPROTOCOL Token ON MEXC): micronized license fee for validating hardware signature; node-to-node value transfer.
The necessity to apply blockchain technology: blockchain technology is needed to validate hardware signatures. An in-depth overview of Beyond Protocol's tokenomics can be found here.
Question 4:
Iris: Are there any exciting news or updates with regards to Beyond Protocol that you would like to share with the users?
Jonathan: Oh, man! There is so much. In the immediate short term, Beyond Protocol will be listed on more exchanges. We have two tiers 1 listings planned, which we will release information about shortly. On the tech side – the big thing right now is testnet, and standing up use cases in 5-7 verticals before mainnet we can point to and show the world what is possible. The good news of BeyondProtocol. We do this in a very special way each time. We do it with bluechip partners and organizations. And we do it with high-profile parties with authentic tie-ins to the use cases. An authentic personal narrative is very important to us. An example of two uses case we've done in the past to help paint the picture of the magnitude of something we might do in the future.
Iris: cool! looking forward to all the exciting stuff to come!
Jonathan: Rob Gronkowksi, in the United States, is a household name who transcends sports. Everyone in the USA know who he is.
He has a huge passion for physical health, and with DoorDash, we secured Patient Health Information (PHI) for the first time ever
We allowed a wearable device he had to talk to a server that stored records of what he ate over the past 24 hours and then place a just-in-time order with DoorDash for optimal nutrition.
With Grammy Award winning band Cage the Elephant, we monitor biometrics of the lead singer during a live performances.
We allow for developers to develop apps he can use to support mental health. His own mental health. If he is stressed on stage for example, the wearable suit can send a signal to tell him to shift his focus to gratitude (an exercise proven to help minimize stress)
The suit was developed at Vanderbilt University. I know I am dancing around the question a bit
The point is — if you think this stuff is awesome and big — wait until you see what we do next
Iris: Can't wait to see!
Question 5:
Iris: If you were to summarize your project in ONE word, what would it be? Why?
Jonathan: That's a good one.
Unity: We are uniting all devices for the first time. We are doing it because our premise is we are stronger together. This is a human principle. We want to do it in a way that brings out our best nature, our best virtues. And prevents the worst of our nature from entering the mix.
We are champions of the creatives, the dreamers, the builders, the believers. We view technology the same as humanity. We all have unique skillsets and areas of specialty — and we want to empower us to come together to create something so much bigger than the sums of parts. That's the philosophy of the technology and movement we're forming around it. The movement of people.
Free-asking Session
Q1. Are u planning nft?
Jonathan: By leveraging our technology, you can build a very special type of NFT, unlike anything out there right now. I can't get into specifics here; I really want to; it's one of those massive, high-profile use cases like we've done before — but, I will leave you with something related to the metaverse:
Imagine in order for you to be transported to a special digital world you and a group of people from different parts of the world had to "check-in" to a certain physical locations. Once the last person shows up at the place he needs to, at once, you all get transported to the same virtual world — a concert maybe. Beyond Protocol allows for this. It goes down to the device-level of each person — their phones let's say — and confirms they are checked-in.
Q2. Hi Jonathon, what can you tell us about the Infrastructure bill and BP's role?
Jonathan: In the USA, the Biden Administration recently signed into the law the infrastructure bill, which calls for the US to have 500,000 charging stations deployed by 2030. At this time, the US is planning for half of vehicles to be sold to be electric, and California is planning a complete phase out of new gas powered cars by 2035. Charging stations are becoming the new gas station.
In August 2021, Beyond Protocol unveiled the world's most secure blockchain wallet —it's probabilistically impossible to hack.
In November 2021, Beyond Protocol's technology was deployed to power an European Union Commission mobility initiative, allowing e-bikes wirelessly to pass their IDs to charging stations––thanks to Beyond Protocol's secure ledger technology, the charging stations automatically know exactly how much voltage to provide the bikes, how long to charge to them, and who to bill.
Now, Beyond Protocol launches charging stations in Europe with Stripe. Beyond Protocol allows for ownership by the masses. Through the shared fractionalized ownership of a network of charging stations, we can all own rights to the new oil.
Beyond Protocol's technology allows for seamless authentication and payment by vehicle operators, and later, autonomous vehicles. The next phase is bringing those charging stations to the USA. We are doing it with the support of advisors like Moe Vela, Sr Advisor to President Joe Biden.
Q3. Can you briefly describe your PARTNERSHIP so far and upcoming partnerships?
Jonathan: One thing we're proud of is our bluechip partners. They put us in a position to achieve our goal of a mainstream mainnet — we are looking to create one of the most mainstream mainnets in blockchain tech history.
Current partners to date include some of the biggest, most consequential organizations in the world. Like European Union Commission, Stripe, DoorDash, HP, Cisco, and the list goes on — see our website.
As we approach mainnet, we will be releasing work with others. And it's not superficial work. It's deep work, getting the technology in a position to scale.
At mainnet, Beyond Protocol strives to power innovative use cases which make big impacts in people's lives. We've shown what can be achieved so far in this respect on our testnet. And there is so much more coming there. Our partnerships help support this.
Trying to find MEXC AMAs recaps?
It's easy! Explore them in a special section of our MEXC Global blog. Find insights for other recently listed projects at MEXC like Beyond Protocol. Lots of helpful information for your DYOR!