In this Telegram AMA recap, you'll find insights about the AlgoDAO project. In an event hosted by Iris from MEXC Global, you will meet Joe, Growth and Development Manager at AlgoDAO.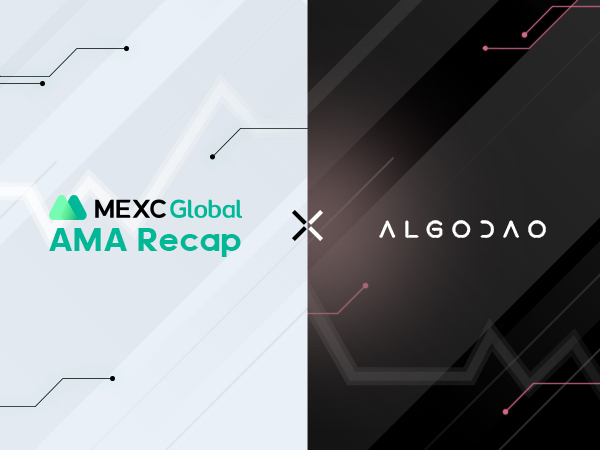 Introduction:
Very excited to be here, Im Joe the Growth and development manager for AlgoDAO. Ive been in the crypto space for the last 7 years and tried my hand at all the fun crypto offers from trading to NFTs. Now my role is with AlgoDAO heading up the community outreach and working to build the project into the future.
Questions from the community:
Question 1:
Iris: What is AlgoDAO? Can you share with us more in detail?
Joe: AlgoDAO is a tokenized incubator/launchpad. We help bring new projects to the market by providing the system structure, connections, investment platform, and vehicle to facilitate new success and sustained growth.
Question 2:
Iris: What triggers you to launch AlgoDAO? What are some of the real-world problems/ pain points that AlgoDAO aims to solve?
Joe: AlgoDAO is the first fully functioning Pad on the L1 chain Algorand. To understand how important this is we can look at algorand as a layer one, 4.5 second finality, less than 0.01c to send a transaction, and solves the blockchain trilemma. The Ecosystem on Algorand is primed to grow and our platform can help facilitate that explosive growth by bringing new community members and new projects online.
Question 3:
Iris: What is the role of the $ADAO (listed as $ADAOX on MEXC) token in the AlgoDAO ecosystem? Would you tell us more about its tokenomics?
Joe: $ADAO token is used as the gateway key to participate in project IDOs. Holding and staking ADAO is the only way to have access to the IDO of the projects that come through our incubator/pad. There are several participation tiers with different levels of required ADAO to be staked which yield higher chance of allocations in each IDO
Iris: and $ADAO is now available to buy on MEXC 👉 https://www.mexc.com/exchange/ADAOX_USDT
Question 4:
Iris: Are there any exciting news or updates with regards to AlgoDAO that you would like to share with the users?
Joe: Our own IDO from a technical perspective was flawless and now we are excited to be moving forward with the next stage of growth including new partnerships and of course launching new projects on the platform. We have several in the incubator and its only a matter of time before we are ready to release to the world, Definitely give us a follow on twitter and join the discord so you can keep up to date with what we have coming
Iris: great!! looking forward to seeing the new partnerships and new projects 👀
Question 5:
Iris: If you were to summarize your project in ONE word, what would it be? Why?
Joe: So many i could choose but narrowing down to just one is very hard. If I had 2 I would say Growth Potential
We have the right L1 ecosystem, we have the technology, and the market is currently pretty rough but also the perfect time to build and grow new projects for long-term sustainability. Once the ball gets rolling it will be an unstoppable beast
Free-asking Session
Q1. Do the token holders have the right to participate in the governance of the project? What kind of decisions can they vote on about the project?
Joe:
Yes, Every token holder on the platform is entitled to one vote pereach token held. The long-term plan of AlgoDAO is to be a fully functioning DAO where the platform is self governed by its members. There will be an opportunity for members to suggest initiatives for the community to vote on. These features will become available as the project grows. We do have our first vote planned with the question being based around the unstaking fee on the platform
Q2. Currently, most investors only care about profits at the moment but ignore the long-term benefits. So can you give them some advice on why they should buy and hold this token/coin in the long term?
Joe:
The long-term benefit of holding ADAO token is the participation in IDO of projects launched from the incubator and on the pad. This gives the best opportunity for early access to new projects that are just coming online and have also gone through rigorous screening and due diligence to ensure long-term sustainability and the best chance of success in the market. Holding and Staking ADAO also gives you access to SIGMA token as a reward for staking, you can read more about that here
https://algodao.gitbook.io/faq/algodao-introduction-and-faq/sigma-pool
Q3. Is your project only for elite investors, what about others with small funds, is it open to everyone?
Joe:
Our project is open to everyone, there are rewards on our platform for staking as little as 1 ADAO with the minimum IDO participation bracket being 60 ADAO
AlgoDAO offers the perfect opportunity for new investors to participate in the early stage of project launch knowing that the project in question has been through rigorous testing and long due diligence processes
Q4. Do you have tutorial videos so we can get to know your project more clearly or do you have a YouTube channel or something? can you share it with us?
Joe:
We have multiple ways for people to learn more about the project and how to get involved.
A good starting place is here: https://algodao.gitbook.io/faq/
Also joining our discord here: https://discord.gg/qGxSSqXx
our medium: https://medium.com/algodao-fi
Q5. Have you been audited? Have not heard you talk about that security of funds is what every investor craves and plans to escape in case of insecurity if funds, scams and rug pull? How strongly built is your security put in place?
Joe:
Yes, we have been audited with plans for further audits to make sure we keep our community members as safe as possible. We have also tested the platform extensively in a testnet environment and also now in a live environment with our own launch.
Our goal is to be the premier Pad on the ecosystem which is why we have very extensive measures in place to make sure our community is protected both from a security standpoint as well as making sure the projects we launch are top quality and refined through the processes of our system.
Trying to find MEXC AMAs recaps?
It's easy! Explore them in a special section of our MEXC Global blog. Find insights for other recently listed projects at MEXC like AlgoDAO.
Start your travel on MEXC Global