MEXC Global is launching the Krida Fans (KRIDA) project on its M-Day platform. MEXC Global held KRIDA Token event is exclusively for mainstream crypto traders and MX holders to join. 
What is Krida Fans ?
Krida Fans is a next-generation Fantasy Sports Platform based on blockchain. It is built on the Solana Blockchain and has a built-in Game NFT marketplace and community platform. Krida Fans brings the most popular Fantasy Sports and NFT Ecosystem elements into one platform and creates a distributed, community-driven, and transparent fantasy sports platform.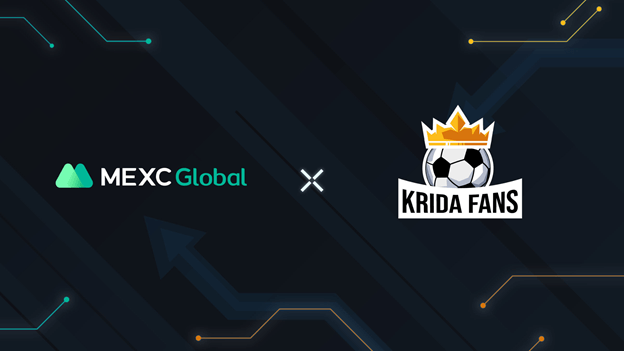 Krida Fans gives its users the option to reach their reputation scores from different blockchains. This allows its users to enjoy lower transaction costs and quick transaction settlement. It also has an in-house platform for its members to interact. The platform applies the players' skills to ensure scarcity instead of relying on the number of cards minted like other fantasy sports on the blockchain do.
Core Concept
Gamers can play fantasized soccer games based on real matches fixtures. Each gamer can utilize their limited budget of 105 credits. This restricted credit is designed to make the playing eleven and three substitutes for each match.
Each player wins X credit based on their performance in the last 38 matches. The better the player's performance, the higher the credit and vice versa.
Krida Fans Platform sets itself apart from other sports platforms by designing skill-based scarcity and focusing on detail-rich NFTs. As and when gamers play with NFT, scarcity will kick in.
The Key Features For Krida Fans
The main attractions for the Krida Fans platform are:
Low entry barriers to high rewards – The platform offers its users the ability to get similar rewards for a significantly lower cost or investment when compared to other fantasy sports platform
Play More, Win More: Krida rewards its users with its $KRIDA tokens for playing and helping the platform grow. These rewards are issued irrespective of the players ranking on the gaming leaderboards
Skills Based Scarcity: The platform follows a democratized access to top players' cards. It develops scarcity over time depending on how well a participant uses their cards. Compared to other platforms that mint cards and try to control demand.
Community Platform: The community platform allows players to interact with other members exchange tips and tricks through the in-house social platform.
Multi-chain Community Reputation: The platform allows its players to earn non-transferrable NFTs based on their community reputation. It also allows cross-blockchain access to these NFTs.
Community Governance: The platform allows its players to vote with their $KRIDA tokens on major platform decisions like scoring methods, player and league additions, and other issues.
In-game NFT marketplace: Players and members can mint NFTs from game content and trade it on the platform to earn money.
Stake & Vary Prize Pool: Users can stake KRIDA tokens as access tokens and get prime terms and rewards that are just available to KRIDA stakers. Players that stake $KRIDA get to earn various unique rewards compared to non-stakers. However, to eliminate any doubt, the winners will have to play and take part in the games and earn the same scores to be entitled to claim the prime rewards.
NFT based Card Games: The platform also supports the creation of sub-communities to play card games using the in-built gaming functionality for NFT based card games.
The Krida Token Fans Market
The worldwide fantasy sports market is forecasted to reach a USD 38 Bn by 2025, a 13% CAGR (Compounded Average Growth Rate). The concept of playing fantasy sports on a blockchain has become popular with crypto enthusiasts, resulting in the significant community interest. The market is still in its infancy at present.
The fantasy sports platforms based on blockchain technology have multiple benefits compared to the more common centralized fantasy sports platforms. With an edge in player benefits, the fantasy sports market is expected to grow further. With its minimal 5% share of the total fantasy sports market, blockchain-based Fantasy Sports has a $ 1.15 Bn revenue forecast for 2021.
In addition, the NFT markets have seen huge growth, with multiple celebrities and corporate businesses paving the way for the mainstream adoption and use of NFTs.
This one-of-a-kind mix of Fantasy Sport, Collectible card games, and social reputation make the market potential of Krida Fans huge in the future.
Buy tokens like Krida?
Interested in altcoins or memecoins? Looking for next GEMs after the SINGLE token? You can check articles tagged with alts. New to blockchain and trading? If you want to know more about MEXC products and crypto trading, visit our Academy to learn how to start trading on MEXC Global.
No account at MEXC Global to trade KRIDA Token? Register here and get trading fee discounts!