From MEXC's overall trading data of spot trading, ETF trading and futures trading, the most popular mainstream tokens are BTC, ETH, XLM, XRP, MATIC and SOL; other popular tokens are CEL, WAVES, AZERO, SHIT, YFII, SHIB, CAW, MOVEZ, and MX. Among them, CEL has reached a high yield of 813% since listed on MEXC.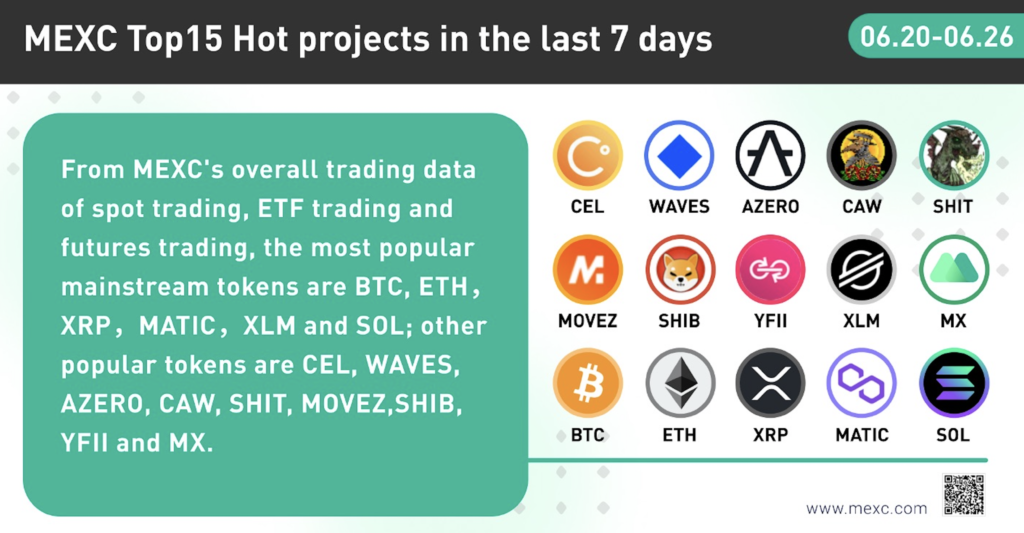 Celsius (CEL) is a banking and financial services platform for cryptocurrency users. The network is an interest income and lending platform that hopes to outperform traditional banks and provide transparent financial services, quick transactions and equal access to users. Loans from Celsius are asset-backed to ensure the safety of the fund, while returns on savings and deposits are relatively higher. CEL, as the native token of Celsius platform, bring potential earning opportunities for holders and platform users through staking, loan payment discounts, etc.
Waves (WAVES) is a Crypto-platform for asset/custom token issuance, transfer, and trading on the Waves blockchain, with centralized order matching and decentralized settlement.
The platform highlights its user-friendliness by providing a simple,scalable,eco-friendly and open system. Waves delivers extremely fast experiences with extremely low costs and bridges to other ecosystems for easy interoperability.
Waves TVL is currently at $1.6 billion in the whole ecosystem,including DeFi ,GameFi ,NFT projects.
Neutrino: an algorithmic price-stable assetization protocol acting as an accessible DeFi toolkit. It enables the creation of stablecoins pegged to specific real-world assets, such as national currencies or commodities. Neutrino TVL surpassed $ 206 million
Waves.Exchange : a platform for staking cryptocurrencies and investing in algorithmic trading.Waves.Exchange TVL is over$ 151 million .
Swop.fi : a service for instant exchange of cryptocurrencies and making money by providing liquidity.Swop.fi TVL is over$ 7.11 million .
Vires : a liquidity protocol for lending and borrowing assets.Vires TVL is over$ 1.2billion
Waves is synonymous with its founder, Ukrainian-born scientist Alexander Ivanov (also known as Sasha Ivanov).Prior to creating Waves, Ivanov was already active in the cryptocurrency space, having released the now-defunct instant exchange Coinomat and indexing site Cooleindex. He also created an early version of a stablecoin, CoinoUSD, tied to the U.S. dollar.
WAVES is the native token of the Waves blockchain. Transaction fees and block rewards are distributed in WAVES to encourage Block generators to develop the ecosystem and the network infrastructure. Holding more WAVES leads to a greater chance to add the next block.
Aleph Zero (AZERO) is a privacy-enhancing, Proof-of-Stake public blockchain with instant finality. Its enterprise-ready, high-performance network is built on a novel, Directed Acyclic Graph (DAG)-based consensus protocol that has been peer-reviewed and presented at an ACM conference. Aleph Zero uses the DAG as an intermediary data structure, but can still be categorized as a blockchain. To date, Aleph Zero raised $20 m for continued development, integrating with the Substrate stack, and expanding the team.
Hunters Dream (CAW) is a decentralized algorithmic stablecoin payment network. Currently, this project belongs to the meme track, and it neither has any official website, whitepaper nor social media. However, it had a rather high popularity in the community at that time, and its nature is somewhat similar to the early SHIB.
MoveZ (MOVEZ) is a BSC-based Web3 sports fitness application. The creation and implementation of a sustainable and effective Move-to-Earn (M2E) model by the MoveZ team allows users to move, jog, walk, run and swim indoors and outdoors to earn in-app tokens that can be donated to numerous charities or cashed out for profit.
It is reported that to participate in MoveZ's M2E ecosystem, users do not need to own NFT assets. They can get MOVEZ token rewards by participating directly in a series of fitness activities in the MoveZ app. MoveZ aims to revolutionize the fitness industry by encouraging more people to improve their health and achieve fitness goals, and also shifting profits from owners to platform users through a unique decentralized platform.
ShitCoin (SHIT) is a community hotspot NFT with novel gameplay. It has been in the top 10 of Opensea's leaderboard for several consecutive days. Its content is a pile of shit. Its core concept is to challenge the previous BAYC and Azuki: everything is shit. ShitCoin expresses its dissatisfaction with the market in a sarcastic manner, and its launch has aroused great emotional resonance among the crypto market and users.
The ShitCoin team leveraged its excellent marketing and roadmap delivery strategies to rank among the top three NFTs on OpenSea in terms of price and transaction volume within a week. Its governance token SHIT has a total supply of 100 trillion, of which 39.05 trillion will be airdropped, 25 trillion will be transferred to the Vitalik wallet address. ShitCoin (SHIT) achieved its highest gain of 1488% within 3 days of its listing on MEXC, which gained itself a lot of attention in the market.
It is reported that ShitCoin first-generation NFTs include "I will poop it" NFT, Genesis ShitBeast and ShitBeast. Among them, "I will poop it" NFT has a total supply of 10,000. It was minted for free at first, and then its highest floor price exceeded 1.45ETH. Genesis ShitBeast has a total supply of 3,900, with its highest price exceeding 3.4ETH. Also, when every two "I will poop it" NFTs synthesize into one Genesis ShitBeast, 100 million SHITs will be generated at the same time. ShitBeast has a total supply of 6100, and it can be obtained by minting. Its highest price has exceeded 1.15ETH. Genesis ShitBeast and ShitBeast can not only be staked to obtain SHIT, but also upgrade into a phase-3 NFT through a bathroom cleaner (a synthetic potion).
ShitCoin's performance is relatively outstanding, as it only took a short time to complete a blue-chip NFT lifetime. From "shit", blue-chip to brand IP, and then to the mutual growth and success between its token and NFT, the planning of the third-generation NFT and X to earn still leaves a huge space for the market to imagine as it holds the network traffic and topic of interest.
DFI.MONEY(YFII) is a fork of popular DeFi aggregator platform yearn.finance (YFI). Launched in July 2020, it aims to optimize returns for DeFi investors while adhering to changes proposed in an upgrade plan called YIP-8. The native token of DFI.MONEY is YFII, a fixed-supply token which liquidity providers earn in accordance with their network interaction.
Shiba Inu(SHIB) is a meme token created anonymously in August 2020 under the pseudonym "Ryoshi." This meme coin quickly gained speed and value as a community of investors was drawn in by the cute charm of the coin paired with headlines and tweets from personalities like Elon Musk and Vitalik Buterin. Shiba Inu aims to be the Ethereum-based counterpart to Dogecoin's Srypt-based mining algorithm.
MX is MEXC's platform token. In the MX ecosystem, MX can be used for trading and transaction fee deductions. MX holders can participate in Kickstarter, M-Day, MX DeFi, MEXC Voting and other activities to enjoy comprehensive benefits such as the opportunities to participate in early projects, new token airdrops, and staking profits.
About MEXC Global
Established in April 2018, MEXC Global is a digital asset trading platform with over 7 million users, which offers users one-stop services, including spot, margin, leveraged ETFs, derivatives trading and staking services. The core members of the team come from international enterprises and financial companies and have experience in blockchain and financial industries.
For more information, please visit our website . Follow MEXC Global at Twitter.
Start your travel on MEXC Global