From MEXC's overall trading data of spot trading, ETF trading and futures trading, the most popular mainstream tokens are BTC, ETH,XRP,MATIC and SOL; other popular tokens are NIFTY,UFO,ZKS,POKT,CEL, AZERO, BABYDOGE, LOVELY,BONE and MX.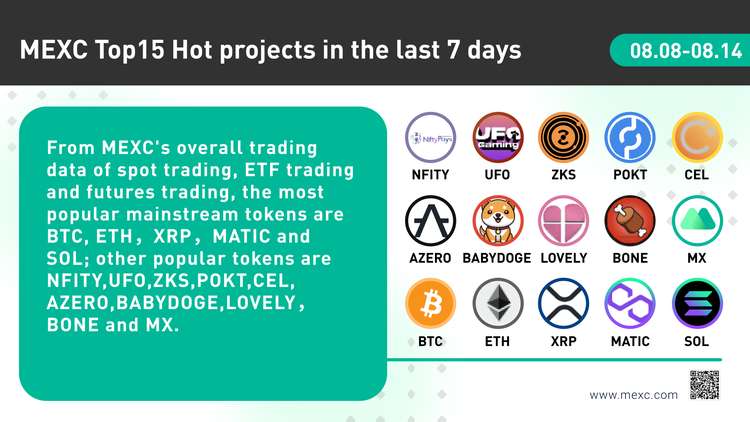 NiftyPays(NIFTY) is an innovative and revolutionary concept, deeply and strategically brainstormed to benefit the exponentially increasing holders of Nifties (Non-Fungible Tokens). It will further fuel the wave of buying and holding NFTs, making them lucrative to investors looking for short-term gains apart from the increased value of NFTs over time and the pride of owning them. It is a staking ecosystem that will allow NFT hodlers to use their NFTs as collateral or stake their idle NFTs for a desired amount of time and earn rewards from different ecosystem projects listed on the platform. The ecosystem has an intelligent gamification algorithm that calculates rewards based on the time spent by the user in the ecosystem – more time, better rewards.
NiftyPays raised $2.5 million from AU21, 7xVC, x21, SL2 Capital, Phoenix VC, ChronosVC, etc.
After listing on MEXC Global, the highest gain was 2143%.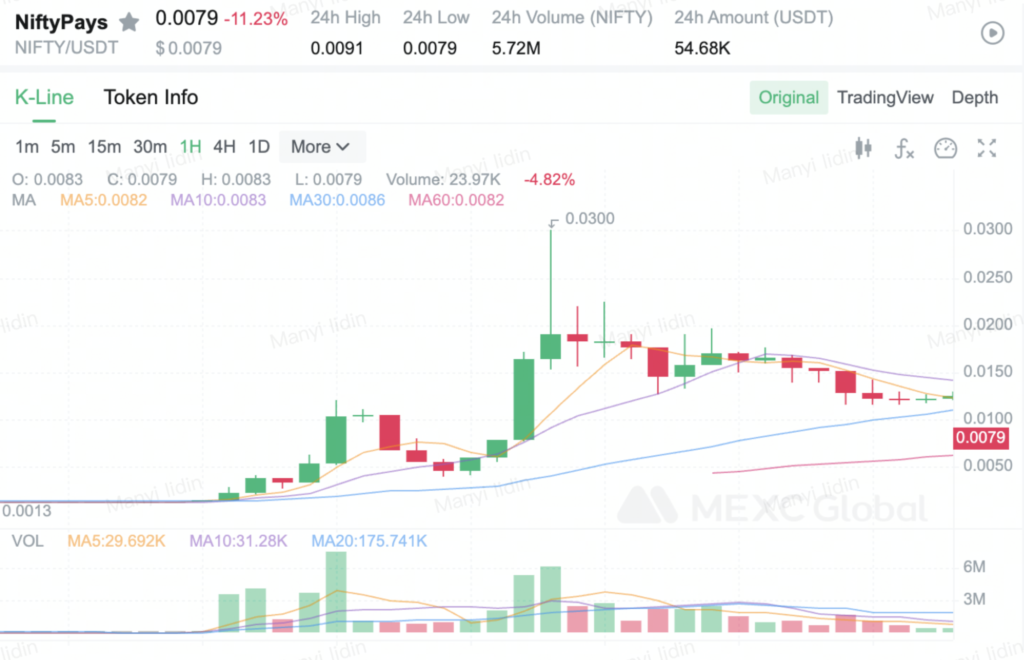 UFO Gaming(UFO) is a decentralized gaming platform with play-to-earn elements, NFTs, and DeFi functionality like staking. Its first game is Super Galactic, an RPG/arcade action game with its own NFT collection combined with an auto battler. UFO Gaming is built on Ethereum, but its games are integrated with Immutable X, a layer-two scaling solution for NFT projects on Ethereum.
ZKSpace(ZKS) platform consists of three main parts: ZKSwap, the innovative Layer 2 AMM DEX utilizing ZK-Rollups technology, payment service ZKSquare, and an NFT minting center and marketplace called ZKSea. With an all-new-look user interface, NFT support, unlimited token listing, smoother withdrawal, optimized efficiency, and multi-chain support, ZKSpace aims to implement EVM-compatible ZK-Rollups and bring the community more layer 2-based products in the near future.
Compared to similar solutions, ZK-Rollup highlights a number of advantages: security, cost, transactions per second (TPS) and privacy.
Pocket Network(POKT) is a decentralized blockchain data platform – a protocol that is built to connect to any blockchain and service the data demands of Web3 dApps. Pocket Network uses cost-efficient economics to coordinate and distribute data at scale, using the POKT token to facilitate the protocol's service.
Pocket Network has closed a $10 million strategic round led by Republic Capital, RockTree Capital, Arrington Capital, and C² Ventures.
Celsius(CEL)is a banking and financial services platform for cryptocurrency users. The network is an interest income and lending platform that hopes to outperform traditional banks and provide transparent financial services, quick transactions and equal access to users. Loans from Celsius are asset-backed to ensure the safety of the fund, while returns on savings and deposits are relatively higher. CEL, as the native token of Celsius platform, brings potential earning opportunities for holders and platform users through staking, loan payment discounts, etc.
Aleph Zero (AZERO) is a privacy-enhancing, Proof-of-Stake public blockchain with instant finality. Its enterprise-ready, high-performance network is built on a novel, Directed Acyclic Graph (DAG)-based consensus protocol that has been peer-reviewed and presented at an ACM conference. Aleph Zero uses the DAG as an intermediary data structure, but can still be categorized as a blockchain. To date, Aleph Zero raised $20 m for continued development, integrating with the Substrate stack, and expanding the team.
The highest yield after listing on MEXC was 3009%.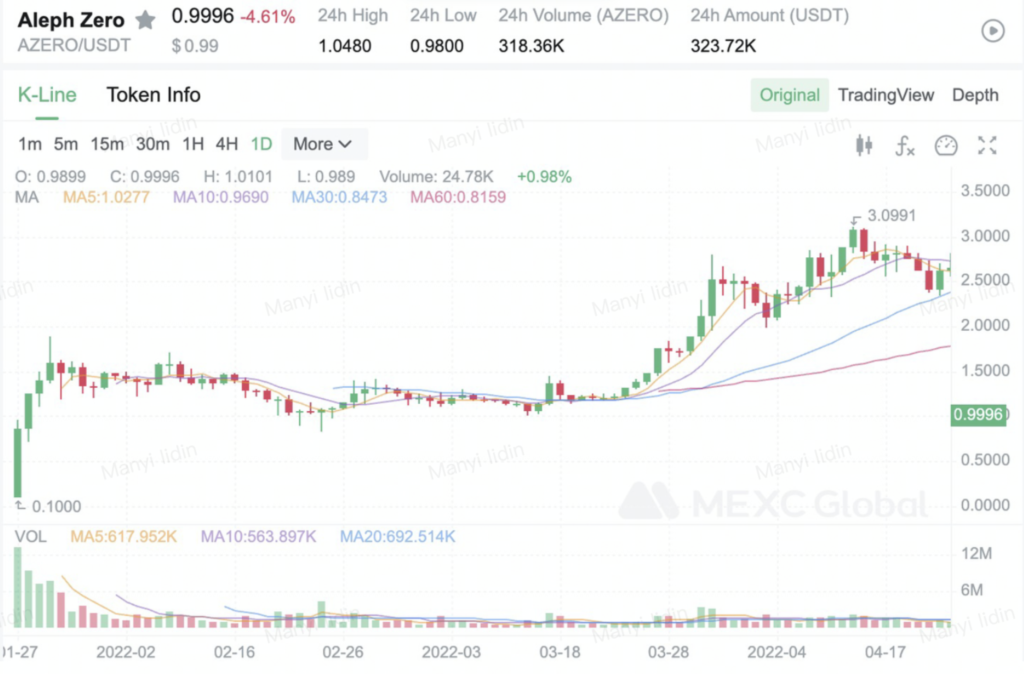 Baby Doge(BABYDOGE) is the third generation of community meme coins. Because of an accidental opportunity, Musk teased DOGE and changed the original terms of 'baby shark' in the lyrics of the song, Baby Shark, into baby doge, resulting in a sharp rise in its price. The FOMO sentiments in the market and the coin holders' addresses of 1.54 million justify its popularity.
Lovely Inu(LOVELY) is fully decentralized and owned by its love and vibrant community. Lovely Inu welcomes and embraces diverse perspectives to build LOVELY into the best community in crypto. LOVELY's mission is to bring popular cryptocurrency concepts to the mainstream. Unlike older, comparable projects, LOVELY introduces holders to next-gen concepts such as frictionless yield, NFTs, decentralized exchanges, and more.
Bone ShibaSwap(BONE) is a governance token of Shibaswap ecosystem which will allow the #ShibArmy to vote on upcoming proposals. The more BONE the user holds, the more weight their vote carries in these future endeavours. BONE has 250,000,000 tokens, and is designed to fit perfectly between the previous two tokens in regards to circulation supply.
Ethereum(ETH)is a decentralized open-source blockchain system build by Vitalik Buterin. It allows the operation of smart contracts and Dapps. As the second high market value asset, ETH2.0 network upgrade has become the focus in 2022.Ethereum will switch to proof-of-stake(PoS) with its Ethereum 2.0 update.This will not only change the infrastructure but also improve the efficiency a lot.It is reported that Ethereum developers plan to merge ETH 2.0 on September 19.
For the last testnet proof-of-stake transition, Goerli will merge with Prater. The combined Goerli/Prater network will retain the Goerli name post-merge. The merge will consist of two steps. The first is Bellatrix upgrade on the Prater Beacon Chain . This is expected to start at 12:24pm UTC on August 4,2022.Paris, the execution layer's portion of the transition, will trigerred by reaching a Terminal Total Difficulty(TTD) of 10790000 on Goerli, expected between August 6-12,2022.
Since the announcement of merge date, the Ethereum ecosystem increased a lot.The below chart compares the price changes of the top projects on Ethereum ecosystem.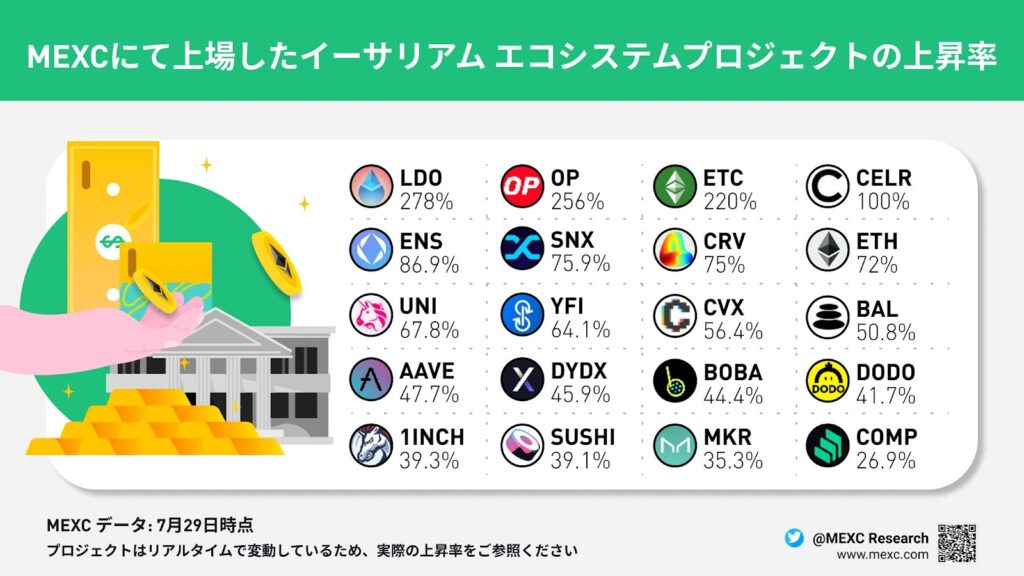 About MEXC
Established in April 2018, MEXC Global is a digital asset trading platform with over 7 million users, which offers users one-stop services, including spot, margin, leveraged ETFs, derivatives trading and staking services. The core members of the team come from international enterprises and financial companies and have experience in blockchain and financial industries.
For more information, please visit our website and blog. Follow MEXC Global at Twitter and Telegram.