From MEXC's overall trading data of spot trading, ETF trading and futures trading, the most popular mainstream tokens are BTC,ETH,XRP,MATIC and SOL;other popular tokens are RED,ZED, CMP, S2K, OP, AZERO, SHIB,RVLT,SHIT and MX.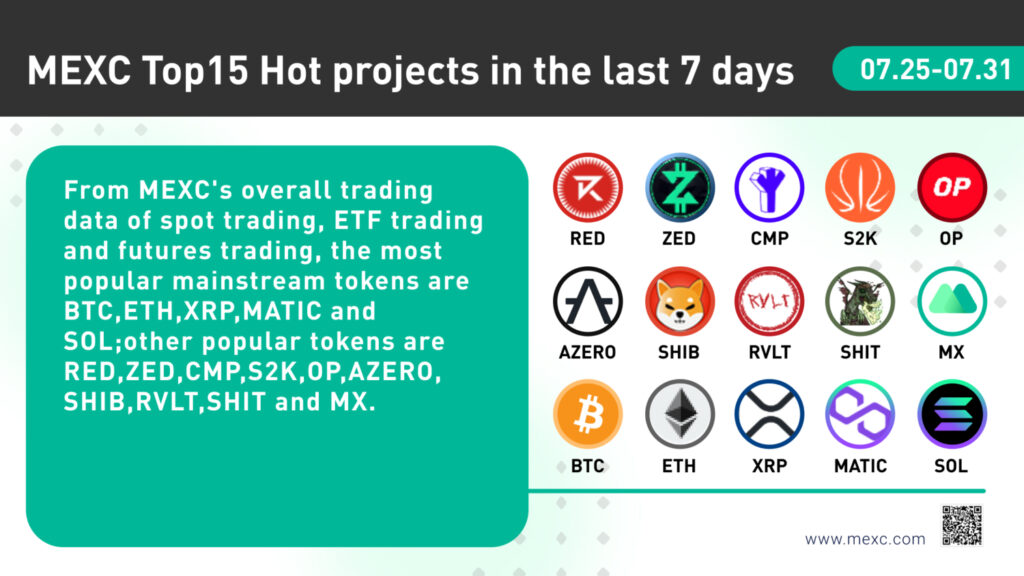 RED Token(RED)is an initiative developed by FIDA Corporation in cooperation with Tokyo eSports Gate Corporation. The project endeavors to create an unparalleled entertainment platform radiating from the heart of Tokyo and encompassing both the real and digital worlds – bringing the playful spirit of Japan to kindred spirits around the world.
The RED TOKEN is the official token that will power the RED TOKEN ECONOMY. The Token will give access to experiences and activities in the RED Metaverse plus the chance to participate in related events at RED TOKYO TOWER and other RED facilities.
ZED RUN(ZED) is a popular P&E digital horse racing game, in which owners of digital racehorse NFTs can engage in skill-based gameplay. ZED RUN has taken inspiration from the real world of horse racing and has fused it with web3 technologies, and as a result has brought the "sport of kings" into the metaverse.
ZED RUN's parent company VHS raised a 20million series A round, led by TCG Capital, participated by a16z and Red Beard Ventures.
The ZED Token is a fungible cryptographic token that exists on the Ethereum and Polygon blockchains. The ZED Token will become the main utility token and in-game currency of ZED RUN and is intended to be leveraged across future P&E utility-based video games.
Caduceus(CMP) is the Metaverse protocol for decentralized edge rendering, an infrastructure-level open blockchain platform specifically built for the metaverse and the decentralized digital world. Caduceus utilizes decentralized rendering and edge computing along with extended-reality technology to bring developers, creators, and users an unrivaled metaverse experience.
Sports 2K75(S2K) is a Web-3 based Sport-Fi Metaverse, combined with NFTs, De-Fi and gaming platform, users stake sports matches like NBA, Soccer, Esports with B2E gaming platform.Sports 2K75 has five categories of sports to stake, NBA, Soccer, Football, Baseball and eSports,and two ways to play: Sport to Earn with stable odds, and PVP mode with real time odds.After listing on MEXC, S2K has reached the highest yield of 1700%, and has 850% yield yet.
Optimism (OP) is a layer2 blockchain on top of Ethereum. Optimism benefits from the security of the Ethereum mainnet and helps scale the Ethereum ecosystem by using optimistic rollups. That means transactions are trustlessly recorded on Optimism but ultimately secured on Ethereum.
Optimism is designed around four core tenets: simplicity,pragmatism,sustainability, optimism.
The ecosystem further emphasizes pragmatism and is driven by the real-world needs and constraints of its own team and the users engaging with the ecosystem. Hence, Optimism aims to build iteratively and implement features like EVM equivalence gradually.
Optimism's design process is built around the idea of long-term sustainability and not taking shortcuts to scalability. That is why it uses optimistic rollups and takes advantage of the consensus mechanism of Ethereum to scale the network. Blocks are constructed and executed on the L2 (Optimism), while user transactions are batched up and submitted to the L1 (Ethereum). The L2 has no mempool, and transactions are immediately accepted or rejected. This guarantees a smooth user experience while ensuring security through the Ethereum consensus mechanism.
Transactions are submitted to Ethereum without direct proof of validity and can be challenged for a certain period of time (currently seven days). After that, a transaction is considered final. That is why withdrawals from Optimism to Ethereum take seven days to complete.
The initial token supply is 4,294,967,296 OP tokens.Early users of the network has been granted the opportunity to receive OP airdrops in Q2, 2022, which accounts for 5% of the asset's total supply.
Optimism's ecosystem consists of over 20 dApps, mainly the Synthetix ecosystem.The market share of Optimism on Layer 2 network is 20.78%,totaling $906 million to date.
Looking at the types of DeFi projects in Optimism, there is a clear lack of variety with almost all TVL being occupied by DEX.

After the announcement of Eth2.0 merge date, OP token increased by 256% to date.
Aleph Zero (AZERO) is a privacy-enhancing, Proof-of-Stake public blockchain with instant finality. Its enterprise-ready, high-performance network is built on a novel, Directed Acyclic Graph (DAG)-based consensus protocol that has been peer-reviewed and presented at an ACM conference. Aleph Zero uses the DAG as an intermediary data structure, but can still be categorized as a blockchain. To date, Aleph Zero raised $20 m for continued development, integrating with the Substrate stack, and expanding the team.
The highest yield after listing on MEXC was 3009%.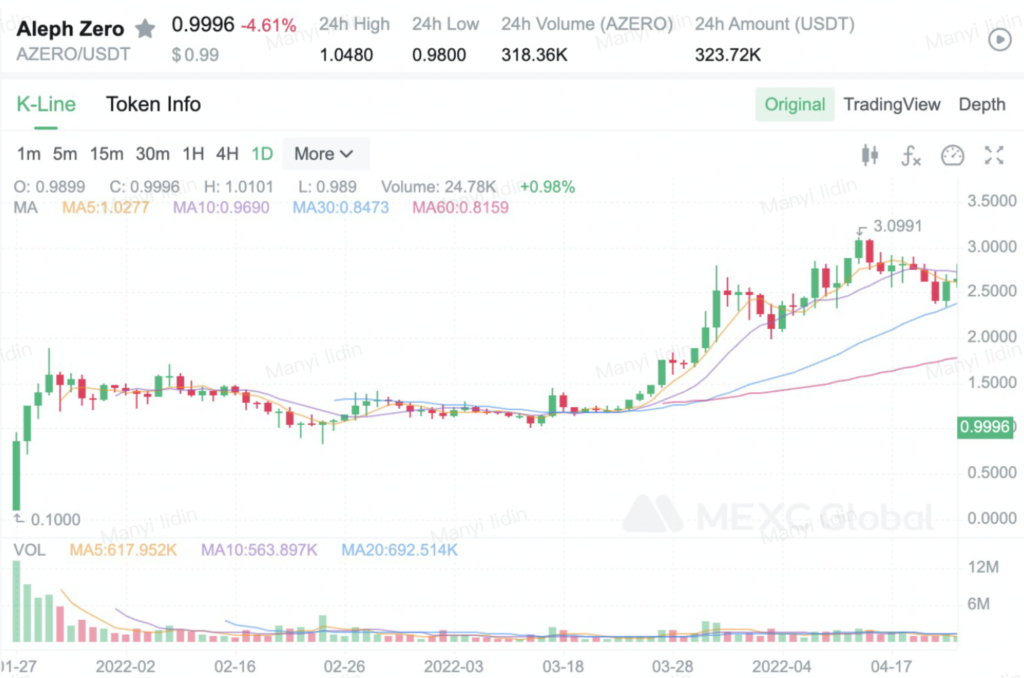 Shiba Inu(SHIB) is a meme token created anonymously in August 2020 under the pseudonym "Ryoshi." This meme coin quickly gained speed and value as a community of investors was drawn in by the cute charm of the coin paired with headlines and tweets from personalities like Elon Musk and Vitalik Buterin. Shiba Inu aims to be the Ethereum-based counterpart to Dogecoin's Srypt-based mining algorithm.
Revolt 2 Earn(RVLT) is CULT DAOs first ecosystem token, and has been built on the Polygon network as a Polygon POS token with 0.4% taxation.Whereas CULT works to fund protocols furthering decentralization, RVLT seeks to support the individuals who are working towards the same goal.
ShitCoin (SHIT) is a community hotspot NFT with novel gameplay. It has been in the top 10 of Opensea's leaderboard for several consecutive days. Its content is a pile of shit. Its core concept is to challenge the previous BAYC and Azuki: everything is shit. ShitCoin expresses its dissatisfaction with the market in a sarcastic manner, and its launch has aroused great emotional resonance among the crypto market and users.
Ethereum(ETH)is a decentralized open-source blockchain system build by Vitalik Buterin. It allows the operation of smart contracts and Dapps. As the second high market value asset, ETH2.0 network upgrade has become the focus in 2022.Ethereum will switch to proof-of-stake(PoS) with its Ethereum 2.0 update.This will not only change the infrastructure but also improve the efficiency a lot.It is reported that Ethereum developers plan to merge ETH 2.0 on September 19.
For the last testnet proof-of-stake transition, Goerli will merge with Prater. The combined Goerli/Prater network will retain the Goerli name post-merge. The merge will consist of two steps. The first is Bellatrix upgrade on the Prater Beacon Chain . This is expected to start at 12:24pm UTC on August 4,2022.Paris, the execution layer's portion of the transition, will trigerred by reaching a Terminal Total Difficulty(TTD) of 10790000 on Goerli, expected between August 6-12,2022.
Since the announcement of merge date, the Ethereum ecosystem increased a lot.The below chart compares the price changes of the top projects on Ethereum ecosystem.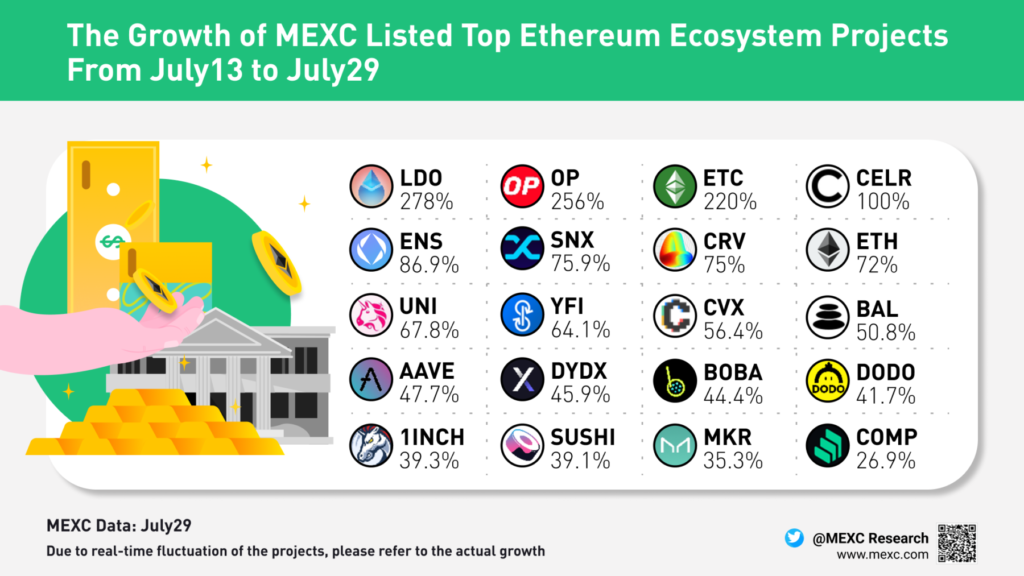 About MEXC Global
Established in April 2018, MEXC Global is a digital asset trading platform with over 7 million users, which offers users one-stop services, including spot, margin, leveraged ETFs, derivatives trading and staking services. The core members of the team come from international enterprises and financial companies and have experience in blockchain and financial industries.
For more information, please visit our website and blog. Follow MEXC Global at Twitter and Telegram.
Start your travel on MEXC Global