The U.S. Attorney for the Southern District of New York, Damian Willams made a statement on Twitter yesterday. According to the statement, Caroline Ellison and Gary Wang have pled guilty to fraud charges. The top executives have also agreed to cooperate during the investigation of FTX.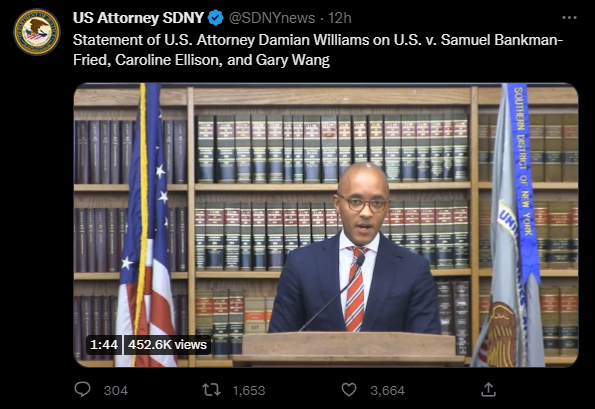 Ellison and Wang, both former top executives of SBF's company have pled guilty. They are respectively the former CEO of Alameda and cofounder of FTX. At the moment, they are pleading guilty to fraud charges related to the collapse of FTX.
This statement coincided with SBF's extradition from the Bahamas. William also revealed that Bankman-Fried is currently under FBI's custody. At the moment, we can confirm that SBF will be facing charges of fraud, money laundering, conspiracy, and campaign finance violations. However, there are currently no signs of Ryan Salame or any further actions against him.
Meanwhile, William took the opportunity to sound other executives involved. He says that:
"Let me reiterate a call that I made last week. If you participated in misconduct at FTX or Alameda, now is the time to get ahead of it. We are moving quickly, and our patience is not eternal."
SEC and CTFC Charges Them as Well
At the same time, the Security and Exchange Commission (SEC) is also charging them for engaging in fraudulent activities. The press release stated that:
"The Securities and Exchange Commission today charged Caroline Ellison, the former CEO of Alameda Research, and Zixiao (Gary) Wang, the former Chief Technology Officer of FTX Trading Ltd. (FTX), for their roles in a multiyear scheme to defraud equity investors in FTX, the crypto trading platform co-founded by Samuel Bankman-Fried and Wang."
SEC further added that they were allegedly manipulating the price of FTT to hike up the price.
On the other hand, CTFC announced that they are charging Ellison with fraud and material misrepresentation while Wang is charged with fraud in connection to digital asset commodity sales. These are both in violation of interstate commerce law.
Closing Thoughts
There are so many charges made to all top executives of FTX. However, different government bodies are all fighting to get jurisdiction over the court cases. A lack of regulatory guidelines is also making the court ruling process difficult and long. How will it play out? We shall find out very soon. We shall find out soon. In the meantime, check out our MEXC trading page and find out what we have to offer! You can learn more about crypto industry news and interesting articles to get you up to speed with the crypto world. Happy trading!