What are fractionalized NFTs?​
Fractionalized NFTs are a set of fungible tokens in association with a specific collection or item of NFTs that allows multiple buyers to partake in ownership and related transactions of one single entity of NFTs. In the typical fractionalization process, the original NFT is locked up in a vault and a limited supply of fungible tokens are released in representation of the ownership of the NFT. ​
Most NFTs are crafted with ERC-721 standards; therefore, the fractionalization process is often a smart contract that locks in the NFT and breaks it down into multiple ERC-20 tokens whose specifities are determined by the owner of the NFT.​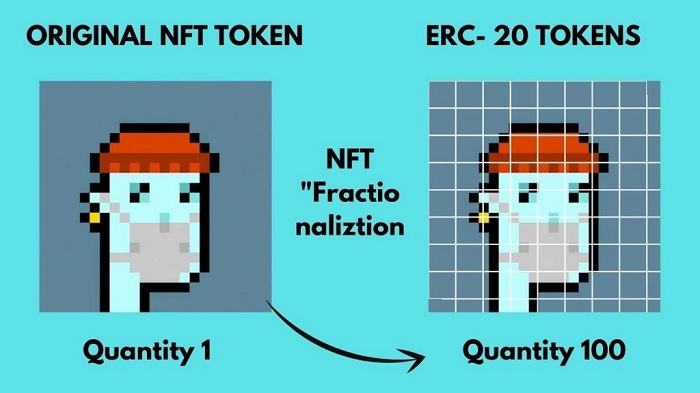 Advantages of Fractionalized NFTs​
Buyers can gain access to premium-priced blue chip NFT assets such as the Bored Ape Yacht Club Collection that have previously held a high financial bar of entry. ​
Fractionalization brings additional liquidity into a typically illiquid market – the fungible tokens can increase both the number of potential buyers and transactions. ​By fractionalizing the NFTs, its associated risks are also fractionalized. This can result in both increased confidence in market security and overall higher transaction volume. ​
NFTs can now become the basis of ecosystems, especially in areas like metaverse and DeFi gaming. Games can now issue fractionalized NFT tokens as rewards rather than expending energy in curating new utility tokens that unnecessarily complicate the system. ​
Disadvantages of Fractionalized NFTs​
The reduction of non-fungibility can result in decrease of valuation of NFTs whose original selling point focused on its exclusivity. This also applies to the fractionalized tokens itself; individual transactions of the tokens can influence the overall value.​
The reconstitution of NFTs remains a challenge: if the original owner of an NFT desires to trade the NFT as one single digital asset again, they will have to buy back all the fractionalized pieces. Owners of those pieces might not agree to sell it back or price disagreements can result in overhauled transaction times. Fractionalization in this scenario can be equated to destruction or permanent dislocation of the piece. ​
Examples of Fractionalized NFTs​:
Bored Ape Yacht Club. ​
Mutant Ape Yacht Club.​
Crypto Punks​
Cool Cats.​
Pudgy Penguins​
Etherrock​
The Doge.​
White Rabbit.
Interested in crypto & NFT?
MEXC lists moonshot and provides access to trading of major crypto coins plus opens acess to NFT trading via our NFT Index Products! Keep an eye on our listings in Innovation and Assessment zones, as well as major tokens in the Main Zone – we have more great projects to come! Also, visit the hot projects section to find more hot tokes that were listed already. If you would like to know more about crypto trading itself visit MEXC Academy.
Start your travel on MEXC Global