Blur NFT marketplace's popularity is growing at an incredible pace. They already overtook Opensea to become the top marketplace by trading volume. Furthermore, their $300 Million Season 2 airdrop is making users worldwide join their loyalty program. So, who is the founder of Blur NFT Marketplace?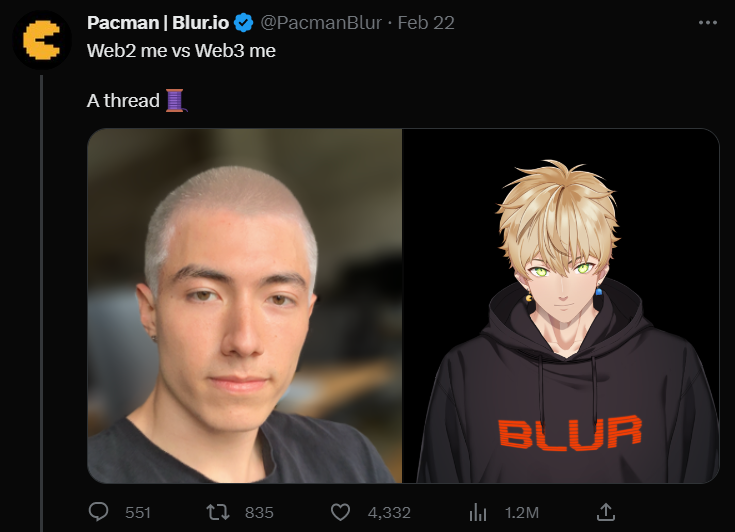 Who is Tieshun Roquerre (Blur's Pacman)
Following attempts by users on Crypto Twitter to uncover his identity, Tieshun Roquerre, also known as "Pacman" in online circles, has revealed himself as one of the founders of Blur. Blur is a popular NFT marketplace for professional traders, supported by prominent crypto VC firm Paradigm, and has surpassed OpenSea as the leading NFT exchange in terms of trading volume.
Twitter users discovered that Paradigm had also invested in Namebase, where Roquerre is publicly recognized as the founder. Following this discovery, some users noticed Roquerre's Twitter account and observed that he had liked and shared posts from Blur. Shortly thereafter, Roquerre revealed his identity in what some have called a "face reveal."
Roquerre, who is currently 24 years old, worked as a software engineer at the e-commerce platform Teespring before dropping out of high school. He went on to co-found StrongIntro and participated in the Y Combinator startup accelerator program. After that, Roquerre attended the Massachusetts Institute of Technology (MIT) for two years. He then dropped out to establish Namebase, a startup focused on crypto domains. Soon, he managed to raise $5 million and then sold to Namecheap in less than three years.
What is BLUR?
Blur is a decentralized marketplace designed specifically for professional NFT traders and art enthusiasts, providing a space for both groups to connect and enjoy themselves. The platform is supported by Paradigm and is currently live, offering airdrops to NFT traders. Since launching on October 19, 2022, it has quickly become one of the fastest and most flexible NFT marketplaces available.
Blur entered the NFT market with the promise of distributing BLUR tokens to NFT traders through an airdrop in early 2023. Since then, trading on the platform has exploded, following its multi-million dollar airdrop to its initial adopters. According to data available on Dune Analytics, Blur now holds a significant 80.6% market share among NFT exchanges, while OpenSea's market share sits at around 14.5%, based on trading volume. Learn more about what is BLUR now!
Conclusion
Blur is just full of surprises. A few days ago we receive news on their airdrop. On Valentine's day was their token release. They are also changing the entire NFT market structure. Finally, we found out who their founder is, Tieshun Roquerre. What else does Blur have in-stall for us?
In the meantime, check out our MEXC trading page and find out what we have to offer! You can learn more about crypto industry news and interesting articles to get you up to speed with the crypto world. Happy trading!
Start your travel on MEXC Global