Dinoland is a fun and energetic Play2Earn NFT Game in the Metaverse, where players can collect, breed, train, battle, and exchange Dinos. This fantasy dinosaur-themed NFT Game is chock full of content to make gaming fun and allow gamers to earn from their skills when playing the game. Dinoland Token (DNL – Trade it here) is already waiting for you in MEXC Global trading zone!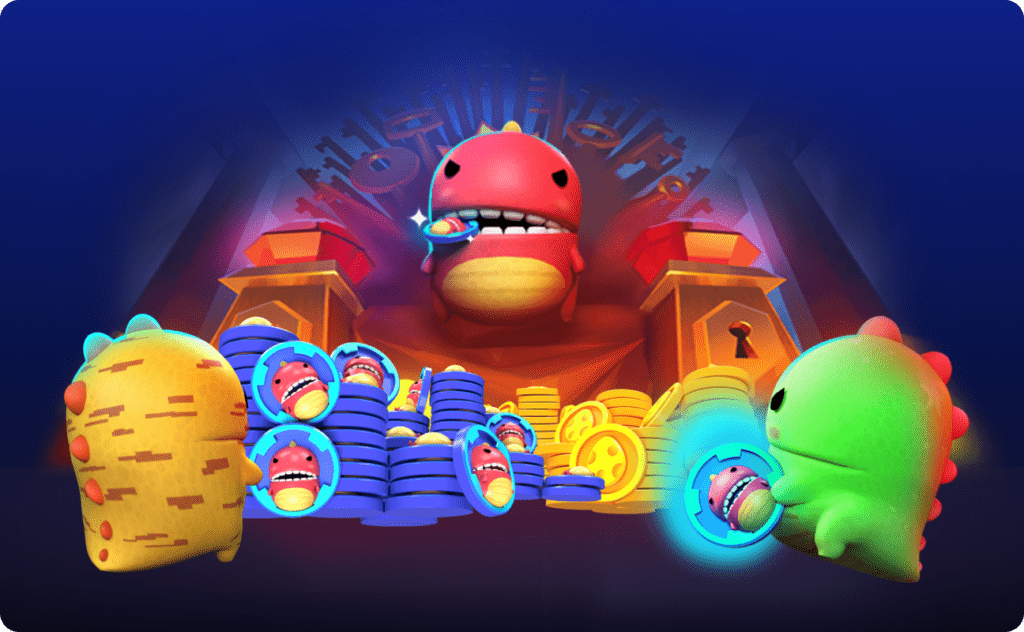 The Dinoland Concept
While dinosaurs are long extinct, there is a whole genre of games, movies, and varied content about Dinosaurs and a world based around them. Dinoland is based on the fantasy of dinosaurs.
It is a land that is separate from the real world, and it can't be reached or seen through maps and navigation. It is a vast land that always remains green. It is called Dinoland. In this land, in mysterious and unexplored forests, long-buried dinosaur eggs hatch and live.
The Dinoland Game is full of adorable and friendly Dinos. But don't be complacent about their friendliness. They are all fierce and robust when battling against Dark Monsters that attack them. Players get to train their dinosaurs to be the strongest and beat the Darkie Monsters to bring peace to Dinoland.
Game Play
The gameplay starts once the Dino is grown and finds out that there is a challenge ahead as the King of Darkie Monsters rules the land through his Monster army. Players need to build a Dino team and train them to fight against the Monster army.
Players can pick the skill level of a monster to fight with their dinos to win tokens and experience points. In case of losing a game, players get experience points. The game uses blockchain to store and record results.
On weekends Dinoland has extra activity with fiercer battles and attacks by the main monster, the Monster King. This means that players must join together to play against him and win.
Every fortnight, there are Arena seasons where Dinos from all over Dinoland come with their best teams to challenge each other. Once the arena challenge ends, top-ranked teams receive DNL as their reward.‌ Team ranks are also determined through Arena placements which are in five categories.
Team challenges and fights are arranged according to player and team categories. Same ranked teams fight each other to get promoted to a higher level.
How do players get Dinos in Dinoland?
Players can get eggs through hatching or buying.
Hatching: players gather eggs that are buried deep in the mysterious forest. There are different forms of egg and a random special egg.
Buying: If a player doesn't want to spend time hatching a random egg and training it, they can buy a dinosaur from the Dino NFT Market. It's easy to choose your favorite.
Play-To-Earn
Dinoland is a crypto NFT game that lets players own their minted NFTs on Dino. Players can buy dino eggs and trade-in Dinos. Players can search Dinos listed by other players and record their own in the NFT Marketplace. All marketplace transactions are done through DNL tokens.
The DNL Token
DNL is a functional token that can be used as a decentralized medium of exchange between players on Dinoland. The purpose of launching DNL is to create an easy and safe means of paying and settling transactions between participants in the Dinoland ecosystem without needing intermediaries like a centralized third-party institution to process the credit.
Dinoland utilizes a blockchain protocol that is not designed to offer any resources for use by its players. This means that it needs to reward its users for using the DNL tokens, which are required to provide users easy access to DNL for the project to run efficiently.
Why use MEXC Global & participate in Kickstarter?
Dinonland was launched with the MEXC Kickstarter campaign. This event is usually initiated by the project team & MEXC to encourage users to stake tokens as votes towards a preset goal. Once the goal is achieved, the listing process starts. Voting participants receive free token airdrops before the initial listing.
MEXC members can stake MX tokens to cast their vote and get free project airdrops. The amount of MX a user can commit depends on the available MX balance in their Spot Wallet.
MEXC Global is one of the most reliable and trusted crypto exchanges globally. With a spread of over 70 countries and 6 million users. MEXC Global is established as a platform of choice for both novice traders and experienced crypto investors.  Our high-performance trading engine has been serving satisfied members since 2018.
Start your travel on MEXC Global