In this blog interview, you'll find insights about the Digipharm project. In an event hosted by MEXC Global, you will meet Digipharm team.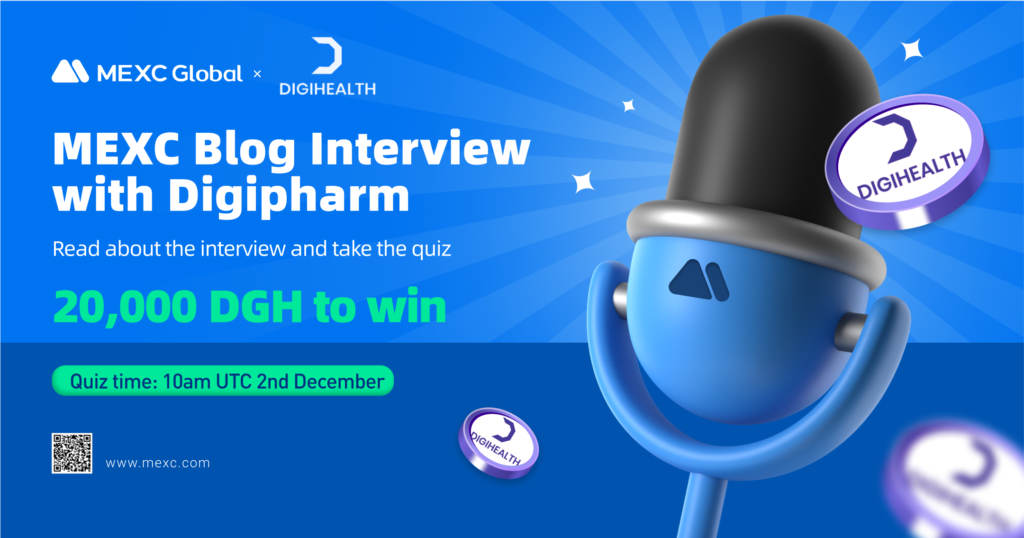 MEXC:What kind of project Digipharm is? What is the main focus of this project?
Digipharm: Digipharm is enabling payment for healthcare and services based on how well they work for patients and health systems rather than volume.
Digipharm's 'Reimburse' platform is a B2B offering currently in use by governmental bodies, insurance companies and top 10 pharmaceutical manufacturers around the world.
Digihealth is a patient and public ecosystem that will be a one-stop healthcare application that provides all you need to manage and earn from your health data, earn by sharing feedback on how well treatments work for you, earn by engaging in healthy activities and access high quality healthcare wherever you are in the world. Digihealth aims to be the most widely used public healthcare application after Apple and Samsung Health.
Digihealth (DGH) is a FINMA approved utility token for access to Digipharm solutions. Formerly known as Digipharm ($DPH) on the Terra network, Digihealth Tokens ($DGH) will be available on the BNB Chain.
MEXC:What problems in the healthcare industry do you think can be solved by blockchain?
Digipharm: Blockchain creates a secure, transparent and automated process for all parties when transacting or processing valuable information. In healthcare it can range from patient data sharing, more efficient payments and as far as incentives to move or exercise! We use it to create an additional lawyer of auditability and proof to make sure payments in healthcare are fair for all parties.
MEXC:In fact, some large Internet and technology companies had begun to try "blockchain + medical care", as early as 2018, but they all failed in the end. What's your opinion on this?
Digipharm: I think it is tempting for them. Why wouldnt it be? The Healthcare industry has not provided the experience they feel they deserve as patients. That's probably why we are here too. We are in a unique position where the healthcare business model is changing in the background and now is an opportunity to cement a seat at the table for patients and general users interested in shaping their health experience.
MEXC:"Blockchain + medical care" actually faces many business challenges. For instance, many hospitals claim that their existing system is sufficient and changes such as adopting blockchain technology may not be necessary. How will Digipharm expand its customer base, and what can it bring to customers, so that they are willing to make changes and use the services you provide?
Digipharm:While some of their systems are sufficient to keep and manage data it does not enable you to conduct the required processing in a secure, confidential and transparent way. The projects we implement are typically multi-party agreements and we act as an independent processor, we let the smart contract code and logic behind the data dictate which contract criteria are met. This is where the link to patients comes in too. Patients help inform the value of the treatments they get, this has a financial implication in the background! Patients should be rewarded for providing this data in one way or another. The way Digihealth will go global is by engaging users and members from the start and making sure everyone is part of the growth of the network.
MEXC:What are the application scenarios for the tokens issued by Digipharm? What is the tokenomics of the DGH token?
Digipharm: The value of any digital currency arises from its usage as a means of payment, exchange and utility. The greater the utility, the more valuable and stable the currency will be. The Digipharm network offers a wide array of healthcare applications where DGH tokens can be used to pay license/access fees on DIGIPHARM platforms. Payment usage contributes directly to DGH's utility, while running smart contracts and accessing data and services requires paying a network fee in DGH and in some cases, holding a predetermined amount of DGH to utilise the network.
Access fees will invariably be determined and stipulated in USD value and the quantity of tokens required will depend on the type of access combined with the form of interaction required. The quantity of tokens required for such interactions is subject to change, relative to the market value of DGH. DGH tokens can also be utilised to access various health related services, incentivise network participants and reward platform governance.
DGH tokens can be used to distribute automated payments upon execution of a contract, and to distribute rewards to users who have opted to share their data/feedback or as a means of payment for healthcare services and interventions. Utilisation of the token for these purposes provides a higher level of speed, security and privacy not currently offered by traditional payment/rewards methods.
DGH token supply can be permanently reduced via various token Burn initiatives as described below.
Community Tax
All purchases or subscriptions to services on Digihealth will be subject to a Community Tax of 50% on profits relating to the purchase or service.
Revenue from the Community Tax will be used for a token buy-back mechanism of DGH directly from global markets.
Where services are purchased using DGH, 25% of the DGH will be eligible for the Community Tax Initiative.
All tokens acquired via the Community Tax Initiative can either be permanently burnt or directed to a dedicated Community Reserve Wallet to be used for incentivisation, partnerships and rewards.
The proportion of tokens to be burnt or directed to the Community Reserve Wallet will be determined by periodical voting.
EARN PROGRAM
Data sharing
Earn DGH rewards for anonymised sharing of health data including shared ownership of health data sets (NFTs).
Participation
Earn DGH rewards for participating in research studies, surveys and contributing to governance programs.
Move to earn
Earn DGH rewards for undertaking tracked healthy behaviour and wellbeing activities via the Move to Earn initiative.
BURN PROGRAM
User rewards
Users of Digihealth may permanently burn any rewards received from the EARN PROGRAM to consequently reduce circulating supply.
Move to burn
DGH rewards for undertaking tracked healthy behaviour and wellbeing activities can be permanently burnt at the users discretion.
Community tax initiative
50% of profits from purchases or subscriptions to services on Digihealth will be used for a DGH buy-back from global markets. These tokens can then be burnt periodically based on community voting and governance decisions. In the event services are paid for using DGH, then 25% of these tokens are eligible for burning.
MEXC:The official website of Digipharm shows that it has cooperated with some well-known companies or institutions. Please introduce these partners and the respective cooperations. Is there any information you can share with us about these cooperations?
Digipharm: We work with renowned healthcare providers and pharmaceutical manufacturers to help get the best available treatments to patients, whilst protecting their budgets. One of our interesting projects is with the NHS in Wales, UK which is one of the worlds largest health organisations. We are also an approved supplier on the UK Governments Digital Marketplace. We have a lot more partner news to share with you in the coming weeks and months which will showcase a lot of people we are going to help people capture and own their Digihealth!
MEXC:Could you introduce Digipharm's team
Digipharm: I am an experienced health economist by trade with a strong grasp of pharmaceutical access and performance-based reimbursement. I was a Global Health Economist at Roche worked on getting high cost therapies into different markets. 
I previously led the blockchain in healthcare working group at the UN/CEFACT, where I am participating in the advanced technology advisory board.
Mike Smith is Digipharm's CTO. Mike is a vastly experienced Sales, Systems Engineering, and Technical leader with more than 30 years of effective team building and field execution behind him. Mike is an analytical thinker who takes pride in being able to see and articulate "the big picture" on behalf of both his Customers and his Employers – no matter how complex the underlying technology may appear.
Healthcare has been Mike's focus for the last decade, working with technologies that will make a difference including security and identity management, integrating disparate health and care systems, building clinical portals, and since 2013, Mike has been tackling the problems associated with data sharing, encryption and patient confidentiality where some of his solutions have been deployed widely across the NHS.
Mohammed Haroon Rahman is Digipharm's COO – a blockchain enthusiast with a passion for healthcare and making sure the patient is at the forefront of any 'discovery, development or innovation'. With over 16 years of Pharmaceutical and Clinical development experience. Main experience has come from working at CMO's and multinational pharmaceutical companies, such as Roche and GSK. Achievements include successfully integrating Blockchain technology to provide complete oversight of the Bio-sample life-cycle from patient consent through to data analysis for Roche.
MEXC:What are Digipharm future plans?
Digipharm: We have several partnerships and services to start deploying in the coming months. We are focused on building an important solution that users can interact with on a daily basis. Our plan is to be the most useful, both in terms of healthcare and financial inclusion. We need users interested in their health to be part of the story Digipharm and Digihealth will paint, and I hope that will be everyone!
Trying to find MEXC blog interviews?
It's easy! Explore them in a special section of our MEXC Global blog. Find insights for other recently listed projects at MEXC.
Start your travel on MEXC Global