Bikerush Token (BRT/USDT – Trade it here) was launched on MEXC new M-Day on May 23. The total reward pool constitutes of 450,000 BRT, with 900 winning tickets. Since listed in MEXC Innovation Zone with an opening price of 0.003USDT, the highest price hit 0.08 USDT, gaining 2700%.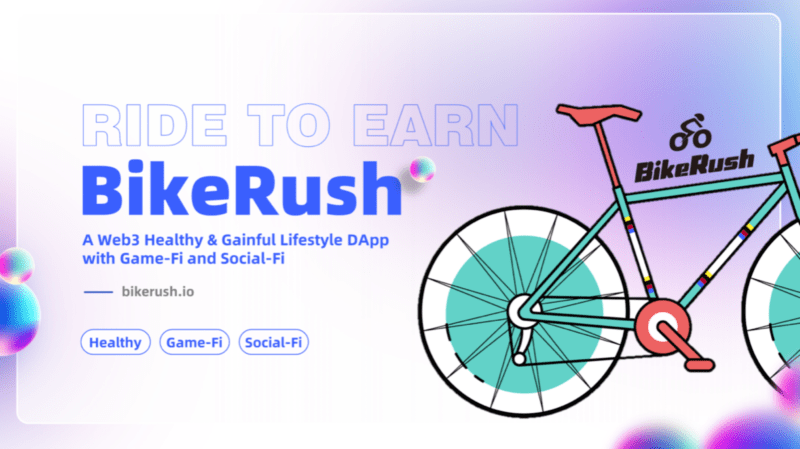 What is BikeRush?
BikeRush is built around one of the world's most popular healthy sports, cycling, it is the first project to effectively implement a functional Ride&Earn concept.
Users equip themselves with NFT in the form of bicycle. By cycling, racing, and sprinting outdoors, users will receive game tokens BST. BST can be used in-game and can also be cashed out for profit.
BikeRush integrates various health concepts such as fitness, green environmental protection, and play earning. With Game-Fi, BikeRush aims to drive tens of millions towards healthier lifestyles, fight climate change, encourage low-carbon travel and connect the fitness public to Web 3.0, while building a durable platform that fosters user-generated More Web 3.0 content.
What makes BikeRush unique?
BikeRush players own NFTs in the form of riding equipment, and by riding in the real world, they earn tokens BRT and BST and exchange them for income. If players want to earn BST, BikeRush's NFT riding equipment is very important. Different riding equipment NFTs have different attributes, and these attributes will directly affect how players get tokens through riding.
While users earn income while riding, BikeRush will collect a small tax to purchase carbon-neutral credits on the blockchain, giving people a way to contribute to curbing global warming. In a sense, it is a wise move to do a good job of bridging the interaction space between the real world and virtual reality, and concede part of the profits to the response to climate change. Of course, this is another story. BikeRush needs to improve the in-DApp BST donation system under development before it can fulfill its promise.
100% of the profit ratio used to purchase carbon offset credits will be voted by the holders of BRT governance token, which also directly translates BikeRush's mission into a shared mission of cycling players.
BRT Token
BikeRush adopts a dual-token model. BST tokens are used in the game with unlimited supply; BRT tokens belong to the governance tokens of the ecosystem, with a total supply of 5 billion pieces, which can be used to participate in challenges, pledge, charity, etc.
Similar to Axie, BikeRush has established a dual-token economic model from the beginning of the project, which effectively avoids the game being affected by the rise and fall of governance tokens and benefits from growth. From the perspective of game sustainability, BikeRush game token BST is more important than governance token BRT, and it is something that players often "burn" in order to continue the game.
Once there is demand for BRT, the core game token of BikeRush, bicycle upgrades, repairs, replacements, etc. will prompt the BikeRush token itself to generate a combustion cycle, which can capture demand and increase the value of the token, so that BST can be earned and consumed back and forth, so that the BikeRush game riding is more interactive, fun and profitable.
Interested in crypto like BikeRush?
MEXC lists GEMs with speed of light, keep an eye on our new listings – we have more great moonshots to come! Moreover, visit altcoins section to find more hot tokes that were listed already. If you would like to know more about crypto trading itself visit MEXC Academy.
Start your travel on MEXC Global