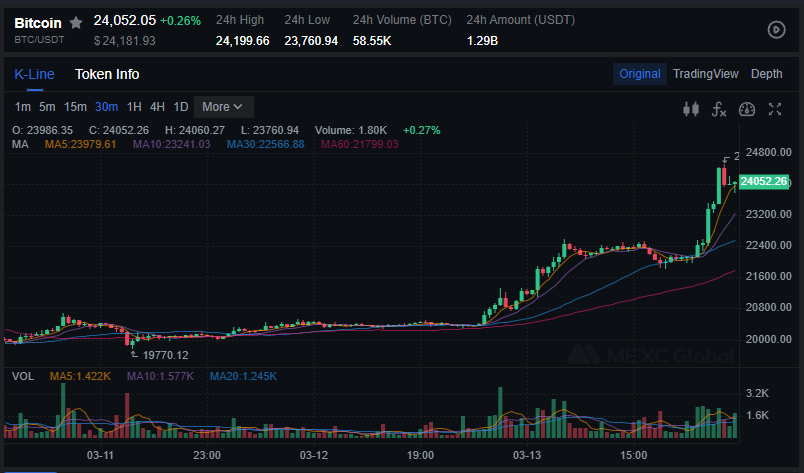 The American banking system is safe, says US President Joe Biden. After the Silicon Valley Bank crisis, the president reassures everyone that the government will help rectify the situation. Shortly after his speech, BTC/USDT saw a steady increase. Bitcoin rises up immediately towards a $23.5k level before steadily crawling to $24k as the Monday market opens.
Government Will Protect Depositors
On Sunday, the largest financial regulators in the US government issued a joint statement promising to protect all depositors of Silicon Valley Bank (SVB). This includes even those not covered by standard federal deposit insurance, following its collapse. As a result of the announcement, both Bitcoin and USDC have returned to their pre-collapse price levels. The Federal Reserve, Treasury Department, and Federal Deposit Insurance Corporation guaranteed that all depositors would be able to access their money by Monday, March 13th, with taxpayers shouldering the expenses of the resolution.
After the announcement, the entire market was going green, especially Bitcoin. Other alternative cryptocurrencies, such as Ether (ETH), Binance Coin (BNB), and Cardano (ADA), also saw an upward trend. At the time of writing, BTC/USDT is trading at $24012.76.
Meanwhile, USDC is also slowly trying to recover its $1 dollar peg. The CEO of Circle, Jeremy Allaire, confirmed that all USDC reserves are now secure and that SVB's former reserves will be transferred to BNY Melon. Liquidity operations for USDC will resume on Monday morning. USDC/USDT is now trading at $0.9935, after losing the peg on Friday when Circle revealed its exposure to SVB.
Conclusion
President Biden's address had a positive impact on the cryptocurrency market. As Bitcoin regains its $24k value, many will soon flock to the market for a piece of the hot cake. Furthermore, SVB's incompetence might be the stepping stone for blockchain and crypto to grow further.
In the meantime, check out our MEXC trading page and find out what we have to offer! You can learn more about crypto industry news and interesting articles to get you up to speed with the crypto world. Happy trading!
Start your travel on MEXC Global