Everyone who deals with cryptocurrency may know about crypto scams. Even in the current downtrend market, there are still growing scams happening in the crypto space, as scammers steal crypto and take digital assets over from newbies and inexperienced traders ruthlessly. 
Sometimes scammer schemes are hard to detect and avoid. MEXC team are here to help you identify a cryptocurrency scam and not become a victim.
Signs of A Crypto Scam
"MEXC Staff" Asking for Information 
Scammers may pretend to be members of our team and contact you through channels other than our official sites. Please be aware that our Support/BD/Listing team will never ask you to give any personal information or pay money to any addresses. If you feel you're speaking with a scammer, please contact our team from official channels right once.
Suspicious Twitter/Telegram Messages 
Scammers often reach out with an account that seems like it is official or verified (this is also known as impersonation). Then they'll send out bogus freebies via Twitter or Telegram direct chat messages.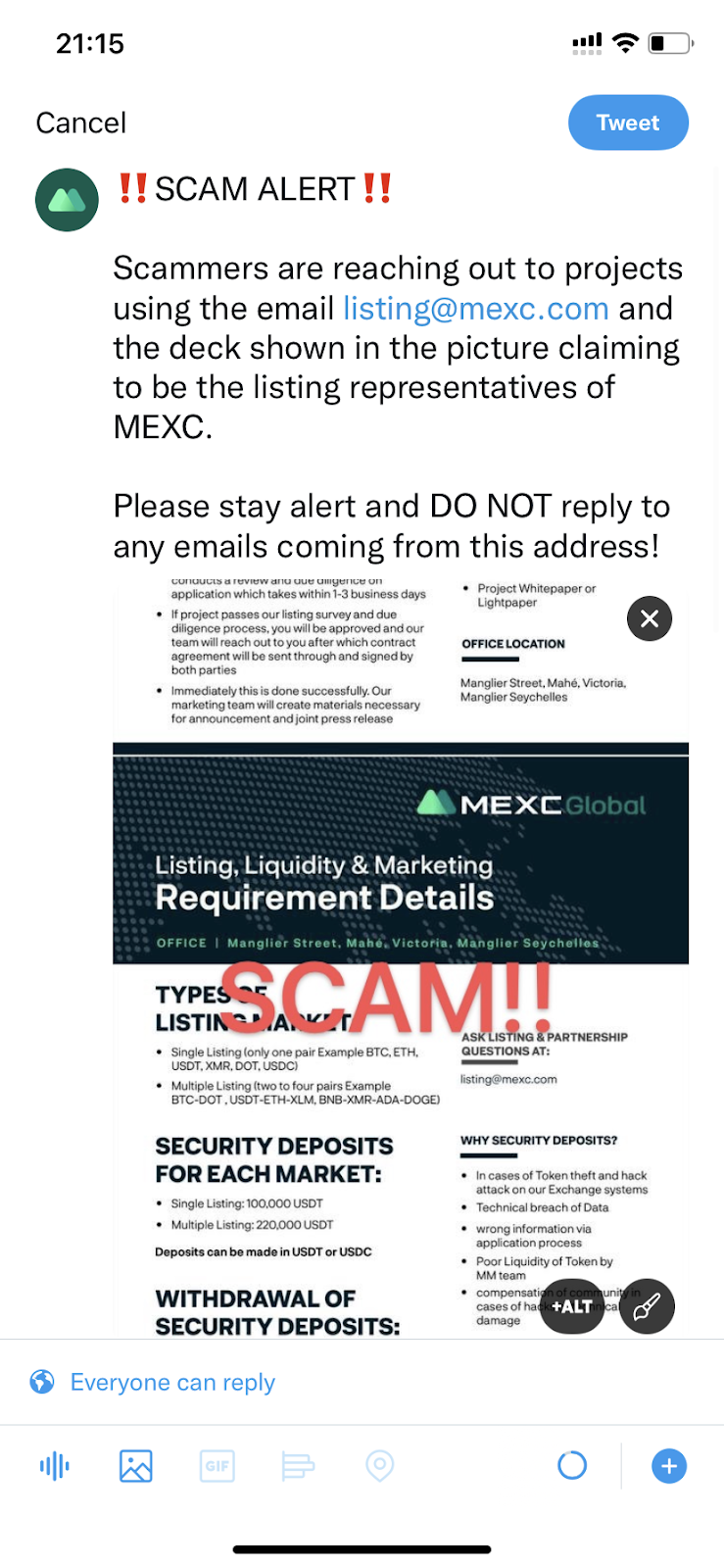 Be cautious to investment advising messages from social media. It is essential to understand that if you are actively involved in the development of a project, you will sooner or later run into at least one cryptocurrency scam. Always do your own research (DYOR)!
Do not provide your account details if you receive such messages. Please be aware that our team and our partners will never contact you personally with excuses like your account is suspected of being used to launder money, nor will we ask for your password or make a transfer to unknown accounts.
Phishing Attack 
Scammers attempt to hack and steal your personal information such as your login, password, and 2FA code via emails, phony websites and social media profiles, instant chats, and other forms of messages. Do not open any suspicious URL links and make sure it is an official site.
Tips to Scam Protection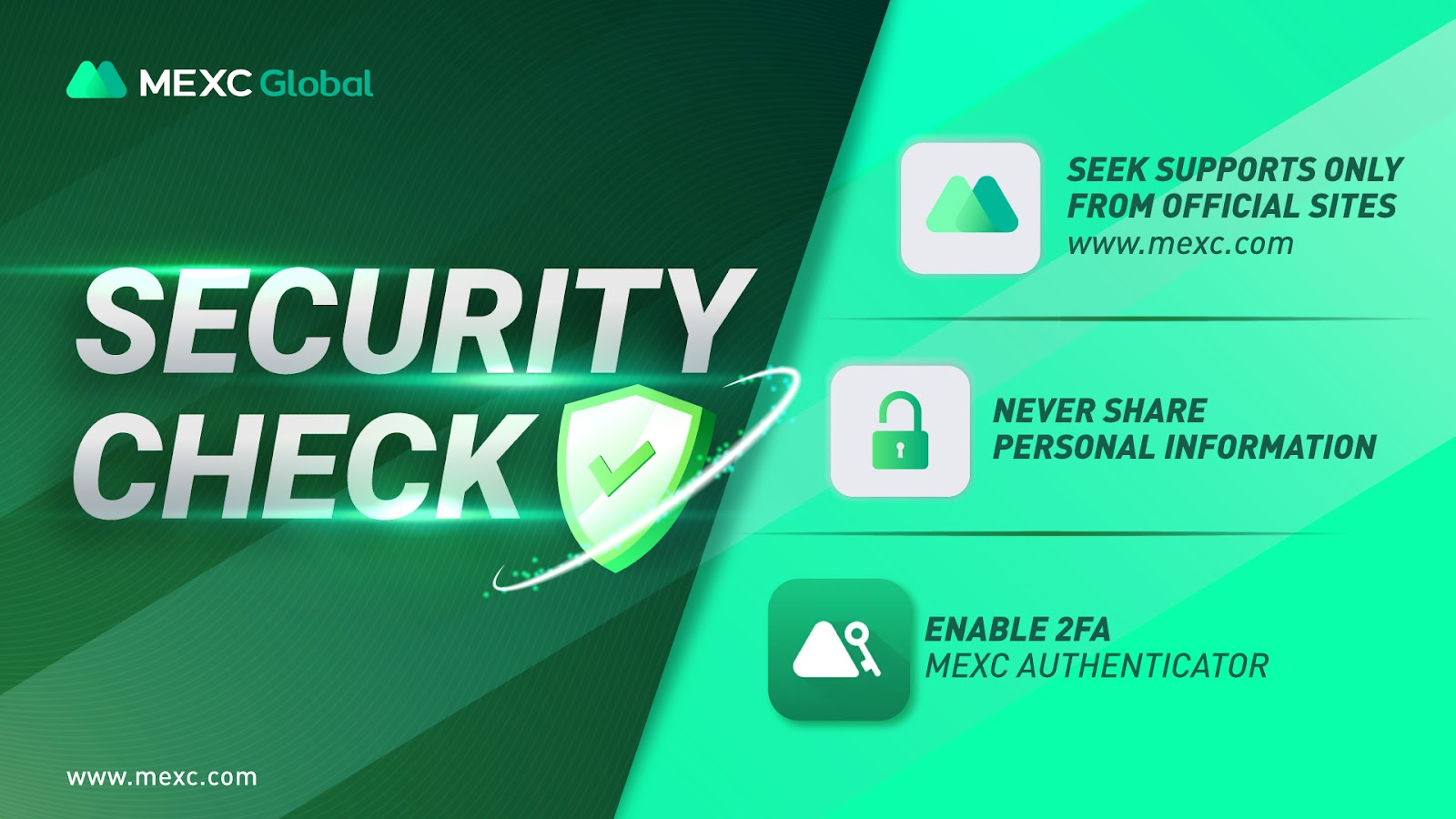 So let's try to figure out what you need to pay attention to. Here we have some tips for our partners and users in avoiding scams.
Seek Supports Only from Official Sites
In the right place, we are always here to help. Please reach our team via our official website. Follow MEXC on Twitter and Telegram.
Now we have launched an official verifier to help you easily verify if the person you're talking to is coming from our team or not. Check out here.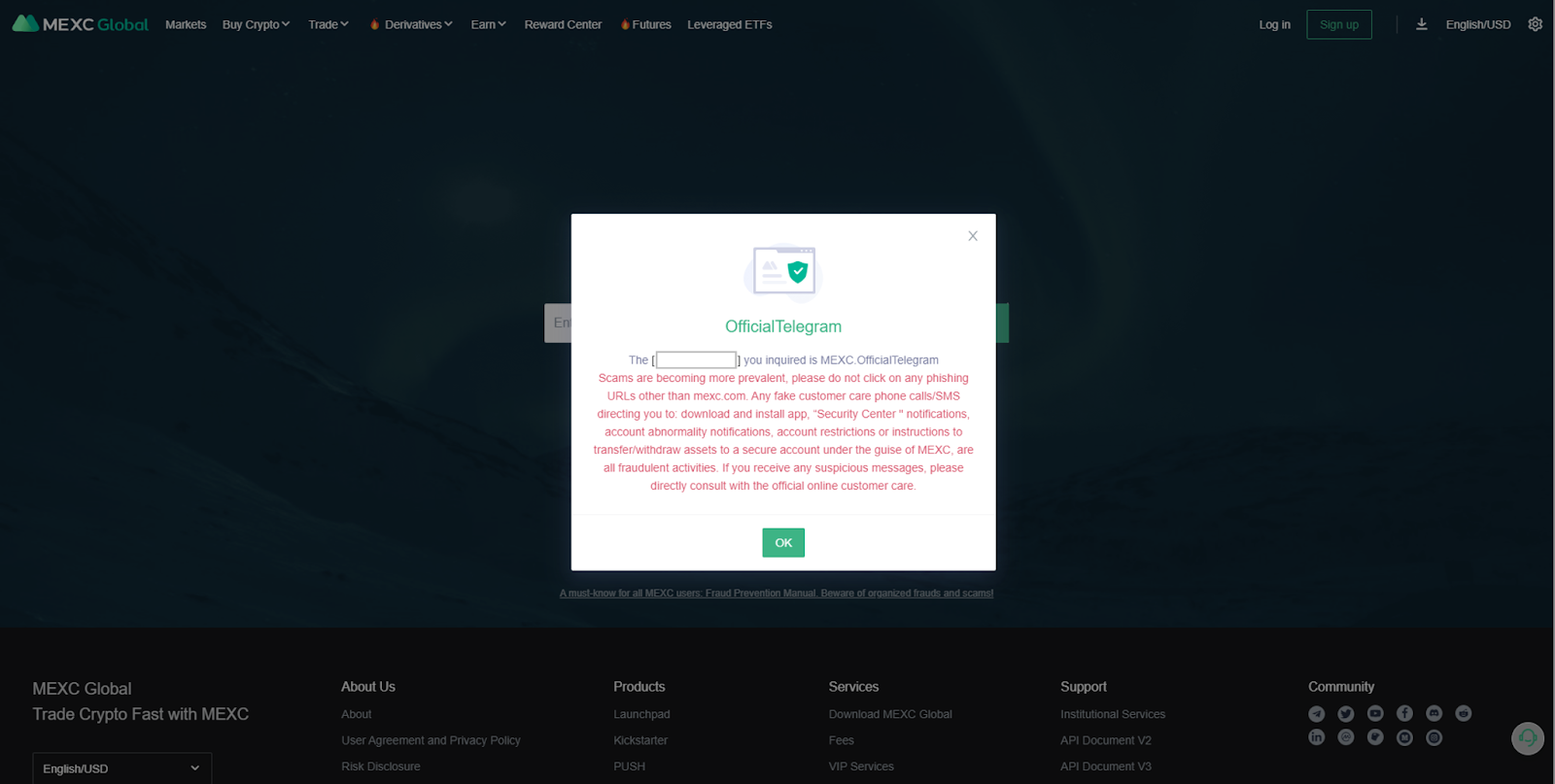 Never Share Personal Information
Be careful mentioning your balances
Not to share your used addresses
Avoid sharing your offline identity information
Enable Two-Factor Authentication (2FA)
When your password is at risk, 2FA with your phone, an authenticator app, will add an extra layer of security for your account. When signing in, you must use both your password and the 2FA technique. We recommend using MEXC Authenticator to protect your account.
Stay tuned for more advice and tips on how to protect your assets.