Out of nowhere, GBTC pops up and moves the market. What is GBTC? What is happening? No worries, MEXC is here to get you up to speed. Grayscale Bitcoin Trust (GBTC) is the biggest Bitcoin Fund in the world. It is also the very first publicly traded trust in history whose value is derived from a digital currency.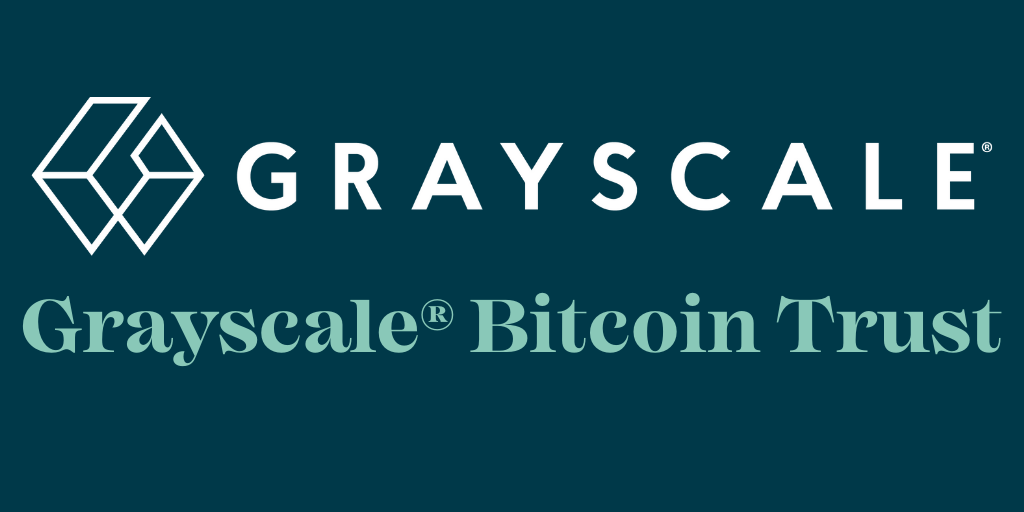 Where to Buy GBTC
Technically, GBTC is a trust. It is a trust that invests in cryptocurrencies. Meaning, you can purchase its share with your investment broker or broker account. However, is not equivalent to you buying Bitcoin. Instead, you are depending on Grayscale to buy Bitcoin on your behalf.
They became the middleman to your Bitcoin purchase. By doing so, you are skipping the inconvenience of buying BTC through a cryptocurrency exchange such as MEXC. The retail index of GBTC is usually traded on the open or over-the-counter markets. Grayscale Institutional Trust in return store the real Bitcoin.
Is GBTC a Stock?
Let us set this straight. GBTC is not a stock. It is not a true common stock. Stocks are shares in a company such as Apple Inc., and Tesla Inc. GBTC shareholders, on the other hand, possess a portion of an open-ended grantor trust. Grantor trusts must maintain a set portfolio rather than a fluctuating one. These trusts usually hold real-world commodities such as gold or fiat. In this context, GBTC is a trust that exclusively holds Bitcoin.
Grayscale Bitcoin Trust monitors the price of BTC/USD. Therefore, you will notice that their price closely resembles that of Bitcoin. However, there are situations where investor sentiment can affect the price of the trust. The stock price can either exceed or fall short of BTC's performance.
Another key point to note is, the Investment Company Act of 1940 does not protect grantor trust. This means that you cannot apply investor protections to your GBTC purchases. Additionally, they are not subjected to the Commodity Futures Trading Commission's regulation. Luckily, the Securities Act of 1933 and the Security Exchange Act of 1934 are still applicable. Therefore, grantor trusts need to make regular financial disclosure. This financial disclosure is also the ignition to the recent GBTC turbulence.
The Main Cause of GBTC's Recent Price Slump
The GBTC stock price usually swings in tandem with Bitcoin's price. However, it was selling at a significant discount last week. The main cause? FTX's bankruptcy. Yes, we are once again pulling FTX into the fray. Since their collapse, a wave of negative news has surged through the crypto market. Bitcoin's price dropped and it directly affects Grayscale's stock price as well. This issue further impacted investors' trust in crypto, dipping the stock price further down.
To make matters worse, Grayscale refuses to share its proof of reserves. In an effort to alleviate investors' worries over the security of funds, many cryptocurrency exchanges are releasing their proof-of-reserve audits. Meanwhile, Grayscale decided not to. In a statement, they stated:
""We do not make such on-chain wallet information and confirmation data publicly available through a cryptographic Proof-of-Reserve or other sophisticated cryptographic accounting technique due to security concerns."
This statement caused GBTC to trade at a 45% discount on their underlying assets. According to their reports, they have an 82% loss in the same period as BTC's 72% loss in 12 months.
Positive News on Grayscale Bitcoin Trust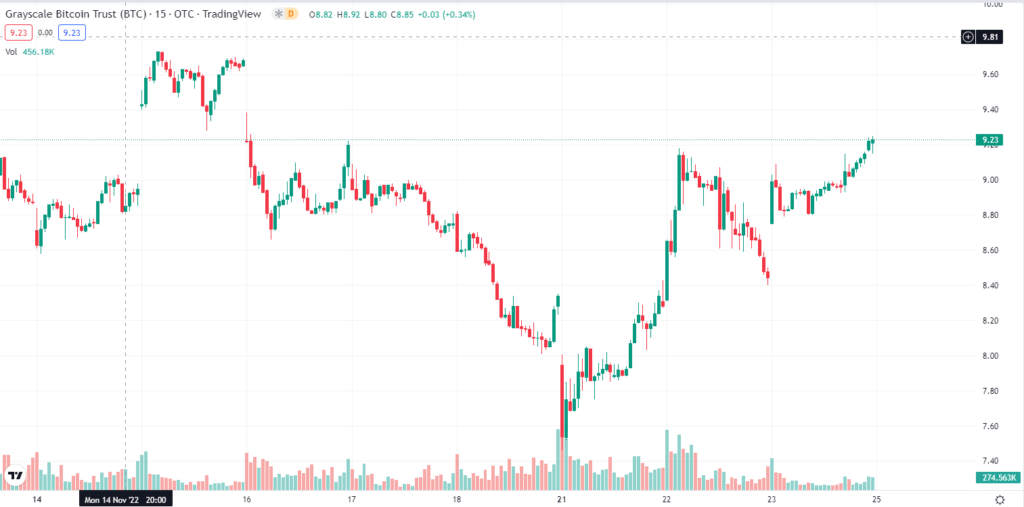 As we can see, GBTC was suffering up until November 21, 2022. It was a combination of multiple events. Thankfully, there were some great remedies to the situation. To start things off, they released a letter to show their assets in safe hands. Grayscale mentioned that their digital assets products are separate legal entities. Therefore, they are stored in Coinbase's Custody Trust Company.
The company then cited a letter from Coinbase CFO, Alesia Haas. The letter shows details of accounting on tokens stored in Coinbase and in it, the public found out that Coinbase owns about 635,235 Bitcoin ($10.2 billion) on behalf of Grayscale. This definitely ramped up the public's trust in GBTC.
In the midst of chaos, the CEO of the investment management firm Ark Invest, Cathie Wood came out and made a stand. She stated in an interview that her firm still believes in BTC. They are standing firm on the prediction that Bitcoin will likely hit $1 million by 2030. In their "Big Ideas 2022" outlook published on January 2022, Ark Invest predicted that Bitcoin will reach $1 million by 2030. They believe that countries will soon accept Bitcoin as legal funds. Now, she held on to the prediction, and her firm purchased $1.4 million worth of GBTC stocks.
Ark presently owns around 6.357 million GBTC shares, accounting for 0.4% of the company's total interest. Her bold move created an upwards trend on Grayscale; boosting confidence in the whole crypto market.
Closing Thoughts
Honestly, the crypto market has always been a volatile world. Bull markets might still harm you if you are not careful. GBTC for example follows BTC's price with discounts. At least if you are holding bitcoin, there are functional values and actual bitcoin. Buying GBTC on the other hand gives you nothing and you might even pay hefty management fees. Skeptical about BTC's price? Don't be, check their live price right here! Now that we have discussed GBTC, all there is left for you to do is decide how much BTC are you buying at MEXC. Start your trading journey by reading our industry news and clicking the link below now!
Start your travel on MEXC Global