Tollan World is going to integrate MEXC Global in different ways into its ecosystem. These range from 'non-playable characters' in their demo to a fully functional MEXC hub with quest themes and separate rooms for events and networking. Tollan also plans to offer NFT rewards to users for completing MEXC related quests and a MEXC store where special NFTs can be traded with the MX Token. Are you ready to explore this partnership in detail?
Players in Tollan are going to be able to participate in quests based on both in-game actions and interactions with an in-house MEXC interface. Players will learn to exchange tokens and tools that MEXC provides. Acceptance of MEXC tokens will make it more convenient for players that are using the MEXC exchange. These players can also earn different rewards like in-game MEXC themed NFTs and MEXC tokens as awards for winning the special weekly, monthly events held on Tollan World.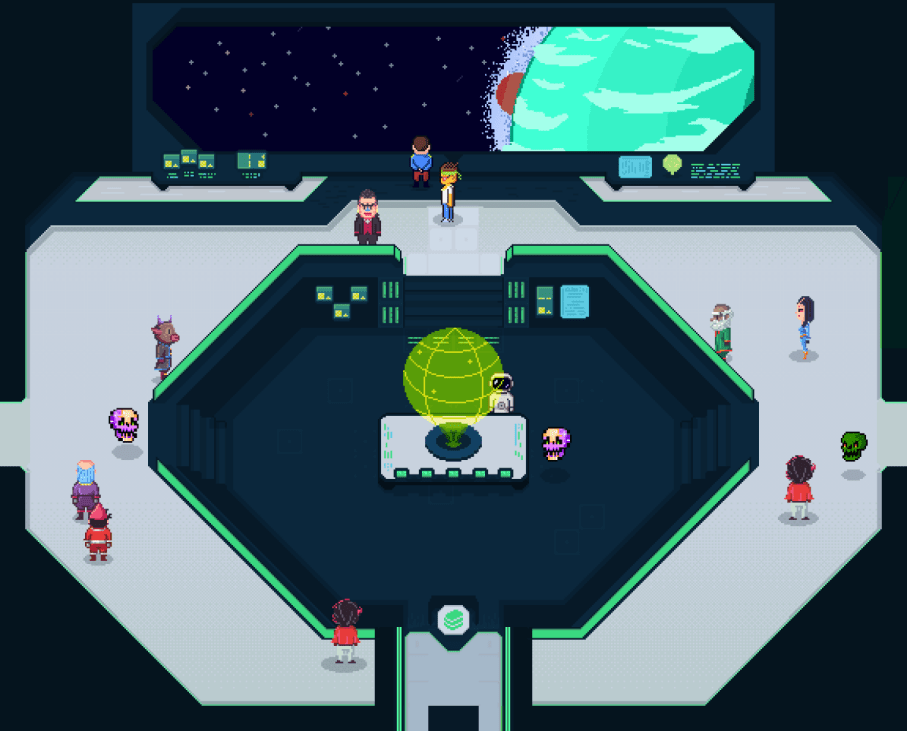 What is Tollan World?
Tollan World is an open-to-use community-owned Multi Metaverse that links Web3 based projects and communities based on Web3. This metaverse builds upon the existing interoperability between projects and communities. Users can earn tokens when they play, learn, make, and socialize on any in-game utilities for their NFTs.
In Tollan world is significant as it combines and structures different independent Web3 projects into a single game-based world and offers more accessibility to a user's favoured projects. It also introduces players to new and emerging projects in the industry. This introduction is helpful for both users and developers as it ensures that no promising project is lost in the quickly changing spread of Web3. All projects will get their niche (and share of attention) in Tollan's Multi-Metaverse.
Tollan World's signature Play + Learn + Earn game quests will help players move through Web3 and familiarize newbies to basic and advanced stages of the Web3. This support serves to help users learn step by step, which allows them to both avoid scams and earn while learning about Web3.
Improved Access and Usability
Tollan has designed a Pixel-based, two-dimensional, lightweight, and decentralized metaverse version. This version will release and support the Tollan Metaverse. This lightweight version is particularly useful for people with the low specification or outdated laptops and low to average internet connectivity.
Tollan focuses on developing and supporting utilities for the growing variety of NFT projects. These range from avatars, character skins, token-controlled spaces, and events to virtual real estate, NFT based music, and digital art showcases and markets.
Independent projects can join Tollan's ecosystem by including in-game playable (and changeable) skins for their NFTs, developing quest lines that will attract new players to their project. The popularity of independent projects directly relates to its standing in the Web3 world. Independent projects can also build up their infrastructure or sub metaverse inside Tollan's community curated Multi-Metaverse.
Mission of Tollan Worlds
Tollan 's team is focused on globalizing the digital assets market and developing inter usage amongst independent Web3 projects and ecosystems. This inter use will help to expand the accessibility and liquidity of linked projects
Tollan is also looking to develop a suite of open-source tools for blockchain projects to help them create in-game characters for their collections and build personalized metaverse-friendly spaces, infrastructure, assets, games, or even their Metaverse inside or outside Tollan.
The vision is to unify and globalize the metaverse and guide people about the gamified Multi-Metaverse. In doing so, the Tollan team will help generate and develop earning opportunities for creators, artists, gamers, developers to earn money through their creations in the Tollanmetaverse.
Current Status of Tollan Worlds Development
At present, Tollan World is established as a cross-chain and multi-pixel Metaverse where players can play, create, learn and earn while doing all of these.
The main goal of Tollan is to create an interoperable world that unifies web3 communities. This unified and interlinked world consists of different ecosystems and projects linked into a single Metaverse. It is also developing a quest line to introduce users to various elements of Web3 in the form of Play+Learn+Earn quests.
What's next?
After building its MVP, "Wizard's Pub," Tollan's team will focus on creating an Enchanted City. This city will be the capital of Tollan's Multi-Metaverse. It will be built from community-made and community-owned infrastructure, quests, storylines, and marketplaces.
Once the Enchanted city is completed and big enough to emerge on top of the tallest mountain in the Worlds of Tollan, the Tollan development team, its users, and other web3 projects will focus on developing cities, dungeons, and fully functioning Metaverses around the Enchanted city.
MEXC Global will facilitate Tollan by integrating its services into our ecosystem.
All facilities MEXC hub with quest lines, social events, conference rooms, NFT rewards, and a MEXC store for unique items sold for MX Token is in the works for MEXCers. Players will be able to compete in quests that will have both in-game actions and interactions with a MEXC interface.
Start your crypto trading journey with MEXC Global Exchange
---
The content of this webpage is not investment advice and does not constitute an offer or solicitation to offer or recommendation of any investment product. It is for general purposes only and does not take into account your individual needs, investment objectives, and specific financial circumstances. Investment involves risk.
Please note that the information and data above are cited from third-party sources & whitepapers and do not represent MEXC. Please refer to direct sources for more details. This is not financial advice and does not constitute an offer or solicitation to offer or recommend any investment product. It is for general purposes only and does not take into account your individual needs, investment objectives, and specific financial circumstances. Investment involves risk.
This disclaimer informs readers that the MEXC Creator's content, views, thoughts, and opinions expressed in the articles belong solely to the creators and authors, and not to MEXC Global itself. MEXC Global doesn't give any investment recommendations or advice.