In this Telegram AMA recap, you'll find insights about the LaunchBlock project. In an event hosted by Iris from MEXC Global, you will meet Matt Lucz, Head of LaunchBlock DAO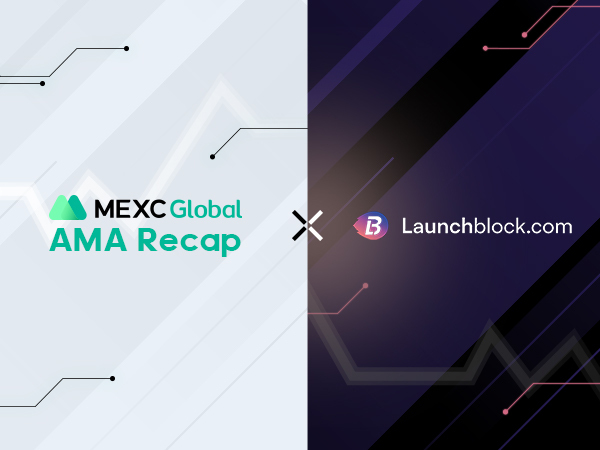 Introduction:
I'm the head of DAO and I'm excited to be here, thank you for having me.
I am also the founder of the leading blockchain travel-based platform Travala.com backed by Binance and Hodooi.com an NFT marketplace
Launchblock is our most recent venture powered by LBP the native currency and access token for Launchblock.com
Questions from the community:
Question 1:
Iris: What is LaunchBlock? Can you share with us more in detail?
Matt: Launchblock.com – The digital asset fundraising platform created by users for users, offering unique project launches giving everyone a fair opportunity to gain access at the earliest possible stages of investment rounds
$LBP is the native currency of the platform, providing access to launches, farming (APY) rewards, governance access, and more!
Question 2:
Iris: What are LaunchBlock's unique selling points as compared to other similar projects in the industry?
Matt: Launchblock.com has some key features and is community-focused, that said, we express the key features as the following;
DAO governance – Holding LBP gives you voting rights towards what happens on the platform
Farming – our unique access only farm gives those that Lock LBP in tiers access to the farm and earn APY on their extra LBP they HODL.
Question 3:
Iris: We know that LBP has been listed on MEXC! Would you like to tell us the role of the $LBP token in LaunchBlock? What about its tokenomics?
Matt: Users can stake their $LBP tokens which will give them access to the Launchblock.com tier system which ranges through tiers 1-5. Each tier requires a set amount of $LBP to be staked to gain access to Launchblock.com projects. The higher tier, the more $LBP required, thus meaning the more allocation and rewards available to you. We have specifically designed the tiers to offer incentives to users to move up into the next tier level to give them the best possible investment opportunities.
Governance access will require users to be staked into tier 4 of our platform (1,500,000 $LBP). Other uses include liquidity pool access and APY returns. As Launchblock.com continues to grow, we continue to add more and more use cases for our native token. We look forward to sharing with the community what we have been working on.
Under the governance area within the platform, we have given the power to the holders for what more use cases and utility will come from LBP. We want our community to help us grow how they see and feel the best way.
Question 4:
Iris: Are there any exciting news or updates with regards to LaunchBlock that you would like to share with the users?
Matt: We are currently working on our farming (EARN APY) system which will bring greater rewards to the Launchblock.com community. Each tier will be able to reap different benefits with our new farming program that will be available soon. We are also in the process of getting everything in place for our next IDO. We have successfully sold out our previous 2 IDOs and are excited to show the community what we've got coming up.
Question 5:
Iris: If you were to summarize your project in ONE word, what would it be? Why?
Matt: Community – our core focus and core value is all about community, the feedback we receive is the of the upmost importance and we do everything we can to keep things moving and the community involved in everything we do.
Free-asking Session
Q1. Revenue is an important aspect for all projects to survive and maintain the project/company. How have you been able to build a complete project and what is the way to generate profit/revenue from the token? What is the income model?
Matt:
Yes, the company operates revenue models through fees associated with the platform launches 🙂
Q2. Since NFT is popular nowadays, is there a plan for NFT integration?
Matt:
Yes, we intend to also operate an NFT sale channel in the future, and is part of our future developments
Q3. How do you plan to spread awareness about your project in different countries where English is not good? Do you have local communities like Vietnam, and Indonesia,.. so they can better understand your project?
Matt:
We have an ongoing translation, we recently just completed our dutch translation and will continue to add other languages as our community request
Q4. Where can I buy your tokens right now what is your current contract and how can I buy them??
Matt:
MEXC, Kucoin, and Huobi 🙂
Q5. What strategy will you implement to bring non-crypto-natives into your ecosystem? How do you keep a balance between developing the technology and also improving the value of your token?
Matt:
We do both simultaneously, we offer users the chance to give their thoughts and vote during our governance stages 🙂
Q6. How did you get the community involved in developing the project? and how do you build a strong community to grow globally?
Matt:
We involve them at all stages, especially via @launchblockann you should all join there and get involved 🙂
Trying to find MEXC AMAs recaps?
It's easy! Explore them in a special section of our MEXC Global blog. Find insights for other recently listed projects at MEXC like LaunchBlock.
Start your travel on MEXC Global